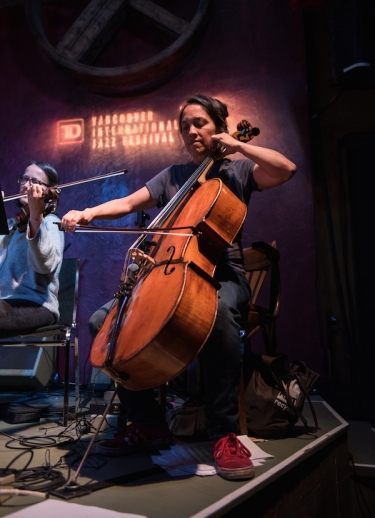 Her cello in a white case strapped to her small back, Peggy Lee had walked several unfamiliar blocks in her hometown Vancouver, since the bus dropped her at the edge of a genteel oceanside neighbourhood. She was looking for the Aberthau Mansion, where she would perform later that evening. Across a shaded park, Lee climbed the stone stairs of a tudor estate, peered through the stained-glass-windowed front door, and let herself in.
Lee's duet partner for the show bounded toward her, shook her hand. They knew of each other but had never met. Danya Szyndrowski, a contemporary dancer, was an artist in residence at the mansion, and had cocurated the evening's program of five all-female duets for musician and dancer. A brief email had been sent, requesting Lee to be her improv partner, and now she was about to dance with one of the world's most accomplished practitioners of improvisational cello.
"I can give you two choices," the willowy dancer said. "I can dance tap or flamenco."
Lee grinned. "How about both?"
"Great," Szyndrowski said. "I'll change shoes half way through."
They agreed not to rehearse because "it could be perfect," Lee said. "And then what?"
Lee stood at the back of the oak-panelled grand room to watch the performances—all of which were remarkable. The musicians—including a harpist with loop pedals and a feathery, talk-sing vocalist—performed soulful, mesmerizing works, and their dancers were inventively tuned in.
Lee and her partner took their positions. Theirs was the only free-improv piece, and there was excitement about it—Lee soloing with a dancer was a rare treat—and perhaps some suspense, too, about how this on-the-spot creation would fly after such beautifully considered works.
There was only one way to take that room, and that was to let it rip. Szyndrowski stomped a foot and Lee launched into a joyous march. Her hard-plucked rhythm spun into filigreed waltz, then to vaguely Middle Eastern modalities, and on to more melodic imaginings, her delicate fret hand spidering down to the F-holes then darting back up the neck, her eyes closed. The percussive dancing was sublimely synchronized to the singing tone. It was vast and deep and awash with feeling—as though Lee had riffed not just on Szyndrowski's energy, but also on the anticipation of audience and the marvellousness of the whole affair, and had translated it all through her cello and given it back.
At least that's what I thought. After the show I told Lee her music was gorgeous and emotional, and then I asked what she thought of it.
"It was fun."
Did she draw on any experience or on the energy from the audience, I had to ask. Lee is quiet-spoken and friendly, with a serenely beautiful face. "I don't think so," she said. "It could have just been Dayna and I meeting in a room. It was a nice opportunity to engage with someone."
It's just this kind of deep engagement with her musical partners, along with her remarkable structural ingenuity, that has placed the cellist at the pinnacle of Vancouver's globally admired improvised-music scene, and has seen her perform with the some of world's top creative-music artists, including Wayne Horvitz, Mary Margaret O'Hara, and Dave Douglas. It's the reason why the 2018 Vancouver International Jazz Festival, held in late June, booked Lee to perform with eight different acts during the ten-day event. Several weeks ahead of the festival, her packed schedule didn't faze the cellist. "It seems like a lot going on," said Lee, during an interview at her practice space in her East Van home. "But a lot of it is improvisation, so I can't practice other than to stay in shape on the instrument. I'll just try to keep my head clear, go for walks—be open, pretty much." She was looking forward to it. "Hopefully, I'll get to see plenty of music, too." 
One jazz festival appearance had Lee sitting in with Seattle keyboardist and composer Horvitz and his latest trio Snowghost. For the past two decades, they've played together any chance they can get. She appears on two albums with his genre-defining Gravitas Quartet (SEE PHOTO BELOW), and a third, featuring the Quartet combined with his Zony Mash spin-off Sweeter Than The Day.
"Peggy is one of my all-time favourite improvisers," Horvitz said recently. "Besides her sound and her ideas—her language—she also has very compositional sensibilities. In free improvisations with Peggy, I feel like we make a song, not just an event." During their most recent studio session, Horvitz and Lee played an improvised duo in the middle of a longer piece. "I was so moved by it that I spent a significant amount of time transcribing the improvisation and making it the foundation for a piece I composed for the Seattle Symphony."
New York-based trumpet star Douglas shared a similar appreciation for Lee's aesthetic. He tapped the cellist to join his brilliant 2005 production Mountain Passages (for which Lee found herself playing another fantastic location: atop Italy's Dolomites mountain range, performing for thrilled hikers). "Peggy is one of those great improvisers who thinks like an arranger," Douglas wrote in an email, adding that Lee is an audacious explorer and just as satisfying when things get strange: "For me as a player, I love to be invited (OK, sometimes pushed) into a new space I have never visited before. Peggy creates a window into another way of hearing and thinking about music."
Lee's adventurous playing lured the reclusive Canadian vocalist Mary Margaret O'Hara back on stage. Since 2012, the two have together led the long-distance act Beautiful Tool, its rare performances including a concert at the jazz festival. The band has earned a reputation for splendid unpredictability, but for the most part, it plays O'Hara classics and cover tunes—albeit so radically mutated that you're not sure if you know them or not—along with some of the most elegiac and growling improv out there.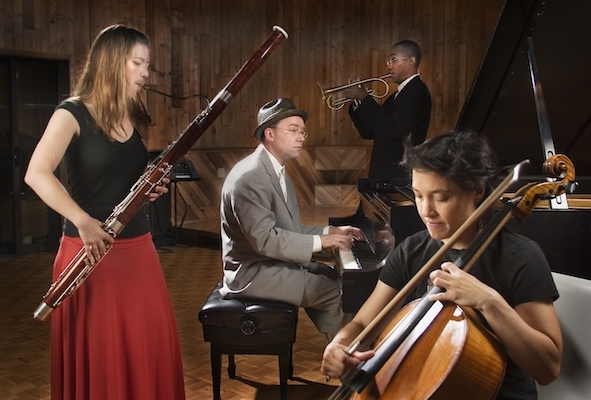 O'Hara has said she loves improvisation because "there are no errors, so it's lovely." In a 2014 interview, the saxophonist Sonny Rollins described it as "accessing the subconscious," adding "you can't think and play at the same time—believe me, I've tried it! It goes by too fast." For Lee, translating her conception of improvisation into words lands somewhere on the spectrum between the immaterial and the impossible. When I asked about how she improvises music that sounds as fully realized as a composition, she responded, "I don't even want to know." When Lee flashes a smile, it's perfectly vast and awesome: like David Bowie's eyes, her two front teeth are shaded differently, one streaked violet, and it could be the quiet rebel in her that has kept it that way. When pressed to shed light on her magic, she said carefully, "Some people like to talk about it, and that's cool, but really, there is no recipe." Lee paused and then offered a perfectly succinct one: "Sometimes you're playing in counterpoint to somebody or sometimes you're coming toward them. Then suddenly you get something. And then I just try not to think about what I want to happen, or what I want to play. Because it's 'free'—so, it's got to be. Really."   
Lee's husband, the master improvising drummer Dylan van der Schyff, has performed with Lee thousands of times, their interactions freakily immediate and uninhibited. He would counter that Lee's improvisation is not in the least immaterial, but indeed the very physical material of her "extended neural network." Van der Schyff is writing a book about music cognition and improvisation (it's wonderful to imagine Lee's free-flying playing, so vividly outside of herself, inspiring his scholarship). His postdoctoral research at Oxford University involves the exploration of improvisation through the lens of embodied cognition—essentially, advanced science of the nervous system. Van der Schyff told me over the phone that Lee's comment, about "not thinking" when she is improvising, "is actually tapping into a more fundamental aspect of what one's mind actually is—your mind being not just in your head, and not just rational thought, but actually being an extended network of your body and interactions with other people and the objects that you're using." Lee's fingers have a mind of their own.
Wayne Shorter once said, "composition is just improvisation slowed down, and improvisation is just composition sped up." Lee can't recall the improvised music that rolls from her fingers. "I know areas it goes to but I can't specifically remember any pitches or anything. I don't think I've come away from an improvisation and tried to compose a piece out of it." But the artist clearly brings the elasticity and exceptional range of her spontaneous playing to her writing of compositions for chamber jazz ensembles both large and small.
Over the course of five albums by her Juno-nominated octet, the Peggy Lee Band, the cellist has clearly established her own sound. Involving a great deal of improvisation, her genre-crossing experiments touch on jazz, classical, rock, and folk music—"always flowing organically from one thing to the next," said The New York Times. The range of styles reflects the breadth of the composer's interests. Lee's current projects—ones not programmed in the Vancouver jazz festival—could be a festival themselves: the Vancouver Opera Orchestra, the venerable new music ensemble Standing Wave, Veda Hille's art song band, the avant-rock band Strength of Materials, and experimental-folk ensemble Dálava, among others. And she's a busy session player for top recording studios and pop bands.
The main influences on Lee's compositional voice are the players in her various bands. Although songs come to her in all ways, Lee's principal writing method involves creating structures that her musicians can fill in themselves. She writes harmonic sequences with a few dedicated ornaments, and then it's a free-for-all, played entirely by feel. The best bandleaders credit their well-chosen players for realizing the potential of their compositions. Lee goes further. "[Composing] leads to this gift that the musicians are going to give back to you. I love to hear how great improvisers are going to take the pieces and go," she said, adding, "I don't think I could write for musicians who don't improvise. I mean, I've done it, but what inspires me is hearing the players take the written music further. That's the most fun ever."
Lee's creativity and virtuosity have always attracted top-tier performers; the Peggy Lee Band and her free-jazz octet Film In Music are essentially supergroups of Vancouver's most accomplished players. Lee's newest project, Echo Painting, draws on a new constellation of incredible players and expands her palette with wider instrumentation. The ten-piece band includes a handful of her stalwart collaborators (van der Schyff and her melodic horn players, trumpeter Brad Turner and saxophonist Jon Bentley among them), but also features four killer talents relatively new to the scene. Lee has curious ears; it's likely she discovered guitarist Cole Schmidt, saxophonist John Paton, violinist Meredith Bates, and bassist James Meger on rounds of the city's thriving, but mostly underground, creative music circuit, including venues like Merge and China Cloud. (She introduced me to the Gold Saucer, a "dial-a-number to get in" speakeasy in an old downtown high-rise, to see Collateral, from Montreal.) Echo Painting also features an instrument rarely heard in jazz—pedal-steel guitar, played warm and cosmic by Bradshaw Pack.
In April, the group released a self-titled album on Songlines Recording.
Fabulously executed, much of the music is melodic and spacious with layers of sound building up gradually. An Old West film-score theme swells on a few tracks—that pedal steel!—the final song, a cover of The Band's "Unfaithful Servant" featuring Robin Holcomb, suiting the thirteen-song suite beautifully. The pastoral quality makes room for plenty of friction and jostle though, and this contradictory dynamic gives the lush, pining parts more depth. The diversity of the material makes clear that Lee is as comfortable in an avant-garde context as in a more traditional setting, and she uses this flexibility to create new platforms for her musicians to play around in.
"I'm just lucky that the musicians I play with are open to trying things," Lee said, as she settled her small frame into one of the couches in the room where she spends so much of her time. The space takes over the ground floor apartment of her two-suite duplex, where she lives with van der Schyff and their youngest son (the eldest son studies music at Concordia University). Glass doors to a secluded patio were partially blocked by a Steinway piano—Lee does most of her composing on it and on the nearby guitar. Van der Schyff's drum kit takes the carless family's "quasi-soundproofed" garage out back; the residents in the other half of the duplex have told Lee they either don't hear their music "or if they do, they like it."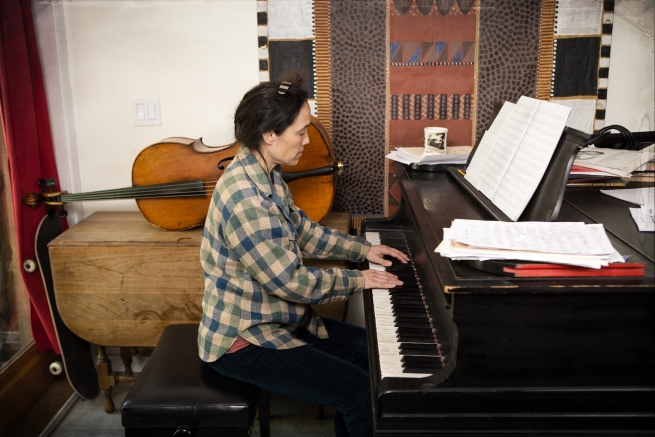 Lee appears younger than her fifty-five years. Born and raised in Toronto, she followed her older sister on piano, and after using a broom to play air-guitar along to a record, she was given guitar lessons, as well. Cello was her passion in high school, and she received a music degree from the University of Toronto. She furthered her training with two years of private cello classes in Atlanta, Georgia, with Martha Gerschefski. "I wanted to be as good as I could," Lee told me, emphatically. She had come to realize that a career as a concerto soloist wasn't in the cards. "There were people right around me who could play circles around me technically. I could see they were born to that." Lee knew she had to find her own way with her cello—and the complete immersion in Gerschefski's pure-technique class advanced the quest. "She had a clear way of breaking things down and making people feel like anyone could be as good as they wanted to be. You didn't have to have this natural gift or anything like that. That was her concept: there are ways that everyone can achieve what they want to."
Upon graduating from U of T, Lee accepted a residency with a string quartet at the Banff Centre in Alberta. It was here that she first improvised with artists from different mediums. "That was a watershed time for me. I felt, even though it was new, it was definitely something I could pursue." Instead of returning to Toronto, where her classmates assured her there were tons of jobs "playing in the pit for Les Miserable, Phantom of the Opera and the like," Lee ventured away from the known and headed further west, to Vancouver.
In her new city, she found unexpected success in a dream pop band, Memory Day, which toured and played some large stages, opening for Melissa Etheridge and others. "I got a feel for that scene and they were great musicians. But, for me, as soon as I established my part, that was my part. It didn't feel creative in the long run; it was just fun."
One night while playing a club, she met some dancers who told her about a weekly improv dance series—and that was her gateway to the city's thriving creative music scene. Lee honed her improvisation playing to bodies in motion—to sliding feet on a wood floor, to stamping, thumping and deep breaths, and to the way the dancers expressed themselves visually. "Word got out that a cello player was into improvising," said Lee. Very quickly, she was playing in ensembles with the three other leading figures in Vancouver's improv scene: van der Schyff, and the guitarists Tony Wilson and Ron Samworth.
Lee's style was unlike anything they'd heard. She'd never played jazz, so didn't rely on any of the standard bebop vocabulary. She had a lyrical tone but was willing to play—to spar—in settings well beyond the conventional.
Talking Pictures leader Samworth took a collaborative approach to composition, an inspiration for Lee's practice today. Lee recalled: "We'd all work together on the music and we developed a sound that we didn't have any reference for, really. It wasn't jazz; it wasn't new music." They were all drawn to unorthodox strains of jazz and brought those exotic treats to the table. "That group worked really hard, as did Tony's groups. There was a lot of music happening, and that kind of opened my mind," Lee continued. "I started writing music because they were doing it." The welcoming and easy-going creative environment was one that Lee maintains in her own projects.
"Peggy is a very unassuming band leader," said Wilson. "She lets the musicians find their own place in the group and that's what makes a good band."
"I think that's one of the reasons why people show such commitment when they work with her," says van der Schyff, "They're there to be themselves and not to just play some anonymous role in the music."
It helps that Lee's composed structures consider the unique strengths of each player and reveal an immense gift for combining the harmonics of different instruments. If the composer has a signature sound, it's her synthesis of strings and horns, which can be played warm, scribbly, or grand. It's all over Echo Painting, as well as the two trios Lee co-leads. Both bands consist of cello, guitar, and horn: Waxwing features the superb veterans Bentley and Wilson; and Handmade Blade includes formidable guitarist Aram Bajakian and trumpet whiz JP Carter.
Lee practices every day, still on the quest for improvement. "But it's different; I'm not trying to jump through hoops to learn the Dvorak Concerto." It's work inspired by the people who revolve around it. Last month, for example, she spent multiple hours on Joshua Zubot's "String" extravaganza. "It was so much fun just to get inside his music." These side projects "feed me, push me, so it's not so much I'm just working by myself to get better. It's more like there is this community of players and we're all working together."
Band photographs usually depict Lee standing among a cadre of guys, dressed comfortably, like them, in loose clothing and sneakers. Her band members variously described their leader to me as nurturing, grateful, intimidating in her virtuosity, yet above all, grounded. Lee has described her relationship with them as one of mutual respect. In an interview in the online magazine Pop Matters, the bandleader said that she has never felt "odd or insecure about being a woman. There has been nothing but support from all the people I've played with in my bands. I don't think 'Am I playing with a man today or with a woman?' It just doesn't come into it."
Lee married van der Schyff a few years after they both started playing with Talking Pictures in 1993. He plays in all her large ensembles and has mixed every one of their albums. Together, they've collaborated with scores of international musicians, her projects with Douglas and O'Hara, included. His playing will always inspire Lee. "He definitely blows me away every time. It's always a treat to hear him in any situation." Similarly, the drummer told me, "I'm so inspired by her. People have a lot of respect for her. And they trust her. So they want to do the best job that they can for her. They want her to be happy." They want to see that smile.
---
Audio: Weather Building (2018), composed by Peggy Lee, performed by Echo Painting.
Top photo by Rebecca Blisset, middle photo by Nenad Stevanovic, bottom and homepage slider photos by Mary Matheson.