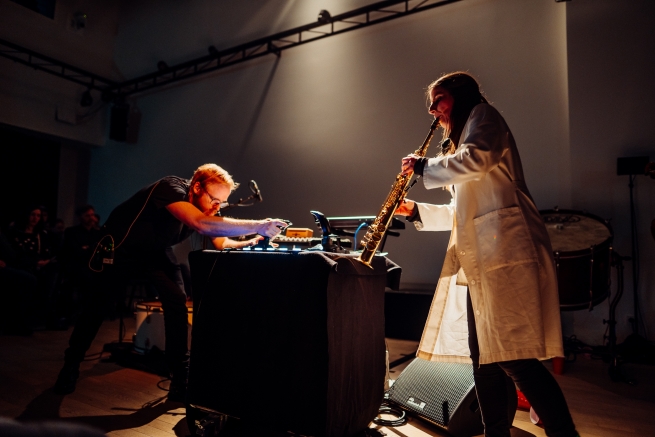 Erin Rogers and Dennis Sullivan are facing each other on the stage of Manhattan's Le Poisson Rouge in late February of 2020, a small table of gear between them. They take turns triggering samples of sportscasters by pounding large, illuminated buttons as if playing bare-knuckle Whac-a-Mole, altering sample speeds with joysticks and catch-and-releasing looped phrases. Eventually, Sullivan mimics one of Rogers's loops, playing a cymbal and a snare drum with his hands. He then takes over the loops and Rogers plays along on soprano sax. The piece is an excerpt from a work they wrote together as the duo Popebama. (The full, seventy-minute version of the work, Fight Songs, premiered in Hamburg a couple of weeks later.) [Top photo was taken during that performance.]
Sitting with me in an Upper West Side café a couple of weeks before that Poisson gig, Rogers describes Popebama as a "high-speed balancing of composed material and ridiculous diversions." She and Sullivan started working together in 2016 and initially considered combining their names to make a name for the duo. Realizing that they lacked the name recognition for a viable portmanteau, they decided to borrow the biggest names in the world at the time (although "Rogers and Sullivan" would seem to have a certain ring).
The fast pace and sporting theme of Showdown got laughs, drawing the Poisson audience closer to what is otherwise a rather jarring listen. Humour works for Popebama: "I think that's what makes it accessible, even though it should be the least accessible thing I do," Rogers says. Her Light-on-Light features quick phrases that display a variety of techniques in contrast to or conjunction with drums and electronics.
Relative Pitch Records cofounder Kevin Reilly recalls talking to his son between sets during a Popebama soundcheck at H0L0 in Queens in early 2018. "We heard Erin start to warm up and immediately my son and I looked up," he tells me. "She clearly had chops and amazing control over her tenor. The set proved my initial impression and I made a mental note." He set up a meeting with her that ended up with a record deal. "She was really down to earth, unpretentious yet confident. She was not only a great saxophonist, she was a good person. I wanted her to be free to make the record she wanted, not the record she thought I wanted. So I said something like, 'let's do two!'"
Doing an album of solo improvisation, however, wasn't something Rogers saw on the horizon. "It took me by surprise," she says. "I guess it shouldn't have. It's something jazz players do all the time."
February 2020 was a busy month for Rogers. Eleven days before the Popebama show, she was at the Chinatown basement record store Downtown Music Gallery, a venerable haven for music that swims against the mainstream, playing a solo set to support Dawntreader, the Relative Pitch album released the previous December. (Between the two New York gigs, she headlined the Shockingly Modern Saxophone Festival at Augustana College in Rock Island, Illinois.) She opened the set with "Beacon," the first track on Dawntreader, and went on to explore distortion and microphone feedback, amplified internal sounds and extending the resonating tube to her mouth, varying pitch without blowing into the horn, and vocalizing through it. Although the three tracks on the album were improvised, they've come to be, in a sense, stylistic maps that she can revisit.
"They're each based around an idea, a technique or a soundworld, so that following the initial improvisations, there is something common with them from performance to performance. Every time I play these pieces, they're very different—different lengths, different lines—but I try to keep the main idea of the piece intact."
Most of Rogers's work, or at least paid work, is as a composer, but she performs with some seriously adventurous and exciting ensembles. On February 15, she appeared at Manhattan's Tenri Cultural Institute with the quartet Hypercube [left photo], playing compositions by the New York composers collective Iceberg New Music. The month began with the premiere performance of her piece Purple, a work for electronics and baroque flute commissioned by the Flauto d'Amore Project at the Greenwich House Music School in New York City.
Being a freelance musician and composer in New York City demands a busy schedule just to stay afloat—and making it to the city from her hometown of Lloydminster, on the border between Alberta and Saskatchewan, demanded no less effort. Rogers's mother was a piano teacher and between her parents' and brother's record collections, she had access to the canon of classical, jazz, and rock. As a child, she learned piano under her mother's tutelage and then, at thirteen, switched to saxophone and was soon playing regional concerts and competitions with her mother.
While studying at the University of Alberta she heard touring jazz musicians, hit Edmonton's Yardbird Suite, and discovered a new approach to the instrument. Continuing her studies at Bowling Green State University in Ohio, where she earned a master's degree in composition and performance, she started learning about contemporary American composers such as John Cage, Charles Ives, and Harry Partch, while taking classes in composition and performance. "These are people who are famous in the U.S.," she explains. "Where I grew up, there was much more allegiance to the French tradition." Slowly, the influences of jazz improvisation and experimental composition began to suggest a path. "The classical saxophone sound for me was about mimicking and perfecting. It wasn't until I was out of school that I realized that wasn't what I wanted to do."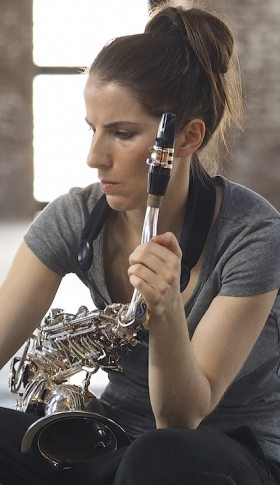 Rogers moved to New York City in 2005 and landed a job as production manager at the music publishing company Peerless Classical. From 2013 to 2017, she sat on the board of directors for the Music Publishers Association. But she was just as busily going to concerts, meeting people and creating collaborations. "It just became obvious that this is what I was going to do. I didn't have any desire to teach, I didn't want to get a Ph.D."
In 2007, she joined the nascent composer-performer collective thingNY. Three years later, they staged the hyperkinetic, cowritten opera ADDDDDDDDD. A mix of songs, monologues, and infomercials, about materialism and workaholism, the work was self-released as a CD-and-comic-book package. At press time, the group—which now includes rising star singer-composer Gelsey Bell among its membership—was planning to mount a tenth-anniversary production of the piece in April 2020 at Spectrum in Brooklyn.
"This [opera] was right after the iPhone came out, right after the economy crashed, and just as Obama was beginning his term as president. This was our first big, cowritten production. The impetus to remount came from the fact that the material was still relevant; that thingNY had learned a lot about staging, lighting, production since the first DIY go-around; and of course to celebrate a decade of decadence."
She went on to cofound the New Thread Quartet, with the purpose of commissioning new works for multiple saxophones, and Hypercube, whose first CD (scheduled for release in spring 2020) should establish them as a band capable of just about anything, despite the relatively conventional lineup of sax, piano, guitar, and drums. She's also working on a first record of her own compositions, expected later this year.
In 2017, the busy lifestyle came to a head. Faced with the decision of doing a tour or quitting her job, Rogers took the risk, and has been making her way with commissions and performance fees since. "I remember saying, 'Once it gets to a point that I can't do the music I want to do because of this job, then it's over.' It was really pretty scary. Eventually, people started calling and I started finding a rhythm." 
In June 2020, she'll have the opportunity to develop compositions in conjunction with the Nief-Norf Ensemble, a large ensemble dedicated to making the unusual sounds their name suggests. (She also serves as the ensemble's grants officer.) As one of the guest composers at the Nief-Norf Summer Festival at the University of Tennessee in Knoxville, she'll be able to see what the musicians—and her music—can do. [Editor's note: On April 15, 2020, the Nief-Norf Summer Festival was cancelled. On July 12, 2020, Nief-Norf Summer Festival celebrated its 10th anniversary with a one-day Virtual Marathon  Concert, including performances by Rogers.] 
"I try to build a margin of error in my work," she explains, when asked about the practice of writing works to be performed by others. "A lot of that is to write a lot: a lot of things happening at once, so if something doesn't happen, there's still some semblance of what you wrote."
Just as with finding a balance between creative work and paying the bills, it seems, it's all about finding a rhythm. "As long as an ensemble finds rhythm with it, usually something successful happens," she says. "It's fun to give people a work, and they'll give it a whole new life. You start to create a career for your music."
---
Audio: Light-On-Light, excerpt (2018) Composed by Erin Rogers.Performed by Popebama: Erin Rogers (saxophone, electronics) and Dennis Sullivan (percussion, electronics).
Top photo: Popebama (Erin Rogers and Dennis Sullivan) performing a scene from Fight Songs at the Elbphilharmonie Hamburg, March 10, 2020.  Photo  by Gerhard Kühne Ü.
Hypercube Ensemble performing at New Music Edmonton in March 2019. 
Erin Rogers portrait by Michael Yu.