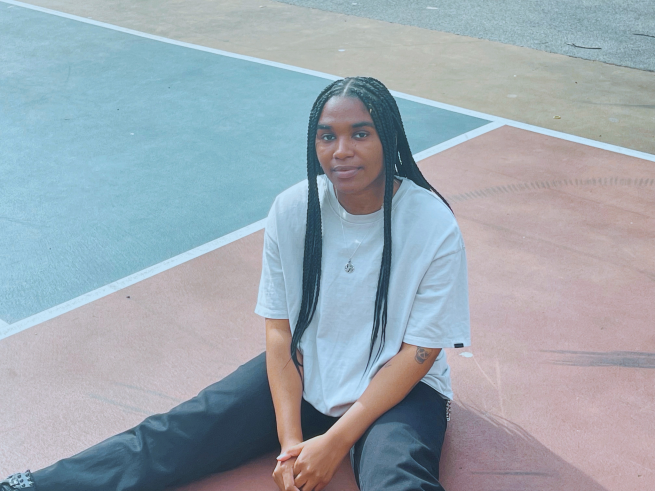 There's a rare kind of malleability to the music of transdisciplinary artist Yaz Lancaster. Best known as a composer, violinist, and poet, Lancaster holds degrees both in classical violin and in poetry from New York University (NYU), and has had compositions performed by ensembles such as JACK Quartet and the Boston chamber orchestra A Far Cry. Move closer, however, and you discover an even more varied body of work: performances as both a vocalist and steel-pan player; explorations of popular culture and electronics that span musical genres and styles; and an emphasis on collaborative music-making—all this integrated in a liquid practice that shapeshifts to fill whichever space it is inhabiting.
"My interest in collage and fragmenting is at the centre of my work," Lancaster told me last March from New York, where they are based. "When I'm writing a poem, I'll collect a bunch of disparate phrases or ideas in a notebook over a long period of time: words, or something I saw outside one time, or something I heard in a reality-TV show. I'll go through everything that I've collected and pick out the things that go together. With music, it's a similar process of intentionally pulling ideas from a lot of different places.
"If you really wanted to sit down and dissect harmony or form in my music, you'd find [classical structures] in it—but I'm also using different sounds. I'm using sampling methods from hip-hop, or an instrumentation that's for a rock band. That's why I tend to categorize my music as genre-fluid or post-genre: I'm trying to make a bunch of different things make sense together."
That fluidity is audible in their compositions. On Lancaster's wind_down_2, a solo piece released on Bandcamp in February 2022, warm, deep electronics and vocals envelop the violin sound as trills and winding melodies are pulled from their instrument. Some of the phrases wouldn't sound out of place in a classical concert hall; elsewhere in the piece, however, the gentle lilt of the violin and electronics is more characteristic of pop or ambient music. wind_down_2 appears on Lancaster's upcoming solo audiovisual album AmethYst, which people | places | records (a New Jersey-Ontario DIY digital label) is releasing in Summer 2022. The album also includes six works Lancaster commissioned for violin, voice, and electronics; most of the composers—AIYYER, Amanda Berlind, Gramm Drennen, Keaton Garrett, Andrew Noseworthy, and Phonodelica—are close collaborators. "A central drive in all of my artistic work is community," Lancaster explains. "I wanted my first album to come from that place of comfort. That's why I'm so excited about it: because it's basically my entire community coming together to support me and create something that I think will be special."
The AmethYst track Monroe Park is a collaborative violin, piano, and spoken-word work on the subject of Black-Palestinian solidarity, created with Egyptian-Palestinian artist Phonodelica (Donia Jarrar) as part of her large-scale sound installation Into the Ether and Out of Our Anguish. The work was exhibited as part of Divinations: the Art of Remembering the Future, an exhibition presented in March 2022 at the AM Qattan Foundation Cultural Centre in Ramallah, Palestine.
Lancaster is also composing a song cycle for the new-opera production company Beth Morrison Projects, scheduled to premiere in New York City in Fall 2022. The piece is a setting of Lancaster's poetry along with poems from Laura Hendriksen's 2021 chapbook Help Me I Am In Hell, and it channels the poets' shared love of horror movies. "I think my dream project would be scoring a horror movie," Lancaster points out. "I'm trying to make this song cycle feel as though you're watching one—but just [doing it] through the sound alone."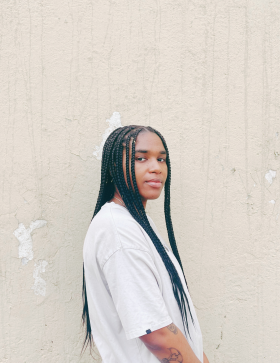 Other projects have Lancaster moving deeper into electronic and pop music: a fixed media composition for Minneapolis-St. Paul-based breakdancing group BRKFST Dance Company that draws inspiration from the electrical nature of phenomena inside the brain; plus more work as a vocalist and pop musician in the duo laydøwn with Lancaster's partner, Toronto-based guitarist, composer, and producer Andrew Noseworthy.
"I grew up listening to hip-hop music and to pop," Lancaster says. "And now, I'm realizing that I'm curious about how I could enter into those spaces again—because whenever I think of childhood, that's the music I remember.
"I haven't ever made strictly hip-hop or pop music, so I have the imposter syndrome of feeling like I can't make real hip-hop music without it being labelled something else. I think Tyler, the Creator was saying a couple of years ago that whenever a Black musician gets popular, they get pushed into hip-hop or urban or R&B categories. But for me, I find it hard to say that I can make that type of music when I haven't grown up doing that, even though I've been listening to it my whole life. The [recent need] for virtual spaces forced everyone to learn how to record and to work more with electronics, which finally gave me the push I needed to take my practice [there]."
Whether performing or creating, Lancaster brings that same honesty and vulnerability to their work. In laydøwn, Lancaster's singing voice imbues their lyrics with a personable softness and tenderness. Lancaster's 2020 string quartet Neutral Objects, written for JACK Quartet, takes its title and meaning from the way that everyday objects—mailboxes, milk, masks, and others—often come to represent events during times of protest or upheaval; in the premiere performance (available on YouTube), the quartet's often-athletic playing style gives way to simple layers of harmonics, quartertone harmonies, and slowly morphing textures, exuding a stark, contemplative beauty.
If nothing else, that vulnerability is a core common denominator in Lancaster's varied practice. Most of their poems are written in the first person; their music is almost always rooted in a need for freedom or catharsis, either for themself or for others. More than anything, the changeability of Lancaster's music comes from their belief in being adaptive to others as an act of care, and from their vision of art as something defined by the relationships it creates.
"With every new piece, I'm trying to respond to whoever I'm writing for and to write something that's going to be good for them," Lancaster says. "When I'm writing music for other people, there's usually some sort of improvised or indeterminate section, or some choices that can be made for performers to really grasp what they want to put back into the music.
"Community is the driving point, and also a liberatory politic—or a liberatory mode of being," Lancaster adds. "Freedom for me to really explore, and reflect, and share—but also when I'm writing for other people, that's what I'm thinking about. I'm wanting them to have that sort of freedom, too."
---
PHOTOS: Connie Li
FYI:
The premiere of Yaz Lancaster's new solo piano work
galore_quote
was performed by Cheryl Duvall at Toronto's Annette Studios on April 29, 2022. Two albums featuring Lancaster's music—their solo album AmethYst, as well as an album by Toronto percussionist Yang Chen featuring Lancaster's solo steel pan and electronics work
EUPH0RIC
—are scheduled for release on the people | places | records label in Summer 2022.
ON THE CD: wind_down_2; Shoelaces