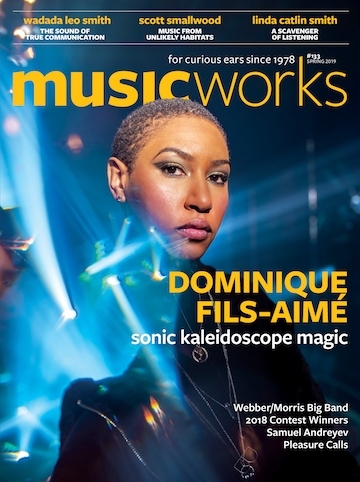 The lively stories in the Spring 2019 issue are sure to spark conversations about the diverse ways that people develop creative ideas and potential. BUY THE ISSUE NOW!
ON THE COVER:  Montreal's Dominique Fils-Aimé has moved from the mainstream spotlight to a more intimate creative space where many genres unite in her powerful, elegant, and soulful music. Toronto writer Chaka V. Grier finds out about her Haitian roots, self-guided music education, and the influence of her synesthesia on her planned trilogy of albums.
Strasbourg-based Canadian composer and heckelphonist Samuel Andreyev has been guided by intuition through his unusual artistic journey. Musicworks contributing editor Nick Storring follows the trail, from youthful adventures in comics and composing to the "strange perceptual magic" of his evolving body of work.
Camae Ayewa and Carmel Farabakhsh explore their long-distance relationship through the installation / performance Pleasure Calls, originally presented in March 2019 at the Khyber Centre for the Arts in Halifax, Nova Scotia. Musician and writer Nick Dourado listens in.
U.K. Manuella Blackburn, first-place winner of our 2018 Electronic Music Composition Contest, talks to Musicworks editor Jennie Punter about the inspiration behind her elegantly playful composition Landline.
Learn how a community arts space in Hamilton spawned the adventurous HAVN Records.
FEATURE ARTICLES
Linda Catlin Smith, scavenger of listening
Interested in composing at a young age, Linda Catlin Smith studied in NYC (where she grew up) and Victoria, B.C., before moving to Toronto.  From 1988–93 she was the artistic director of one of Toronto's Arraymusic, where she started the Young Composers Workshop. Her works span solo, chamber, vocal, and orchestral music. In the past few years, international recognition and appreciation of her music has grown, thanks in part to the release of three albums of her work in the Canadian Composers Series, on the U.K.-based label Another Timbre. Smith describes her process as "composing by ear," exploring and varying a sound image, rather than using a system or formal compositional method. "I ruminate for a long time before I concretize anything," she tells composer and writer Monica Pearce, a former student of Smith's. Musicians such as Eve Egoyan and Cheryl Duvall and young composers such as Julia Mermelstein share their thoughts about Smith's influence on and inspiration in their own careers.
Wadada Leo Smith, true communication
Pianist Vijay Iyer and cellist Ashley Walters join Musicworks contributing editor (and occasional guitarist) Alexander Varty, as he orbits the trumpeter, composer, and philosopher Wadada Leo Smith's massive body of work. In the process, we learn what it's like to be in the recording studio with Wadada; how his graphic scores unlock creativity; how he constructs his multilayered tributes to people, places, and things; and the thinking behind his interdisciplinary Ankhrasmation music system. Our journey takes us from ritual music in Mississippi in the 1950s to the present day and beyond, following this seventy-seven-year-old innovator who shows no signs of slowing down.
Scott Smallwood , solar-powered sound
Born in Texas and raised in Colorado, Scott Smallwood is a creative force and educator in Edmonton's burgeoning interdisciplinary arts scene. He began experimenting with sound in the 1970s, making tape collages in his preteen years. Today he has dozens of instrumental compositions to his credit, and is a widely respected and sought-after collaborator on ambitious, multifaceted works such as Macromareal, which was cocreated with visual artist Sydney Lancaster. For twenty years, he has been creating improvisational work as part of the duo Evidence. Recent forays into game creation reveal his interest in the unique place and effect that sound has in games. Whether talking about compositions, natural sounds, synthesized sounds, or the noises made by industrial machines, Smallwood very quickly pulls those in his company into the wonder, joy, and personal meaning he finds in the sounds from his life.
Webber/Morris Big Band, in full swing
New York City has a long and strong history of big bands, but the most recent entry into the pantheon is breaking more than a couple of molds. The Webber/Morris Big Band has not one leader but two: the Toronto-born Angela Morris and fellow tenor saxophonist Anna Webber, hailing from Kelowna, British Columbia. The band has caught the ear of noted trumpeter Dave Douglas, who will release the Webber/Morris big Band's first record on his Greenleaf Music imprint in 2020. Each is involved in multiple projects outside the band, and both Morris and Webber are making their names known in New York. In early January, the pair sat down with writer Kurt Gottschalk in Manhattan to talk about their creative connections and blossoming careers.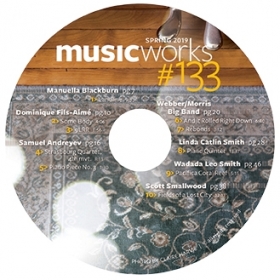 Manuella Blackburn
1> Landline 9:36
Dominique Fils-Aimé
2> Some Body 4:03
3>  9LRR 1:52
Samuel Andreyev
4> Strasbourg Quartet, 4th mvt. 8:06
5> Piano Piece No. 3 1:27
Webber/Morris Big Band
6> And It Rolled Right Down 6:38
7> Rebonds 3:12
Linda Catlin Smith
8> Piano Quintet 13:32
Wadada Leo Smith
9> Pacifica Coral Reef 5:13
Scott Smallwood
10> Fields of a Lost City 12:28
---
Musicworks 133 magazine cover photo by Alex Uriel Lag.
Musicworks 133 CD label photo by Claire Harvie.