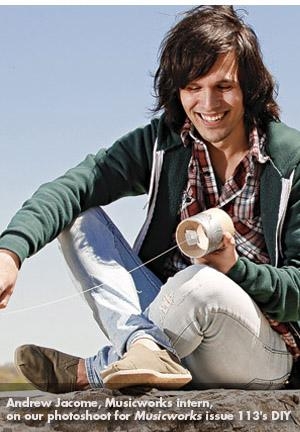 Musicworks magazine is proud to offer internship positions that kick-start careers for talented, ambitious magazine or not-for-profit professionals.
The chosen candidates will be motivated, take great attention to detail, have a strong analytical ability, are adaptable to change, take initiative, are fluent in Microsoft Word and Excel, and demonstrate excellent written and oral communication skills.
To apply, please submit a cover letter and resume (in PDF) outlining how your skills and experience make you the right fit for our organization.
Please send your application to: [email protected]
These internships provide valuable on-the-job learning for creative, detail-oriented, self-motivated individuals that wish to gain experience in magazine publishing, arts administration, and the not-for-profit sector. These unpaid positions cultivate skills in every aspect of the field—a distinct advantage afforded by a small, non-profit arts magazine like ours—and are perfect for ambitious post-secondary students or working individuals looking to gain skills and experience. Our interns are mentored and guided by Musicworks staff and are an integral part of our high-achieving team.
From advertising and business administration to editing, circulation, marketing, outreach, and promotions, the opportunities for learning through our internships are vast.
Internship components
Internships are catered towards current projects at Musicworks and are tailored to the interests and goals of our interns. Components may include:
Editorial Administration
Contact musicians, photographers, and other artists to source music scores, photographs, and audio files for use in Musicworks magazine and on our website.
Contact musicians, photographers, and other artists to acquire permissions for use of materials.
Open incoming recordings for potential review and categorize by genre and publication date.
Assess unsolicited pitches.
Work with Musicworks' copyeditor to input of copy changes.
Fact-check content, proofread copy.
Promotions
Design and implement contests to engage Musicworks readers.
Collaborate on readership surveys and assist in the analysis of results.
Assist in the development of promotional advertising in print and online.
Outreach
Participate in the creation of monthly e-newsletters to subscribers, advertisers, libraries, and participants in the Musicworks in the Classroom program; tracking and reporting on open-rates.
Assist in the administration of the Musicworks Sonic Geography and Electronic Music Composition Contest.
Fundraising
Assist with donor outreach and in fundraising activities to cultivate stewardship.
Website
Collaborate with Musicworks management to source and generate web content
Digitize and catalogue back issue content on musicworks.ca
Assist in the conversion of magazine content for musicworks.ca
Advertising
Liaise with our Advertising Sales team to collect advertising submission materials and ensure they meet publication guidelines
Write contracts for advertisers and collect completed contracts
Read daily press releases and to compile contact lists of potential advertisers
Circulation
Assist with tri-annual mailing of magazine.