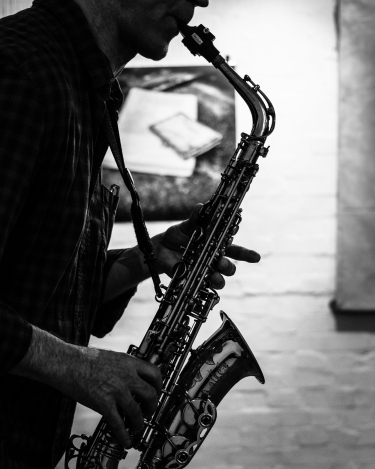 In the fall of 2016, I attended Montreal
rehearsals and concerts and Toronto recording sessions of
Roscoe Mitchell and the Toronto-Montreal Art Orchestra for a
feature article that was published in Musicworks 127
. This complex, largely through-composed music—Mitchell's orchestrations of previous improvisations—required the gradual, stop-start building of short segments. The alto saxophonist Yves Charuest was assigned a rare spot for individual improvisation. If ever there was an occasion to phone it in or to work at building a solo, this was it. But he never did, neither at the rehearsals nor the recording session, each time starting fresh with a different approach, as if he had tuned into a constant stream of invention, never minding that the performance would be halted by conductor Gregory Oh thirty, forty, seventy seconds later. This was my introduction to Charuest: practitioner, philosopher, embodiment of the principles of improvisation. 
A video of a 1987 Budapest club performance shows Charuest near the beginning of his career, when he was a member of bassist Peter Kowald's trio with expatriate South African drummer Louis Moholo. What you first notice about those archival tapes of the young saxophonist is the sheer speed of his coruscating lines and the intensity of his attack, the solo a rapidly curving line of intervallic patterns driven forward by the ever-rising tumult of his veteran bandmates, founder-members of their national (or in-exile) chapters of the anarchist society of free jazz. While Charuest here is influenced by some critical contributors to free jazz—most notably Cecil Taylor's long-time sideman Jimmy Lyons, who reshaped free jazz saxophone by extending and evening the rapid line and deft articulation of Charlie Parker—there's already enough to suggest an original voice. 
More than thirty years later, the range, creativity, and formal invention of Charuest's current playing is demonstrated on recordings like his masterful 2019 album Le territoire de l'anche (Small Scale Music). A solo from the now-defunct Montreal club La Vitrola proceeds from incremental expansion of microscopically varied materials, beginning with a loud sound very near a goat bleat and quietly understated short phrases, initially accompanied by a deliberate presence of the quiet hiss of circular breathing. Phrases are gradually expanded into a more elongated, continuous pattern, occasionally with slips into a higher and louder register. Some notes are overblown, creating octave substitutions, but the circular pattern continues, sometimes around a conventional tone, at other times growing faint or harsh, the continuum of breath sustained to the nine-minute mark. Following a brief pause, Charuest picks up another short phrase, maintaining the breathing pattern with explicitly articulated notes, sometimes a pecking sound, sometimes chicken-run flurries, sometimes louder forays that are oddly muffled. It's at once a porous, perforated or even torn screen with multiple voices breaking through, sometimes scraps of melody, keening plaint, isolated cries, and asides; at once polyvocal and polymorphous: an anonymous crowd or a crowd of monks, quietly chanting; at once singly and in concert, the breath a sign of presence. 
It's a music that can crowd and open the imagination, at times in isolation, in sequence, at once.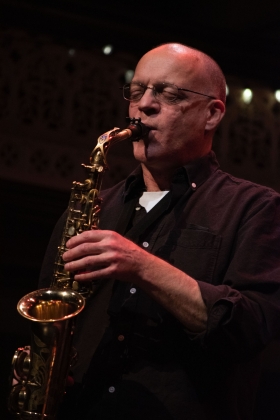 I LIKE JAZZ
Charuest's close affinity for jazz began in his childhood, which was spent in Montreal and Quebec City. "My mother studied piano when she was young and even played clarinet in a marching band in her teens," he says. "She was born in the Eastern Townships not far from the U.S. border and was very much into American music. She was responsible for my first contact with some American pop and jazz music, playing records by Nat King Cole, Lionel Hampton, and Harry Belafonte. A little later I heard Oscar Peterson—whom my mother loved very much—and Dave Brubeck. When I was twelve, she gave me my first jazz record for Christmas, a French anthology containing some disparate tracks from Charlie Parker, Dizzy Gillespie, and Stan Getz." 
Having moved to Quebec City, Charuest started high school in 1974. "The music teacher was totally devoted and would teach us many instruments and put together different ensembles that would rehearse at lunch breaks, so I had the opportunity to play in a concert band, a stage band, a small jazz combo, and a classical saxophone quartet. He was a classical clarinetist by training but also a jazz saxophonist and was very generous in stirring my interest in jazz. He would lend me some records. That's how I first got to hear Coltrane. He made us analyze Stravinsky's Rite of Spring in tenth grade, which seriously impressed me then. Listening to it at home, I'd be the only one in my family listening to music neither my parents nor my siblings would enjoy! I also remember listening every night to a jazz show on French CBC radio hosted by Gilles Archambault. I remember him playing the whole LP of Jazz at Massey Hall 1953 with Parker, Gillespie, Bud Powell, Charles Mingus, and Max Roach, which is also another record that made a strong impression on me." 
Several of Charuest's bandmates were studying part-time at the Conservatory, and he also enrolled as a part-time student for two years while finishing high school. "Studies at the conservatory were free back then, so for me it was a good way to get serious music instruction. I got more intensely involved in studying jazz and also developed a strong interest in contemporary music, but saxophone was still not much in use in contemporary music in the late 1970s . . . I would listen to everything I could get my hands on and read about the Second Viennese School—Schönberg, Webern, Berg—and Messiaen, Boulez, Stockhausen, and so on." 
During those formative years, Charuest played bop, modal, and modern jazz and listened intensely to John Coltrane, Miles Davis, Lennie Tristano, Bill Evans, and Lee Konitz. In 1982, he spent two weeks at the Banff Centre with Konitz, alongside Dave Holland, Kenny Wheeler, and Albert Mangelsdorff. He also got more interested in more avant-garde and free jazz, following artists such as Ornette Coleman, Cecil Taylor, Paul Bley, Albert Ayler, Art Ensemble of Chicago, Steve Lacy, Anthony Braxton, and the European improvisers whose music was difficult to find in Montreal in the early 1980s. 
At the Montreal Conservatory, Charuest began to make some essential musical connections, including with drummer Michel Ratté, who he worked very closely with for some twenty years, producing some remarkable activity. "We started playing in duo around 1984, mostly very free music, but we experimented with different ideas and that's where our group I Like Jazz originated (1984–86). We explored ways of playing bop tunes like Charlie Parker's pieces in a way that could celebrate what we felt was Parker's urgency and fluency, but with a sound and format that would also do justice to our own energy and musical existence in the mid 1980s. We decided we'd better serve this purpose with a more conventional instrumental setting—that of bop ensembles—and we asked keyboardist Guillaume Dostaler and bassist Normand Guilbeault to join us. We played Parker's pieces with a very intense, explosive, punk-like energy." 
I Like Jazz, now documented on Ratté's Bandcamp page, is blistering: the youthful band tearing into classic Charlie Parker compositions like Donna Lee and Buzzy with an energy and pace reminiscent of Anthony Braxton, with Dostaler's distorted synthesizer lines twisting through Charuest's accelerated, hard-edged inventions. Meanwhile, Charuest started doing improvised solo performances, "sometimes very expressionistic, sometimes exploring more subtle sonic possibilities which were very new to me, under the influence of hearing some of the European improvisers, like Evan Parker and Derek Bailey." 
These activities would lead directly to one of the most significant meetings of Charuest's career, with bassist Peter Kowald, one of the world's most travelled free improvisers and—with Peter Brötzmann and Alex von Schlippenbach—one of the founding figures of German free jazz. After hearing Charuest in Montreal, Kowald invited him to play a duo concert with him, eventually forming a trio with Charuest and Ratté, recording a session with them (a major event in the annals of Canadian free jazz, Montreal 1985 is finally scheduled for release by Tour de Bras), and taking them to Boston to perform. 
Kowald and Charuest stayed in touch, and the next year Kowald invited him to tour Germany, Austria, and Belgium in a trio with drummer Louis Moholo, the twenty-four-year-old Charuest effectively fronting a trio with the founding fathers of German and South African free jazz. A few months after the tour, Charuest moved to Montpellier and later to Wuppertal, touring again with the trio in 1987 and 1988. While studio recordings of the band were lost, a video from a Budapest show in February 1987 demonstrates the band's rhythmic fury and Charuest's concentrated virtuosity in a style that carries the Charlie Parker legacy through its high-speed, lyric adaptation by Cecil Taylor's saxophonist Jimmy Lyons, to a kinetic intensity that is Charuest's own. Charuest would play again in Kowald's trio at New York's Knitting Factory in 1988 and 1989, with Michel Ratté substituting for Louis Moholo.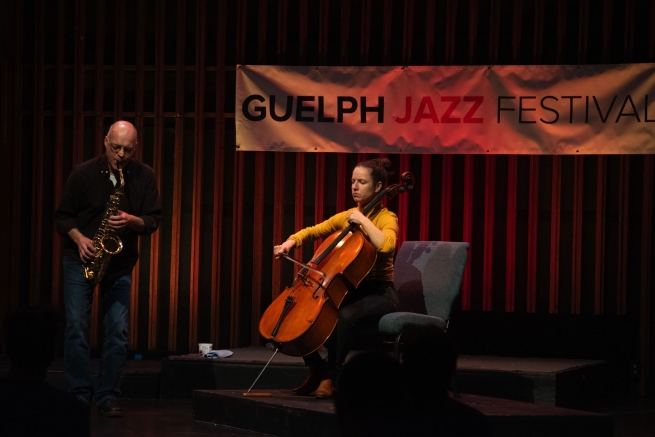 THE IMPROVISER'S ETHOS
The essence of Yves Charuest's music resides in the existential act of improvisation, the struggle to achieve an immediate and continuous, and therefore authentic and creative, relationship with time. It's something to which thousands of musicians aspire, but which few feel and even fewer effectively communicate to listeners. For many Québécois musicians, Charuest's commitment is special, his results exalted. Éric Normand, who is responsible for building improvising institutions in the isolated hamlet of Rimouski, emphasizes Charuest's achievement. "Yves is one of a kind, something like Montreal's equivalent to Evan Parker," he says. "It's not a comparison, but Yves is one of the only people in Quebec who has devoted himself to free improvisation and working collaboratively with international artists from 1980 to today. He is working and developing his own personal language, never treating the saxophone with electronics and pedals and still refining his voice, ranging from microscopic precision to a trance-like intensity, all crossing technical borders. His playing is really physically intense. His 2021 solo set in Rimouski was one of the deepest musical experiences I've had in the last year, for sure." 
The most startling shift in Yves Charuest's musical odyssey took place after his return to Montreal in 1989. In collaborations with Ratté, he initially played alto saxophone in Trio Michel Ratté with Guillaume Dostaler playing piano and synthesizers. "By then, Michel and I wanted to explore different types of interaction between the musicians and predetermined material conceived to channel our imagination and ways of listening towards different sonic and formal considerations," Charuest recalls. "I could say we were interested in creating a music that questions the material and forms chosen, and demands of the improviser that he reactualize his relation to the material being put in play—that he renew and express its validity each time. That could be one way of describing what we were doing with the trio, and that I still consider to be a valid description of what I'm doing today." 
Gradually, Charuest turned his own hand to electronics, playing keyboard synthesizers as the group evolved into Wreck's Progress with Ratté continuing on percussion and Jean-Claude Patry playing guitar synthesizers. The commitment to invention, to complexity, to density of voice was such that Charuest felt compelled to explore other instruments in parallel with the one to which he had devoted fifteen years and with which he had begun to achieve international recognition. It is the call to sound itself. "I was playing a lot with drums, piano, and synthesizers (in different projects), and I grew dissatisfied with the more precise or definite pitch character of the saxophone. I found it thin compared to the timbral, plastic, and polyphonic properties of percussion, keyboards, and electronics. 
"I'm not saying this 'thin' character is a bad thing in itself, but at the time, I strongly felt restricted by that. But in fact, I was more dissatisfied with what it made me hear than with what it really offered, for instance all the rich history of jazz, bop, and post-Coltrane idioms, and ways of hearing and playing saxophone. That heritage is not something I would devalue now but at the time, it had a restrictive effect on my creative abilities, and I somehow had to come to terms with it. Whether I succeeded or not is another story. 
"That explains in part why I explored the use of synthesizers in the 1990s and the use of extended techniques on the saxophone," he continues. "I listened to electroacoustic music and although I did not want to follow that aesthetic approach to creation, I was intrigued by the use of different sonic material for its plastic qualities that neutralized the focus on pitch organization." 
Charuest would eventually wrestle through the dichotomy posed by inherited traditions and the richly personal voice that his relationship with the alto saxophone afforded: "Nowadays, I feel I'm at the same time more able to hear and produce different types of sonic material and more at peace with the pitch content of the horn. As for the extended techniques, I personally think they don't have any meaning by themselves, not any more than tonality, chords, etc. Extended techniques can become reified or fetishized. But I think new techniques call for new forms or ways of articulating the musical flow, and vice versa, and that is how they can be relevant." 
RESISTANCE / PATIENCE
Charuest's reflections on the improvising process always turn on complexity, the multi-dimensionality of the act. "In collective improvisation, there is a complex and fast process of interaction that is quickly and constantly relativizing, contextualizing, and criticizing your spontaneous decisions. Solo improvisation poses a different challenge in that your decisions, no matter how spontaneous they are, are not supported or invalidated or transformed by that process of collective improvisation. So you run the risk of repeating yourself, of getting stuck or trying to avoid these problems and over-fragmenting and preventing anything from really happening. 
"I try to find a fresh way of listening to what I put in motion which, again, does not start from scratch but comes from my instrument, my knowledge of past music, my ways of formalizing my expression, the weight of my listening and creative experience, et cetera. One thing that might contribute to keeping a fresh ear is my interest in sonic material and techniques that offer a certain fragility or instability and open my playing to the possibility of things not working as anticipated. That creates a kind of resistance of the instrument, the medium, the material chosen that I find challenging and stimulating in solo improvisation. This is something I hear in the music of other improvisers too. I guess that kind of resistance relativizes my decisions, as does the interaction with other players in the context of collective improvisation. 
"About the temporality of solo improvisation, I could say that I'm allowing myself to be patient, to take the risk and accept the possibility that some things will be stated that will lead to something else or not. There can be a meandering quality of the music that I might not find interesting if the music were only that, but that I accept as part of the process of the music trying to find its way, so to speak. When the music finds its way, it means that I'm not the sole instance of meaning in the unfolding of the music, but also that the music is not a purely objective and external process. What interests me here is that fragile encounter of my capacity of stating something or setting something in motion—my agency—and the resistance of the material, the medium, and the concrete form that is unfolding (in time) before my ears."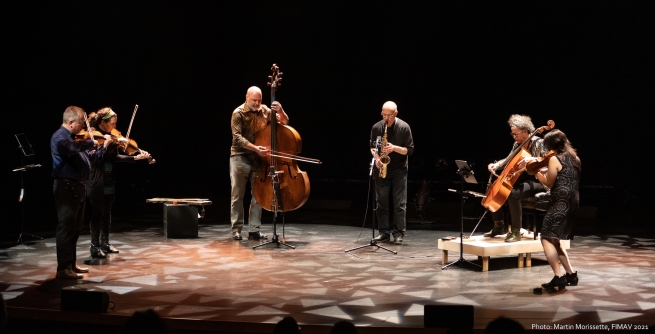 PERSONAL SOUNDWORLDS
Since re-emerging in 2010, Charuest has worked in an array of situations, from solo to duos, from trios to orchestras, to collaborations with formal composers, bringing to every context an original musical mind. 
Trombonist, composer, and presenter Scott Thomson provides subtle parallels for Charuest's art. "Yves and Steve Lacy have different sounds and formative touchstones—Lacy's Bechet compared to, I'd guess, Yves's Lee Konitz and Jimmy Lyons—but through these they channel similar research interests: careful intervallic choice, timbral variation through a phrase (with a nod here to Sonny Rollins's pioneering work), and internal packets of rhythmic charge. This last one recalls Charles Olson's famous 'Projective Verse' essay from the 1950s, in which he assesses the rhythmic thrust of free verse. There, the rhythm of the language is not dependent on a form it animates, but by an internal propulsive logic of the material itself. To my ears, this is a key component of Yves's playing, one that adheres whether he is improvising freely or on composed material and which is extremely satisfying no matter the context." 
Bassist Nic Caloia was among the first musicians with whom Charuest would build a relationship. "I first heard Yves in the '90s at Le Cheval Blanc and at the AMIM (Association des musiciens improvisateurs de Montréal) space—I can't really remember the specifics, but I know that these experiences were formative for me," he says. "When Yves returned to the Montreal scene around 2010, I could hear that he was a musician who had created his own personal soundworld. Within the circles I frequent, the most admired quality an artist can have is singularity. It doesn't really matter how this is achieved, but I appreciate a unique voice which has been developed over years of personal research and practice. I believe that his return to active creative playing has changed the sound of our community's music." 
Their association includes Caloia's expansive Ratchet Orchestra, for which Charuest contributes his most intense voice to scores that range from a pulsing emotional liberation suggestive of Charles Mingus to a layered visionary exoticism that invokes Sun Ra. The two have also worked in Now and Then with clarinetist Lori Freedman, an unusual trio that only performs as a quintet with two guests. There's a remarkable tape of a five-way improvisation from 2016 in which the group also includes violinist Joshua Zubot and trumpeter Nate Wooley. As well, Charuest and Caloia have also played in two different trios, one with Montreal guitarist Sam Shalabi and another with Karl Fousek, a Vancouver musician who plays analog synthesizer and who has released two CDs with them, Residual Time (Mondoj) and Maps to Hands (Astral Spirits). 
Most notable of their collaborations, though, is their duo, which creates a shared language. There are moments when the structure of time is the target. Charuest can insistently tear at a brief motif as Caloia locks on a complementary pattern. Microscopically varied short phrases, each as precise as the previous, build into a mountain of detail, a library of nuance from the slightest inflections, the two musicians creating the tension of a machine set to explode. 
During the past decade Charuest also has assembled for Quebec performances two quartets featuring respectively the exceptional pianists Georg Gräwe of Germany and Agustí Fernández of Catalonia, with the latter group recorded on Stir (Tour de Bras). Charuest also played in duet with Fernández at the Guelph Jazz Festival. In 2017 Charuest found further inspiration during a six-month stay in London sponsored by the Quebec government. There he had the opportunity to play with the London Improvisers Orchestra, the principal model of such groups, appearing on their commemorative CD set, Twenty Years On (LIO). 
Among London musicians, violist Benedict Taylor proved to be particularly compatible: "I heard in Benedict someone who shows a similar curiosity and capacity to put things in play and patiently listen and rearticulate them spontaneously. If, for example, the bass and the alto sax occupy more distinct sonic spaces in the duo with Nic Caloia, in the duo with Benedict, we explore much more intricate sound, texture and ways of playing that I find also very exciting and rewarding. I guess it fulfills this need I have for a very active, spontaneous, and collective way of hearing and creating music that is not necessarily easy to achieve, nor is it easy to find the right collaborators or partners in crime." Taylor has since travelled to Quebec for duo performances and the two have released a CD, Knotted Threads (Tour de Bras). 
Charuest's gifts for creative collaboration and varied approaches have made him a magnet for composers, with several works coming to fruition in 2021. In May, he appeared at FIMAV in Victoriaville with Quatuor Bozzini to play jef chippewa's tautological responses to systemic redundancies, one of four compositions that the Berlin-based composer will write for Charuest. In October, he appeared in the final concert of Akousma, the Montreal festival of electro-acoustic music, to play in Gilles Gobeil's Sentinelle, a piece for fixed sounds and saxophone, inspired by Stanley Kubrick's 2001: A Space Odyssey. Charuest also began performing in duo with cellist and composer Émilie Girard-Charest, a brilliant improvising partner. 
"Yves is always humble and unsated," Nic Caloia remarks. "He's clearly on a lifelong quest. As great as he already is, I think that we are just hearing the beginning of an important aesthetic projection." 
---
PHOTOS:  Black and white photo of Charuest by Yefri Ventura;  Colour photo of Charuest by Lily Ramsey; Photo of Charuest and cellist Emilie Girard-Charest performing at Guelph Jazz Festival's Autumn Echoes series in November 2021 by Lily Ramsey;  Photo of Nic Caloia and Charuest with performing with Quatuor Bozzini at FIMAV 2021 by Martin Morrisette.
FYI: In Fall 2022, Yves Charuest will tour Europe, in a duo with British and violist Benedict Taylor, and premiere solo piece by Émilie Giar-Charest in Montreal. Charuest's 2022 releases include a trio record (LP) from 1985 with Peter Kowald and Michel Ratté on Tour de Bras; and a trio record (CD) with Berlin-based Richard Scott (analog synth) and Audrey Chen (voice) on Sound Anatomy. 
ON THE CD: Vitrola – excerpt