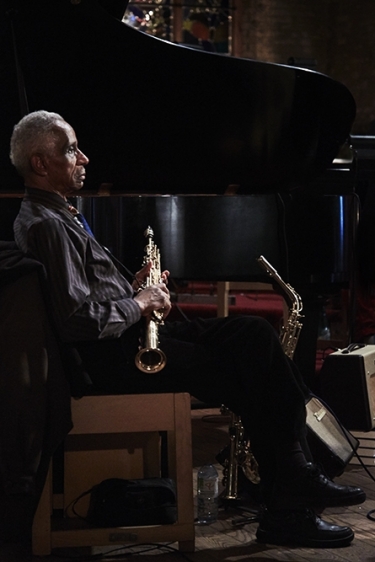 The year 2017 is being widely celebrated as the centenary of jazz, marked by the hundredth anniversary of the music's first recordings, the Original Dixieland Jazz Band's "Livery Stable Blues" and "Dixie Jass Band One Step." Jazz began as a spontaneous, improvised music of syncopated rhythms and bent notes so creatively assembled that it defied the hierarchy of written music. Yet almost immediately there were efforts to tame its elements in classical adaptations such as Darius Milhaud's La Création du monde (1923) and George Gershwin's Rhapsody in Blue (1924). The dialogue between the fluid and the fixed has persisted through the name-shifting at the music's cutting edge, from "jazz" to "improvised music" to the subversive "spontaneous composition."
Anyone looking for contemporary music that addresses all of the diverse creative drives that have emerged over the course of jazz's first century—the contradictions, tensions, conflicts, visions, and achievements, the dance between freedom and constraint—might find it in the work Roscoe Mitchell made with a newly formed ensemble, the Montreal-Toronto Art Orchestra (MTAO), during one week in early October 2016. Cofounder Scott Thomson invited me to witness the group's genesis. I attended three days of Montreal rehearsals, the concert in Toronto, and the studio recording sessions that occurred in Toronto the final day. Weeks later, as I was pulling together the views of different participants and listening to recordings of the orchestra and of the improvised trio pieces from which the compositions emerged, I began to understand the music that I had heard as it came into being—from tense first reading to a full-fledged performance that somehow matched its idiosyncrasy with a hard-earned fluidity.           
At the heart of the music is Mitchell himself, whether as improviser, orchestrator, or conceptualist, one of the most creative figures in improvised music for the past half-century. He emerged as a musical artist in Chicago in the mid '60s, and was the first member of the city's renowned Association for the Advancement of Creative Music (AACM) to release an LP, Sound, on the Delmark label. Its literal focus on "sound," much of it from such "little instruments" as toys, whistles, vernacular flutes, and small percussion, was a shift in focus in the emerging jazz avant-garde, and signalled Chicago's special musical identity. Three years later, the Roscoe Mitchell Art Ensemble moved to Paris and became the collective Art Ensemble of Chicago (AEC), an innovative group that perfectly captured the mood of Paris in its moment of cultural ferment during the protests and general strike of May 1968. While French intellectuals such as Guy Debord (Society of the Spectacle) were writing critiques that fueled revolts, the Art Ensemble combined the fervour of free jazz with theatrical costuming—Mitchell alone remained in casual street dress, while trumpeter Lester Bowie donned a lab coat, and the rest of the band wore African robes and face paint—and blended extended percussion interplay with random blasts of rhythm and blues, vocalic wailing, and pastoral flute to create a unique idiom that conveyed both irony and emergency.
Today, nearly fifty years later, the AEC is just one of Mitchell's continuing creative projects through which he explores multiple reed instruments, the relationships between composed and improvised music, and the vital quality of sound itself. Over the years, he has created such distinct musical entities as The Sound Ensemble in the 1970s and Note Factory in 1992. When American composer and computer-music pioneer George Lewis developed his Voyager computer program to interact with an improvising musician, Mitchell was the inaugural recording soloist. Mitchell, now seventy-six, still teaches, and since Fall 2007 has occupied the Darius Milhaud Chair in Composition at Mills College in Oakland. He remains enmeshed in a host of groups, such as The Trio, which includes the AACM founder Muhal Richard Abrams and its great chronicler, George Lewis.
The music Mitchell is making with the MTAO is part of a current project that might be one of his most expansive and challenging. The project revolves around the transcription and subsequent orchestration of pieces from his recent trio improvisation recordings, Conversations I and Conversations II (Wild Hive), with pianist and electronic musician Craig Taborn and drummer Kikanju Baku. Mitchell has set about transcribing the pieces, or having students transcribe them and then orchestrating them himself, or in the case of two pieces played by the MTAO, having his former students Daniel Steffey and Christopher Luna-Mega do it.
In the Spring of 2016, earlier iterations of the project included the world premiere of "Conversations For Orchestra" (comprising five orchestrated transcriptions) by the Iceland Symphony Orchestra (Ilan Volkov conducting) at the 2016 Tectonics Reykjavík Festival, and the world premiere in New York of They Rode for Them, performed by Mitchell and The Orchestra of the S.E.M. Ensemble (Petr Kotik conducting).
A month before traveling to Montreal, Mitchell sent the MTAO several of the orchestrated transcriptions. For this iteration, the group is oriented towards improvisation.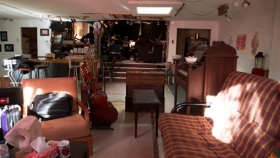 Casa Obscura
I arrive in Montreal and head straight for the rehearsal space, Casa Obscura—a kind of universal low-rent artists' common space. The first room has furniture that was stuffed tight sixty years ago, its mismatched velours now loose, rubbed and pressed into matte and gloss by time and friction. There's a makeshift bar, shelves of LPs, a pump organ, and numerous cheap classical guitars in racks that strongly suggest beginners' classes. The band is up a few steps. I see conductor Gregory Oh, Roscoe Mitchell seated beside him, and nineteen musicians with instruments large and small—and sometimes multiple—pressed into what would normally be both stage and performance space. They'll spend five hours a day here for the next four days.
The MTAO was cofounded by Scott Thomson, a Toronto-born trombonist who currently resides in Montreal, and bassist Nicolas Caloia, a native Montrealer and founder of the large improvised-jazz ensemble Ratchet Orchestra. Thomson, one of the founders of the AIMToronto Orchestra, which had significant collaborations with both Anthony Braxton and Evan Parker, had wanted to put together a project with Roscoe Mitchell for some time; Caloia, it turns out, had the same notion.

"I had mentioned to Scott that I was dreaming about doing something with Roscoe … someday," Caloia recalls. "Roscoe Mitchell is one of my all-time favourites. I know his entire oeuvre pretty well and I have always been impressed by the rigour and diversity of his projects.
"I suggested that a band of players from Toronto and Montreal be formed to perform in both cities. A recurring problem with these big projects is that they are usually only performed once, which is not, in my opinion, enough time for the music to gel. In general, I think that we should meet with and play with as many musicians from outside of our home towns as possible, because there are so few making and presenting this music: we can only achieve critical mass for an aesthetic outburst by participating in an active global community.
"Miraculously, our plans worked out and we were able to rehearse for a week, do two shows, and record the tunes. I had a great time doing it. Scott knows most of the musicians in both cities and had already set up something similar for the AIMToronto orchestra and Anthony Braxton. He did a spectacular job organizing everything."
There were many considerations to take into account as the band came together. "Given how much of Roscoe's music involves twinned bass-drum combinations—like his Note Factory bands—it felt right to use that model at the core of the group," Thomson says. "From there, we simply looked for the best players, with a mind to sectional balance—influenced as it may be by shared aesthetic priorities: for example, low winds—and an even split of Toronto and Montreal players. We did not know what music we would be playing, how much reading or improvising would be involved. So we aimed for as flexible a band as possible."
One thing that stands out immediately is the number of reed players and reeds, seemingly a reflection of Mitchell's own devotion to reeds of different families and extreme pitches. Peter Lutek, a master of drily artful precision, sticks to bassoon; Jason Sharp plays baritone and bass saxophone, singlehandedly adding a powerful undercurrent to the ensemble; Kyle Brenders plays tenor saxophone and clarinet; Yves Charuest plays alto saxophone, at one point contributing an extraordinary solo; and Lori Freedman and Jean Derome occupy extremes, with Freedman playing a floor-rumbling contrabass clarinet and a squealing sopranino as well as a soprano and bass in between, and Derome playing bass flute and piccolo.
The violas of Jean René and James Annett constitute a small string section, and there are five brass players: Nicole Rampersaud and Craig Pedersen play trumpets while Tom Richards and Scott Thomson's trombones and Julie Houle's tuba contribute to the music's dense yet rapidly moving bottom layers.
 
The arco lines of the two string basses, played by Caloia and Rob Clutton, add further weight, and the orchestral mass is pushed along by the drum kits of Nick Fraser and Isaiah Ceccarelli. Marilyn Lerner's bright, articulate piano darts in and out, along with Michael Davidson's vibraphone.
While there are no significant musical absences, there is an emotional one. Ken Aldcroft, the orchestra's guitarist, died suddenly of a heart attack just a few weeks before.
I'm a few minutes late for the beginning of the first rehearsal, and it's already slightly strange. The first piece is being built up in very short sections, a few bars at a time, the group beginning to feel its way through the music. Soon the focus is entirely on drummer Nick Fraser, who is pounding his drums as rapidly as possible, in a way that suggests random violence. But sounds and appearances are deceiving. He's realizing a score of tremendous difficulty and he, Mitchell, and Oh are debating its minutiae—tempo, dynamics, and what to do with the final thirty-second note. The process of microscopic examination continues throughout the afternoon and the following days. Brief passages are brought up in tempo and down, always with detailed attention to volume markings. During the rehearsals, a few of these excellent musicians tell me this is some of the most difficult music they've ever played.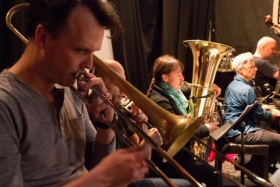 The key to understanding this particularly complex music is its origin in transcription: notating a piece of music via repeated listening to a recording of an improvised performance. While that is a common activity for aspiring jazz musicians, performances of transcriptions are rare. In a cafe a couple of blocks from Casa Obscura, Jean Derome and I are discussing transcriptions. Two notable examples arise, both related to gods of modern jazz saxophone. Around 1960, saxophonist John Coltrane, a titan of technique and invention, was presented with transcription of one of his solos. "I can't play it. It's too hard," Coltrane said. Derome mentions SuperSax, a 1970s band whose five-member saxophone section played orchestrated transcriptions of Charlie Parker solos—work of extraordinary complexity, like Coltrane's music.
Transcription and jazz have been wedded since those first jazz records appeared a century ago. The great swing-era pianist Teddy Wilson, who created the first course in popular-music performance at Juilliard, learned to play jazz in the '20s by slowing down Earl Hines records on a variable speed turntable in order to transpose them. Still more creative use appeared in 1959 when composer and arranger Hall Overton, setting Thelonious Monk compositions for an orchestra, transcribed and orchestrated for horns Monk's piano solo on "Little Rootie Tootie." Transcription has also been used as a postmodern appropriation strategy: in 2014, the New York band Mostly Other People Do the Killing transcribed note-for-note Miles Davis' 1959 classic Kind of Blue, recording and releasing the results as Blue.
While the Coltrane, Parker, Monk, and Davis works are largely tonal music—with choruses, bar lines, key signatures, regular metres, and cyclically repeating harmonies—the original Conversations trio pieces that Mitchell is working with have few of these characteristics, and lack even consistently fixed pitches. And that's the problem for transcription; the problem for performers is posed by the idiomatic nature of improvised music—the extent to which its patterns are influenced by the specific characteristics of individual instruments.
"Intricate free improvisations are hard enough in the moment, harder still to transcribe and recreate," Gregory Oh says, going on to note that to recreate "requires a very skilful player, someone who can read and play tough and exacting avant-garde passages and rhythms, but also listen and improvise and create new music in the moment."
Alto saxophonist Yves Charuest says the complexity of playing the music "was to hear our individual parts in [such] a way [as] to produce those composite textures or events that were not initially imagined analytically, but were spontaneously played and therefore very concrete and holistic in their sonic qualities. The music was not only difficult to read but to hear collectively. That's what we spent a good amount of time building up in those rehearsals."
The music seems to demand an almost manic precision, as the orchestrated scores expand to contribute harmonies to the original improvisations, even as they continue to insist on the spontaneous lightness of free improvisation. It's a seemingly impossible task: to expand on the original struggles of writing composers by getting score-reading musicians to match the easy fluency of early jazz.
The most complex work on the program is the two-part They Rode for Them. Originally an improvised duet with drummer Kikanju Baku, the orchestral piece integrates improvisation with the transcribed score. "Part One" is based on Mitchell's original bass saxophone part and features Charuest improvising with the orchestra. "Part Two," an orchestration of Baku's original drum part, begins with an improvised duet by Jean Derome and Isaiah Ceccarelli that calls for piccolo and snare drum, emphasizing the narrow range of the former (imagine half a fife) and the metallic rattle of the latter. When the orchestra begins, Mitchell improvises on sopranino in place of his original bass saxophone solo. A kind of willed chaos ensues, a maze of high-pitched notes and harmonics welded into a continuum by circular breathing, penetrating (and penetrated by) an orchestration that is like a blanket of spikes.
The character of the music is unlike anything you might have heard before. The dense, composed orchestral parts owe their lines and structures to collective improvisation rather than to a composer's singular vision. The original patterns of response and initiation of material that belong to different minds are now fused. It's emblematic of Mitchell's genuinely experimental approach to music, his willingness to see what happens when certain ideas and materials are combined, deliberately testing the combination by taking it as far as possible. At one point, he describes his goal as "getting more information to the improviser." For Mitchell, this is essential work that extends his practice as improviser, composer, and teacher. "The sense of the idea is a way to understand the relationship between improvisation and composition. I'm viewing it as if I were to ask someone to improvise with Craig Taborn, Kikanju Baku, and myself. It's a way to allow them into the work that I'm doing.
"The pieces change depending on whether or not I'm working with improvising musicians. There's the flexibility to add improvised sections, to extend the materials, altering orchestrations for the changing instruments. I want to get it so it works both ways. I've always learned hands-on, and I want to integrate that method into my teaching."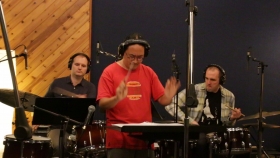 Canterbury Tales
Following four days of meticulous rehearsal and concerts at Montreal's Le Gesù and Toronto's Music Gallery—each involving the elaborate setting up and breaking down of the orchestra's equipment, with a 500-kilometre drive in between—we come to the seventh and final day of Mitchell's work with the MTAO, and the final setup, this time in the tight confines of a recording studio at Canterbury Music Company in Toronto's Parkdale neighbourhood.
In the crucible of performance, the music has found its shape, its mixed methodology achieving its own difficult coherence. Design and passion begin to fuse. Over a period of six hours, the band wrestles through false starts and incomplete takes to achieve a unique result. As the afternoon passes into early evening, members of the orchestra call for further takes as often as do Mitchell or Oh, collectively willing the music's possibilities to another level.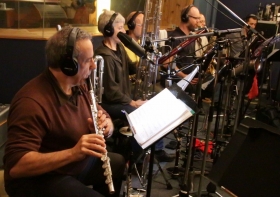 For Thomson, "The highlight of the process was hearing the band improve so markedly. While twenty hours of rehearsal, two performances, and a studio recording session seemed like a fairly thorough work period, even a luxurious one by typical standards, it wasn't until the end of the process that Roscoe's very demanding music started to take shape in exciting ways. I think Greg Oh deserves special credit for his very intelligent approach to refining the music throughout the project."
Mitchell is continuing the project both with symphony orchestras and other improvisers. He has orchestrated another of the Conversations trio pieces, "Frenzy House," and recorded it with a chamber orchestra conducted by Steed Cowart, with flutist Wilfrido Terrazas as improviser at Fantasy Studios in Berkeley, California. This May he'll be performing some of the Conversations for Orchestra with Ilan Volkov conducting the BBC Scottish Symphony Orchestra, with Terrazas again as soloist. Later in May he'll be performing the work in Bologna with the Orchestra del Teatro Comunale di Bologna under conductor Tonino Battista with Gianni Trovalusci as flute soloist.
"I'll have two different versions with two different soloists," Mitchell says. "Each time, it's performed differently. I can look at the relationships between two different versions of the piece, with two different improvisers' reactions."
---
Audio (Musicworks CD exclusive)
: Shards and Lemons (2017). Read more.
Homepage slider photo: Roscoe Mitchell and the Montreal-Toronto Art Orchestra (Music Gallery, October 2016) by Claire Harvie, graphic treatment by Atanas Bozdaroz. Top image: Roscoe Mitchel listening at Music Gallery (October 2016) by Claire Harvie.  All other photos by Wendy L. Nelson, top to bottom: Casa Obscura (Montreal, October 2016);  bassist Nicolas Caloia; trombonist Scott Thomson Isaiah Ceccarelli, Gregory Oh, and Nick Fraser in Canterbury Music studio (Toronto, October 2016);  members of Montreal-Toronto Art Orchestra recording with Roscoe Mitchell (not in photos) in Toronto.