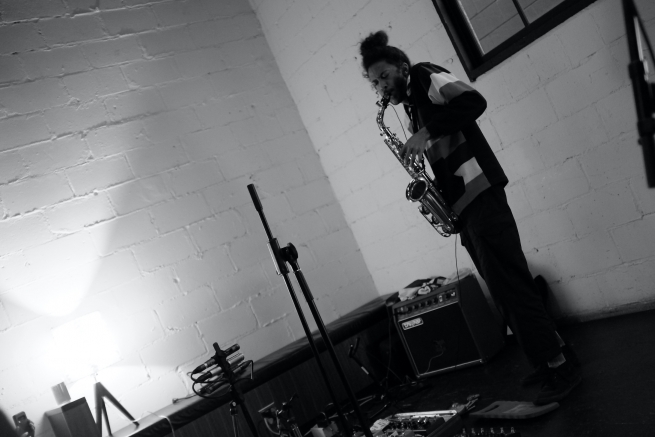 Jairus Sharif believes in the transformative power of music. On his debut album, Water & Tools, the thirty-three-year-old multi-instrumentalist constructs dense, impassioned improvisations that fuse the murky beatscapes of underground hip-hop with the scorching intensity of free jazz. Since finding his breath on the alto saxophone and experiencing a series of galvanizing events, the Calgary-based musician has dedicated himself to the pursuit of artistic truth. Working closely with Toronto's Max Turnbull, the leader of Badge Époque Ensemble, Sharif has developed a self-directed approach to spontaneous composition that has allowed him to forge strong connections to his personal history.
"I changed my name to Jairus Sharif as a claim to myself," he explains during a video call. "My dad, Jay Marshall, was a stand-up bass player with super dark skin who also did street hustling, the shell game, and those kinds of things. We didn't meet until his final months, which gave me connections to Blackness that I never had before. After that, the shift that happened during the Black Lives Matter era gave me a lot of energy, allowing me to be who I want to be."
Sharif didn't have to look far to find musical inspiration during his formative years. He describes his mother, Patricia Shaw, as an enthusiast of the local 1980s punk scene, while his late aunt, Lisa Hobson, hosted the long-running Can We Talk? show on Calgary's influential campus radio station CJSW. Pictured in front of a Christmas tree with a baby-faced Sharif on Water & Tools' inner sleeve, his mother and aunt brought him along to venues like the Night Gallery and encouraged him to explore their vast collection of tapes and CDs. At the dawn of online file sharing, Sharif's musical interests expanded even further. "I was a hip-hop kid, starting with Tupac before I got into MF Doom and Madlib," he recalls. "My moms were early internet adopters, so my taste was deep into underground '90s rap, breakdancing, and the whole culture."
In 2002, Sharif picked up his first instrument—a pair of Technics 1200 turntables—but struggled to connect with anyone in Calgary to create the music he heard in his head. "There were very few people doing what I considered to be hip-hop here. I was too young and shy to approach people like [hip-hop duo] Dragon Fli Empire and didn't have the confidence to make a song about something [as personal as] my bus route," he admits, referencing Dragon Fli Empire's 2004 song "Mount Pleasant."
"As much as I appreciated the work they were doing, I wanted to be more like a hip-hop artist from New York."
During his studies at Calgary's Queen Elizabeth High School, Sharif was drawn to the all-ages punk shows at the Carpenter's Union Hall in the nearby neighbourhood of Kensington. After acquiring a guitar, he briefly played in a garage-rock band before gravitating back to his love of the blues. Yet Sharif's interests in the foundations of the genre clashed with the expectations of local audiences. "I did some one-man-band shows and got my ten thousand hours playing the Bo Diddley beat," he says, laughing. "People love the blues in Calgary, so I thought my music would resonate, but when I played at the Blues Can they had no idea what I was doing. Like the hip-hop thing, I was expecting New York, and it just wasn't that."
After nearly a decade of woodshedding with his harmonica and guitar, Sharif's musical interests shifted once again. Backtracking through the samples on his favourite rap records led him to the revolutionary jazz of the '60s and '70s. "I was really inspired to get back into making hip-hop," he says. "Black Lives Matter was bubbling up, so I wanted to do something that felt like where my roots came from." A chance encounter with drummer Chris Dadge—founder of Calgary's Bug Incision label and free-improvisation live series—introduced Sharif to the music of South African alto saxophonist Dudu Pukwana. "The next day I went to Sharky's Pawn Shop to buy myself an alto sax," he says, laughing. "The kid working there told me not to buy any of the instruments they had because they were all beat-up, so I went on Kijiji and bought someone's student sax instead."
In March 2020, a few weeks after bringing the instrument home, the pandemic lockdown forced Sharif into isolation. A couple of local musicians he'd been jamming with in his basement had left behind a drum kit and a synthesizer. "Suddenly I had all the time in the world to make music at home," says Sharif. "I was deep in therapy at that point, and we had been doing a lot of breathing exercises. I basically did some breathing work with the sax for a few weeks and then started recording."
The concept of air flowing through the body as an expression of freedom and truth plays a prominent role in Sharif's first releases: four EPs posted online throughout 2020 that each have the title Q4DB (Quest for Deep Breath). This title relates, in part, to the murder of George Floyd and the phrase "I can't breathe" that became the heart-breaking rallying cry of the BLM movement. "When I really started thinking about it," says Sharif, "I didn't know if I had been breathing for my whole life before that."
During his work shifts at Calgary's Recordland, Sharif began plugging his phone into the shop stereo and playing his music for unsuspecting customers. Some of the people who enquired about the music they were hearing in the store turned out to be label owners. In February 2021, the Mega Optics mini-album was issued on cassette by Edmonton's Saw-Whet Records, and on twelve-inch lathe-cut vinyl by the Belgium / Alberta label Why Keith Dropped the S. "Recordland was truly a catalyst to get the creativity out of my basement and into the world—it's the High Fidelity Beta Band approach to self-promotion," he says, referring to Stephen Frears' 2000 film.
With growing confidence, Sharif submitted Mega Optics to the !Earshot digital distribution company to get his music to campus radio stations and prospective labels across Canada. Within a month, Toronto's Telephone Explosion Records had reached out and helped connect him to Max Turnbull, aka Slim Twig, who played a crucial role in the remote recording of Water & Tools. A fan of Slim Twig since his rockabilly era, Sharif was thrilled with their collaboration.
"We talked a lot about truth, what I was trying to express, and how freely I wanted to express it," Sharif recalls. "Eventually we settled on a completely improvised approach. The sax pieces you hear on the album are just me in front of a microphone with no chopping or re-recording. Max went in after and did a lot of treatments, adding his special touch where he heard something missing. Every time you hear heavy 808s or smashing keys, that's all Max."
Listening to the album's snaking sax melodies, clattering drum fills, and Sun Ra-inspired synth squelch, it might be surprising to learn that Sharif cites Wu-Tang Clan member Ol' Dirty Bastard as a primary influence.
"I have a huge love for ODB," says Sharif. "He's the heart of Wu-Tang, and always said they were for the children and human families of planet Earth. That never leaves my mind. I want to show people that I'm a person, and I'm here. I hope this record encourages people to explore their personal sense of creativity in any way they see fit."
To that end, Sharif has recently teamed up with Calgary Arts Development to launch a series of free outdoor events in the under-used parks of the city's southeast neighbourhoods. This project was inspired by his discovery of the Parachute Centre for Cultural Affairs, a Calgary artist-run centre that existed in Kensington from 1975 to 1977. With Eugene Chadbourne working as artistic director, visiting performers included Anthony Braxton, Wadada Leo Smith, and CCMC. "I think Calgary is a big energy centre," says Sharif. "It's not all happening, but the stuff that comes from here is potent. It's important to me that the building of healthy, local, creative communities in all places be encouraged."
While his journey to arrive at the sound of Water & Tools was deeply personal, Sharif views the album as a similarly welcoming beacon of artistic expression, encouraging everyone who hears it to unlock their inner truths. His father's sticker-covered upright bass, pictured on the back cover, even makes a recorded appearance to connect their shared cultural histories. "It's an album about personal access and personal allowance," says Sharif. "I'm trying to say that it's OK to tell the truth to yourself, and to embody that truth."
---
PHOTOS: Top photo of Jairus Sharif at High Line Brewing in Calgary by Arif Ansari.
Bottom photo of Jairus Sharif in Lisa's Island Studio in Calgary is an artist self-portrait.
FYI: Throughout 2023, Jairus Sharif is performing improvised solo sets and playing his Water & Tools album in duo and trio form. He is also recording experiments with pedals and live composition, and studying graphic composition.