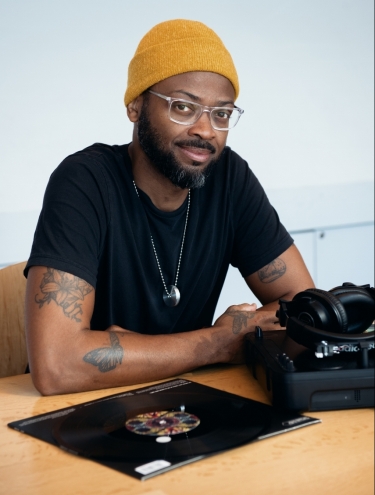 When it comes to picking the defining factors of a musical practice, some artists view their work as a single, continuous process, homing in on a specific vision and returning to it repeatedly. Others are the opposite—traversing a multitude of styles and sounds as they launch themselves into several seemingly disparate directions at once. Cheldon Paterson is in the latter group. "Most people will know me for being a musician and for working with sounds, but I see myself as so much more than that," he says. "I've been battling with that over the course of my career, trying to not define it."
We're sitting in a study room at the Toronto Reference Library in late November 2022. Over the past year, the Toronto-based artist and musician—perhaps most easily recognized as his musical moniker, SlowPitchSound—has released a solo album, performed as an improviser and turntablist at shows presented by Tone festival in Toronto and SuddenlyListen in Halifax, created videos and other visuals to accompany his original music, and contributed music composition and sound design to theatre, circus, digital art, classical music, and film projects. A turntablist by background, his own musical style is wide-ranging, and difficult to pin down with words. The influence of hip-hop and other beat-driven music sits prominently in many of his works; elsewhere, Paterson blends turntabling with ambient sounds and electronics into collages more reminiscent of foley or musique concrète.
While Paterson didn't have a particularly arts-oriented childhood, as a teenager hip-hop groups like Public Enemy became his entry point into music. "Listening to chopped-up samples, and then seeing a DJ onstage creating that sound . . . the beats that they made didn't sound like any other thing I was hearing," he says.
After that, Paterson secretly played with vinyl on his parents' turntable at home. It was less about being tied to a particular genre or style of music and more about the type of anything-goes approach to sound that it provoked for him. He was enamoured with the way his physical motion could alter the sound of a recording, manipulate a record to make a person's voice sound uncanny, or interrupt the flow of a song.
"I didn't care about making a mix, or even about playing a song straight through from beginning to end," he recalls. "I just loved scratching. I was hooked."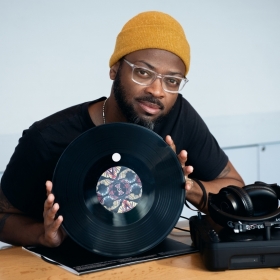 Paterson's early forays into music-making were marked by his work as a DJ—first organizing events at a local community centre and later arranging a monthly residency for himself at Down One Lounge, a now-closed pool hall on Toronto's Front Street. In promoting the residency, he discovered a new sense of musical place alongside longstanding local record stores like Rotate This and Play De Record, and campus-community radio stations like the influential CKLN-FM (defunct as of 2011).
Community radio was a revelation. "Hearing a mix and then a person's voice talking each week with a different theme or story—it really opened up my mind, listening to music like that," he says. "When you're DJing, you hear a lot of comments about which music people will and won't like. What I got from radio shows was that it wasn't always about [the sounds you played]—it was about how you presented them. Because when I would hear the excitement of radio hosts introducing something, and what they had to say about it, I ended up liking it, and being exposed to music that I never thought I would ever hear."
Paterson's appetite for more experimental applications of his art led him to cofound the turntablist band iNSiDEaMiND in the mid-2000s. Starting as a four-person band, it eventually solidified into a duo comprising Paterson and fellow Toronto turntablist Erik Laar. Scatterpopia, their 2008 release on the Montreal label Public Transit Recordings, is richly cinematic, with the more technical turntable work layered and spliced among acoustic instruments and moody soundscapes. Some of the sounds, especially on the earlier tracks, are explicitly diegetic: conversational voices, air traffic controllers, noises reminiscent of thunder. "It was about storytelling with vinyl," Paterson says. "That's how I've always thought about it. I would make mixtapes where I would literally make scenes: a door closing, then a window going up in a car, then my friend would say something and I would record them so that it was as if there was a voice coming out [of that car]. That was since the beginning for me—the feeling of 'I'm not just going to just play tracks back-to-back. I want to make it a journey.'"
Paterson rattles off the musical discoveries that influenced him at the time: the U.K.-based label Ninja Tune; a 2003 Björk concert on Toronto's Centre Island where he heard Montreal scratch DJ and artist Kid Koala; the work of Japanese producer DJ Krush. While traces of those influences appear in the musical language of Scatterpopia, Paterson admits that iNSiDEaMiND was also propelled forward by its broad-strokes rejection of the larger nightlife context in which it was operating. "A part of it was stressing that you didn't have to just play in a club or [cater] to what you think people will like. It wasn't about that; it was about having fun with music. We could bounce ideas off each other, so we didn't care about what anyone thought. We just did whatever we wanted."
Eventually, Paterson returned to solo work, dropping the title of DJ as he searched for more openly interdisciplinary spaces. He eventually settled on SlowPitchSound—a triple reference to the slowed-down techniques on the turntable that he prefers, the distortion that characterizes the slow pitch in baseball, and the Caribbean sound-system culture that connects to his family history in Grenada, where he was born and spent his childhood summers. "There was something about the play on words, something a little bit twisted and counterintuitive about pitching somebody a ball . . . slowly," he says. "At the time, when I was producing, I was wondering how I could make samples unrecognizable, and slowing them down was an easy [way to do that]. But it was also so much more than that. When you slow down even just a small note, the tone changes; you hear little imperfections. New worlds open up between the grooves."
In those early years, it was a pivotal discovery for him. "It opened up my mind," he declares. "It made me think, 'Do you know what? I don't care what anyone says. I'm just going to make some weird shit.' I wrote it on my board in my room: 'Get weirder.' I'm going to stay on this line and just keep going."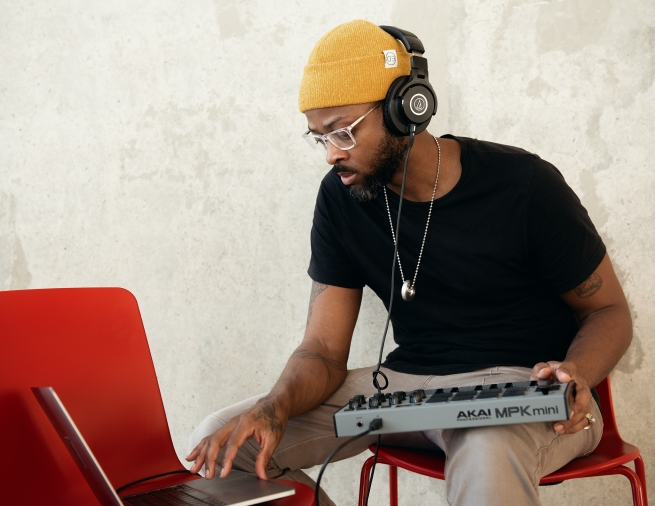 Composing music remains an intuitive process for Paterson. "I leave room for accidents to shape what I'm doing," he says. "I've taught myself to not acknowledge things that happen [when I play] as mistakes and to just think of them as part of the process. When the record jumps by accident, I hear something in there. I try to follow that feeling—to let the sounds guide what's going to happen."
In April 2022, he released Expanding Thought Fields, his second full-length album as SlowPitchSound. For such deeply electronic music, it sounds unexpectedly warm and intimate—the close-up crackling of the vinyl blurring with layers of richly woven tones and rhythms. "Deeper Doorways," the opening track, unfurls at a slow, ambulatory pace, with different gestural elements and improvisatory scratching slowly bubbling up to the surface before disappearing again into the background. The track's feeling of soft spontaneity reappears throughout the album, even as many of the later tracks settle into purposeful, beat-based grooves. Partway through the track, brief snippets of a voice begin to emerge from the texture. "Ready?" it asks.
Paterson traces for me the history of sampling in hip-hop, referencing how the shifting approaches to musical copyright in the 1990s forced artists to experiment with sampling by not just pulling inspiration from a sample's particular timbre or moment, but altering everything else about it, to the edge of recognizability. Often he thinks of the music he produces as a series of those sampled layers, with the various sounds stacked, flipped, and manipulated so that their source materials are impossible to identify. "I have a scratch layer, I have my field recording layer, I have my layer where I actually might play on a keyboard or something," he says. "And because of the way the music is clashing together, you end up hearing other effects—hidden frequencies and tones, if you can find a way to pull them out.
"It comes back full circle for me, because scratching is the key to having things that shouldn't go together go together," he adds. "Scratching works at a micro level. I can take a sound and add a certain scratch to connect it with another sound. When you listen to it, you just hear it as one thing, when it's actually made up of four or five different sounds, all attached to one another."
The inclusion of Paterson's field recordings is a more recent direction in his solo work. While this practice appears in his earlier SlowPitchSound projects—like his theatre-inspired live show Alternate Forest, presented at Array Space in 2018 and 2019 with dancer Lybido and video and lighting designer Aaron Dawson—it claims a more prominent place on his latest record. The digital DJ software Traktor allows him to work with tactile, real-life turntable manipulations to alter his own digital audio files. He describes walking around his neighbourhood to record sounds and then digitally scratching with those sounds at home, in the same manner as he would if they had been professionally pressed onto vinyl.
Increasingly, Paterson has been venturing beyond these tools in his music. Drums and other digital instruments are scattered throughout Expanding Thought Fields, and his more recent compositional work has involved writing for instrumentalists active in the Toronto classical chamber music scene. In 2018, Paterson served as a composer-in-residence for the Toronto contemporary music presenter Soundstreams, sharing the stage with the Gryphon Trio for the premiere performance of his work The Altered Offering for turntables, violin, cello, and piano. Since then, he's worked as a composer with several of the city's theatre and contemporary classical music presenters, including a series of compositions for the Thin Edge New Music Collective's experimental circus project Anthropic Traces in the summer of 2022. In 2023, he'll be working with Arraymusic on a new composition for chamber ensemble and electronics, and he will also return to Soundstreams with a new work for two trumpets and electronics, inspired by the music of Igor Stravinsky.
An ecological sensibility guides much of Paterson's recent work. While loosely environmentalist themes and imagery appear in his music, there is also an atmospheric sense of place that is harder to pinpoint. "Sci-fi turntablism," a phrase that Paterson has often used to characterize his practice, feels fitting: It's less space-age symbolism, though, than a universe-travelling feeling the listener is left with. By letting the entire outside world and its noises leak into his music, he imbues it with a kind of unidentifiable light.
There is something transporting about a turntable. "The turntable taps into your brain in a whole other way, because the sounds you're playing with are almost limitless: They're whatever sound exists on Earth," Paterson declares. In that sense, the turntable-as-instrument is a kind of paradox: The sound of vinyl—of dust in the grooves, of scratching, of manipulating a record on a platter—has an immediately distinguishable and hyper-specific sound quality, but at the same time, it offers a sprawling, bottomless sonic vocabulary of recordings to select and play with; for Paterson, the turntable has become an object that can hold multiple worlds inside of it at once.
It's an apt analogy for Paterson himself. There are many versions of who he is as an artist: a producer, a composer, a performer negotiating a multitude of increasingly varied musical contexts. Lately, he's been more involved in theatre, most recently as an onstage turntablist and performer for the Toronto theatre company Bad New Days' production of Italian Mime Suicide, presented at Théâtre Aux Écuries in Montreal in fall 2021 and reprised in Toronto at the Theatre Centre in April 2022.
All of this is a logical extension of the scratching and DJing Paterson started out with. The precisely timed physicality of turntablism lends itself well to acting and movement; the open-ended potential of sample-based music served as a pathway into sound design and classical composition. The interdisciplinary elements of his current projects, he says, were always present in his work. "Dance, mime, movement—they've been in my head since 2005. It's not a new [way of thinking] for me; it's a dream realized."
This reinforces the idea of vinyl as an endlessly rich medium, and of turntablism as an unexpectedly perfect template for Paterson's creative process. He brings other sonic universes into the sounds and actions that have been in his music all along, just under the surface.
---
Photography by Kevin Jones, 2022. 
Learn more about SlowPitchSound here.
Listen to more music by SlowPitchSound here.