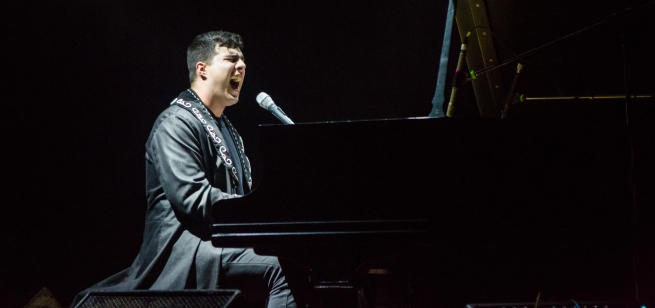 The first time I heard Jeremy Dutcher on the radio, I was driving my son and some of his non-Native teammates to soccer practice in Peterborough. I had tuned in to the CBC a few bars into Dutcher's single "Honour Song," and the fifteen-year-old boys in the car fell silent. "Holy Simpson [read Mom], a Nish [Nishnaabeg] must have taken over the CBC. They're playing our music."
Indeed.
The voice on the radio was that of Cree–Dene broadcaster Jarret Martineau, host of Reclaimed, a weekly national radio program that focuses on the next wave of Indigenous music. Reclaimed and "Honour Song" had silenced my car full of teenage boys, and I knew at that moment that it wasn't just me—Jeremy Dutcher was magic.
Dutcher's debut album Wolastoqiyik Lintuwakonawa was released in spring 2018 and although he is considered an emerging artist, he is emerging fully formed. This is not a project recorded on the fly at a friend's house as a first crack at one's craft. This is a deep engagement and consideration within the practice of Wolastoq music. I hear Wolastoqiyik Lintuwakonawa as a seamless continuation of Wolastoq expression—one that is predicated on a complex and nuanced engagement with Wolastoq worlds.
Wolastoq means beautiful river, and Dutcher's people, the Maliseet, call themselves Wolastoqiyik, which means people of the river. Their river is the Saint John in what is now known as New Brunswick. Between 1907 and 1911 an ethnologist travelled to the community Jeremy Dutcher is from, and recorded over 100 Wolastoq songs, using wax cylinders for phonographic recordings. Over 100 years later, Dutcher travelled to Ottawa and visited the archives of the Canadian Museum of History in Gatineau, Quebec, to access these recordings.
Listening is always important for musicians, and is particularly important for any of us who come from oral cultures. So Dutcher began as we have always done—by listening and listening and listening. He continued by sketching out a visual landscape of the song. Then he figured out what key it was in and documented the melody on staff paper. After chords, transposition, and arrangement, the scaffolding started to emerge. What happens next seems to me to be elusive at best. I imagine Jeremy and his ancestors sitting in the sterile dry air of the archives with headphones from another era listening to the singing souls of their people, and hearing in their hearts the recordings that eventually emerge on Wolastoqiyik Lintuwakonawa, tracks that bring audiences to places they've never imagined.
Dutcher is classically trained in operatic performance, and I recognize, in listening to his work, that he is also Wolastoqiyik trained. As such, the Wolastoq isn't just inspiration, the river is a member of Dutcher's band. Using his body as instrument, Dutcher invites the river into whatever venue he finds himself in and creates and holds a space where the vibration of the Saint John River pushes out all other realities. Wolastoqiyik Lintuwakonawa is a complex and layered conversation that is Wolastoq at its core and riffles across electronic and classical sounds, using vocals, hand drum, strings, piano, and electronics. He sings in his language.
Song making and singing within Indigenous cultures has always been a practice of the present. Indigenous peoples have always been contemporary, the popular intervention goes. Our songs announce our presence; they draw us into the reality at hand; they build attachment and community; and they are gifts. On Wolastoqiyik Lintuwakonawa, Dutcher does all of this with such effortless elegance. He shows us that the Saint John River can sing, and these are its songs.
There are mistakes we all make on our first recording. There are mistakes made by those of us who love research, when we then go on to make art. Dutcher's mastery of his craft and performance means he makes no mistakes. The music stands on its own, without the listener knowing the backstory, without knowing about the wax cylinders, the research, the transcription, and the fragility of Indigenous languages. It was that character—the energy, the passion, the unapologetic confidence—that commands a listener's full presence, and silenced my car that day on the way to soccer practice.
I listen to the record as a witness, aware that these songs are not from my people, nor are meant for me specifically. I'm witnessing an intimate conversation between the past, the present, and the future. I'm witnessing a quiet moment between Jeremy and his ancestors, as they sing together across time and space. I'm witnessing a dialogue between artist and river.
Last fall, Jeremy and I travelled together on the New Constellation nation(s)wide tour of music and arts. I watched him perform thirteen times in twelve different places, ranging from Nishnaabeg reserves to bars packed full of tipsy white July Talk [alt-rock band] fans, and in theatres of quiet Indigenous and non-Indigenous listeners. One thing was constant: in every venue, he was the only artist that held the crowd's attention for his full set. In Edmonton, he earned the respect of the bar crowd. In Prince Albert, the audience gave him a spontaneous standing ovation mid-show, and in Wikwemikong, the Nishnaabeg audiences recognized themselves in his sound world. Toronto was simply transfixed.
There is this moment I'll always remember. In the presence of a grand piano, Jeremy climbs onto the instrument and sings directly onto the strings. In sound check, he works with the sound technician to make sure he has found the exactly right spot to create sound that vibrates bone.
I don't know how other witnesses read this action, but to me, it is the most Nishnaabeg thing one could do with a piano. In that moment, the piano is not an instrument, but an extension of Dutcher's relations. There is shared breath. There is shared vibration. The piano is no longer an inanimate object, but an animate being with spirit and agency and song. The piano as dewe'igan, drum, heartbeat, the sound of truth, life. It is in that moment that descriptors like classical, traditional, and contemporary are rendered meaningless.
One night on the bus, Jeremy tells the story of seeing tourmate and Cree cellist Cris Derksen on TV during her performance on Aboriginal Achievement Awards, when he was in high school. Cris smiles; we all do, knowing that most of us have no similar experiences in our formative years, but knowing that because of the tireless work of the Indigenous music community, our children will grow up bathed in Indigenous possibility.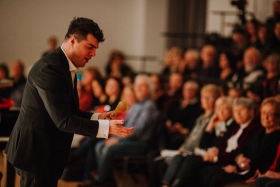 Find this record. Listen. Witness. Let it transform your idea of Indigenous music, just as Buffy Sainte-Marie, Cris Derksen, A Tribe Called Red, and Tanya Tagaq have done before. Witness the talent, the brilliance, and the sheer excellence of Indigenous peoples in spite of the four hundred years of violence, erasure, and dispossession.
Our ancestors are so proud of him.
Lifting us all up.
---
FYI: Jeremy Dutcher's Summer 2018 tour includes performances June 9 (Great Hall, Toronto), 16-17 (Sākihiwē Festival, Winnipeg), 27 (Queer Arts Festival, Vancouver), and 29 (Kiac Ballroom, Dawson City); and July 4 (Festival de Jazz, Montreal), 14-15 (Hillside Fest, Guelph), 18 (Avondale United Church, Stratford), and 28-29 (Calgary Folk Fest).
---
Top photo: Jeremy Dutcher performing at New Constellations: A Nation(s)wide Tour of Music and the Arts (Opera House, Toronto, Dec. 2017); photo by Shane Parent. Bottom photo: Dutcher performing the symphonic debut of music from his new album, Wolastoqiyik Lintuwakonawa, with the Regina Symphony Orchestra (March 2018); photo by Chris Graham.
Audio:  Mehcinut. Composed and performed by Jeremy Dutcher. From Wolastoqiyik Lintuwakonawa (JD003) released April 6, 2018