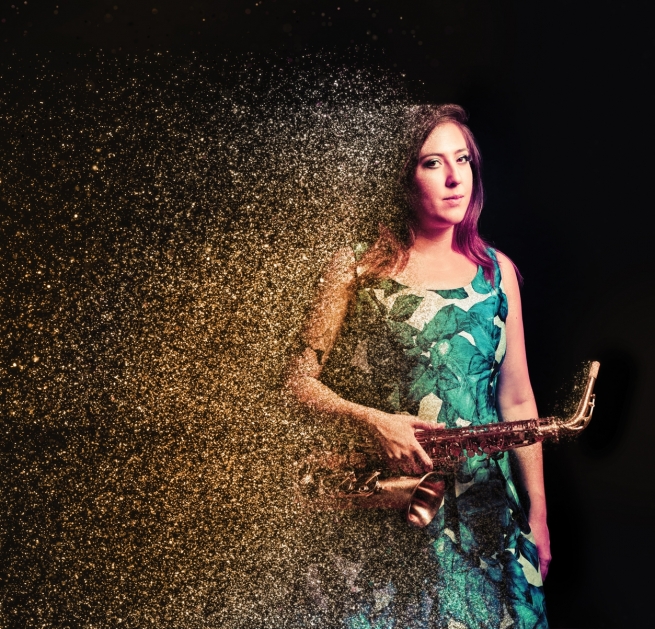 Olivia Shortt may not be a household name, but anyone who's caught one of their eccentric stage performances—either solo or in avant-garde ensembles—has probably not forgotten them. Over the past few years, Shortt has built an enviable résumé. They made their Lincoln Center debut at the 2018 Mostly Mozart festival's concert of Michael Pisaro's monumental A wave and waves for one hundred performers, appeared in Atom Egoyan's Venice-premiering 2019 film Guest of Honour, and recorded Robert Lemay's composition Fragments noir two kilometres underground in SnoLab (an underground science laboratory in Sudbury, Ontario) with Stereoscope, their saxophone duo with Jacob Armstrong. All of this, and more, has been the unveiling of a daring, mercurial artist.
Shortt's relationship with music began with the piano; it took the young Shortt a year to convince their mother that they could commit to an instrument. But the most iconic music moment occurred during an elementary-school "instrument parade," which ended with love-at-first-sax.
"I saw the saxophone—how shiny it was and how many buttons it had—and literally that was it; there wasn't anything else," says the Tkarón:to-based creator. "It really reflects my fashion now: I do love shiny and glittery."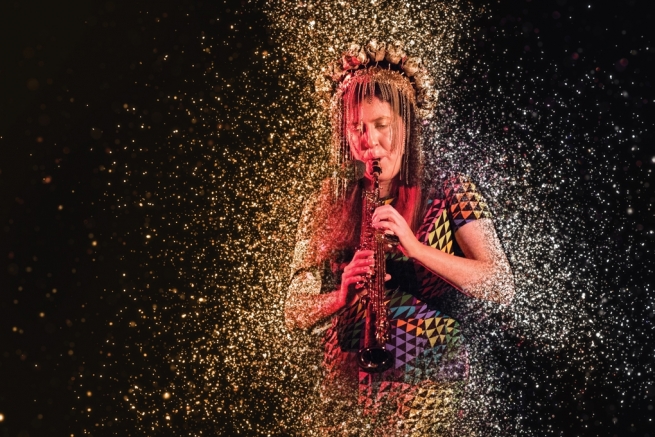 An only child born to an Anishinaabe, Nipissing First Nation father and an Irish Canadian mother, Shortt grew up in North Bay, Ontario. "I spent a lot of time on my own, listening to music," says Shortt. "I had cassette tapes from my uncle, [and] one track that I loved was 'Werewolves of London' by Warren Zevon." Shortt vividly recalls howling along with the wolf part of the song, and belting out karaoke performances of Meat Loaf's "I'd Do Anything for Love (But I Won't Do That)" and the powwow album bought by their father. "I'm sure that's how I learned how to sing, because I could match all the high, high pitches they were hitting." The album was an early connection to the Indigenous community of Shortt, who recently began learning the Anishinaabemowin language.
A thrift-store find—the 1970s album Hammond Organ Dance Party—particularly appealed to Shortt, who was drawn to its theatrical unpredictability. "It had 'House of the Rising Sun' on it. Hearing it on a Hammond organ with tons of vibrato and just the most ridiculous arrangement—it was great!"
Shortt was motivated to take up the saxophone by Shirantha Beddage, director of theory and harmony at Humber College Music, a fellow baritone saxophonist and an alumnus of their North Bay high school, who returned to visit and play for students when Shortt was a teenager. "[The instrument] was cool and bold," Shortt recalls. "I related to it as a person, because I'm gregarious and extroverted and baritone sax felt like that."
Whether classical, contemporary, or noisemaking, music is both a release and a refuge for Shortt. "Making music is one of the ways that I can express anger, sadness, and joy all in the same moment. I'm a storyteller by nature, and my artmaking is not only for myself but also for the audience. I like sharing who I am, who I want to be, and who I'm going to be in the future. It means a lot for me to have a platform to tell stories—no matter how abstract—in my own way."
Shortt studied at the University of Toronto's Faculty of Music and, in some ways, they thrived. "I went into classical saxophone, and you actually end up doing a lot of weird shit—extended techniques, weird noises. It's not your typical classical sound world, but I kind of loved that." But that environment could also be rigid, dated by its insular celebration of white, male, canonized creators, and by its exclusionary ideas.
"Discussions around racism, systemic oppression, equity—it feels like these things are only coming up now for those communities, whereas theatre and dance have been having these conversations for much longer," Shortt says. "I [felt] frustrated because I had a lot of ideas and opinions—I'm opinionated—and I felt like I wasn't finding my community. So, I branched out to theatre. I didn't want to get pigeonholed into this one place of classical new music."
The theatre world was freeing and it inspired Shortt to take risks. While they were working an administration job at Native Earth Performing Arts, managing director Isaac Thomas heard they were working with dancers and encouraged them to pitch their work to Weesageechak Begins To Dance, the long-running annual development festival of new Indigenous work. "I hadn't really been creating things myself, I was mostly playing and interpreting works. That was the first time someone said, 'You should make something.' I'm grateful that he did that because that pushed me to realize that I actually have a lot of ideas and I do want to create more stuff. I just had to figure out how to do that." Opportunities and new alliances began popping up, and Shortt had a chance to work in sound design. Toronto-based sound designers like Maddie Bautista, Deanna Choi, and Miquelon Rodriquez "opened up a new world of creative intersection," Shortt says. "Sound design seemed really cool. There are not a lot of people doing it; there is not a lot of BIPOC representation in it."
The continuing process of shedding rigid ideas has been key to Shortt's growth. "Classical music kind of got the idea stuck in my head that certain things have to be a certain way: if you trained as a composer, you compose. Now I'm trying to unlearn these things."
In 2019, the New York-based JACK Quartet—an acclaimed string quartet renowned for commissioning and performing new work—launched its JACK Studio, which is "designed to expand [its] community of collaborative artists by offering composers opportunities to develop new work, hear their music performed by JACK, consult with mentors in the field, and receive recorded documentation." Shortt applied to the call, and out of hundreds of applications was one of six commissioned composers in the inaugural session. The experience has been exhilarating, affirming that fostering greater inclusivity can be as simple as intentionally welcoming others.
"They weren't necessarily calling people composers—they did use that word, because a large number of folks would recognize it—but something they said in the call was [that applicants] didn't need to have conservatory [training]. They were looking for people who weren't necessarily from lineage and training. They wanted to work with people who they might not normally work with because they were worried that they were getting kind of insular and weren't reaching out to new composers."
Shortt's recent experience as a co-artistic associate, along with Pratishtha Kohli, at Toronto's The Music Gallery saw the firebrand bring their penchant for the dazzling and the bizarre to the forward-thinking music presenter. Executive director David Dacks says it's the fusion of substance and style that makes them a dynamic artist: "I've known Olivia for quite some time and have watched them develop into an evermore confident performer, whose visual presentation is in communion with their musical personality. Olivia draws from their experience in theatre and fashion to create a truly comprehensive stage presence. They bring vibrant energy to live encounters too, even in quieter moments. They draw on a greater range of life experiences and ideas of contemporary expression than most people I know, and are frequently irreverent in doing so."
Shortt's focused eclecticism takes in more than just music, and the concerts they programmed for the Music Gallery featured like-minded artists with an emphasis on dynamic presentation, such as Du Yun and Thin Edge New Music Collective. "In pivoting to video, which all presenters have had to do," Dacks points out, "these artists were ready to offer much more than a single-camera-focus performance to create truly compelling viewing. Olivia's vision extends to more than just concerts, too. Panel discussions have become hybrid events interspersing discussion with music or theatre, which enlivens the encounters between widely varied artists. The Music Gallery has a long history of featuring queer artists, but Olivia's work has really foregrounded incredible artistry from multifaceted queer perspectives, which is a necessary next step for the Music Gallery now and into the future."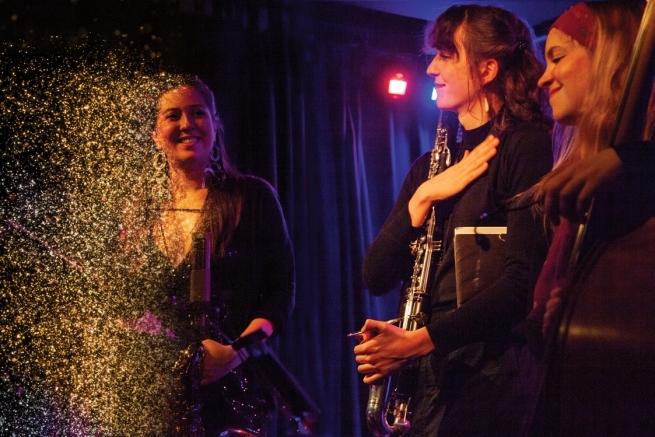 For Shortt, advocating for others is a top priority. "I've been able to do more over the last couple years in terms of composition, creating, and collaborating, because of people advocating for me. I try to think hard about who I work with. I have a running list of people. I'm good at connecting people with things." Prioritizing BIPOC, queer and non-binary artists is also at the forefront of their work, as are mental health issues. "I remember when I was in predominantly white institutions or places that call themselves classical music or classical new-music [organizations], which tend to be very white. And I remember the way my mental health was affected by being in some of those places with certain types of people. I don't want that for other people. I want people to feel that they can be grounded and safe, that they can speak their minds and not be attacked for it. Safety is a huge factor for me in collaborating. There's nothing more beautiful than being in a space, virtually or in real life, just bouncing ideas off each other like, 'Yeah! Yeah! This is great! I love this!'"
This kind of freewheeling, safe space is what excites New York City-based bassoonist, composer, and activist Clifton Joey Guidry III, Shortt's friend and collaborator. (Shortt is also their manager.) "Every time I've heard their music," Guidry says of Shortt, "or have worked with them, has been one of the goofiest, funniest, just absurd things I've ever heard, but at the same time so meaningful. The goofiness has purpose. The outfits are wacky as hell, and everyone loves them. I love them! And it means something. They're not being weird to be weird or being weird to get clout. It's just that they embrace their true personality, and they don't assimilate for people. They very proudly wear everything traditional from their Indigenous heritage and they always advocate for other people in their community—and not just Indigenous people. Me being their artistic partner and being Black, Queer and Trans—they fight for me. They fight for all of us. They support me with my mental health. There's never been a situation where I haven't been able to count on Olivia. And that all shows up on the stage. There's just a strong presence. Even if something is going horrifically bad, they just own it."
Guidry says Shortt's sincere practice and celebration of inclusion will bring many unheard voices to the forefront of the music, reflecting the true multifaceted country we live in. "Diversity is not the word," says Guidry. "It should be called reality."
What does that reality look like for Shortt?
"I want to see music become as intersectional as possible. A variety of creatives coming together makes me feel like we can achieve more than remaining insular."
---
---
Due to an oversight during the production of Musicworks 138, the print version of this article was not typeset and thus proofreading corrections were not made. Musicworks regrets the error and sincerely thanks the artist, the writer, and readers for their understanding. 
---
---
Top photo of Olivia Shortt by Alejandro Santiago.
Middle photo by Terry Lim.
Bottom photo of Olivia Shortt, Naomi McCarroll-Butler, and Lauren Falls by Bea Labikova.
Photo glitter effects by Heshaka Jayawardena.
"Overwinter," from the digital album Wrist Wasp by Quartz Ibex (Olivia Shortt, Kurt Newman, and Mira Martin-Gray), is one of 3 Olivia Shortt tracks included on the Musicworks 138 CD.