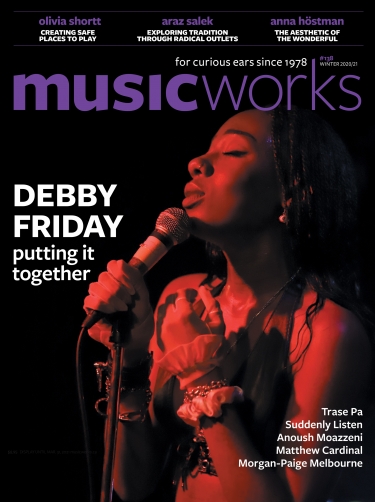 The final issue of 2020 is is dedicated to the art of conversation . . . in music and about music. Unable to practice, perform, or listen to music together in person in a room, music friends have been meeting each other in other kinds of venues—including the pages of Musicworks—to make and talk about music. Check out the inspiring artists and contributors in Musicworks 138, Winter 2020/21. 
ON THE COVER     
Debby Friday is one of the most restless and exciting artists working in experimental music in Canada. Born in Nigeria, raised in Montreal, and now based in Vancouver, Friday describes her work as a synthesis of divergent theories and sounds that represents the complexity she holds in her life. The immediacy of her work emerges from the power she finds in this complexity. Through her first EP, Bitchpunk, to Death Drive, its darker, ornerier follow-up, she confronts questions of interiority, desire, and responsibility across languid, industrial instrumentals. Her creative work has grown to encompass noisy music, generative writing, and experimental film. And with an MFA thesis—which she describes only as a sonic drama—and a debut LP on the horizon for 2021, she's just getting started. Brennan McCracken leans in for a close-up perspective.  Cover photo by Pierre Langlois.
---
We're grateful to the coast-to-coast community of contributors, artists, and supporters who keep us connected and inspired year round.  Please consider supporting creative writing about adventurous music with a subscription to Musicworks or buy a single copy from our Shop.  The digital version is currently available from Magzter. 
---
ANNA HÖSTMAN
Victoria-based composer Anna Höstman speaks to Adam Scime about her life and music. Höstman and Scime occasionally allow the conversation to drift into collaborative spaces for reflections on the themes of memory and palimpsest. Höstman discusses her early mentors and the influences that have helped shape her recent artistic activities. Many important collaborators (e.g., Thin Edge New Music Collective) describe highly memorable experiences of working directly with Höstman. These collaborations have resulted in a collection of works that are decidedly original and personal in origin. A dialogue of past, recent, and future projects reveals the process of one of Canada's most important compositional voices.
ARAZ SALEK
Tehran-born Araz Salek, a fascinating presence in Iranian classical music, shares his story with contributing editor Nick Storring. After acquiring enviable facility on the tar, a lute from that region, Salek moved to Toronto in 2005—a city where he knew virtually no one—and plunged into the city's vibrant free-improv community. While he thereafter returned to a more tradition-grounded practice, Salek's work retains an exploratory quality evidenced by a deep engagement with the literature, and several interesting projects. Labyrinth Ontario, of which he is artistic director, is a satellite of Ross Daly's long-running festival and pedagogical workshop on the Greek island of Crete. He also collaborates in the group This Tale of Ours, which explores the intersection of Ottoman, Iranian, and Greek traditions. 
OLIVIA SHORTT
Olivia Shortt has, over the past few years, performed in a 100-person ensemble in Lincoln Center, in a science laboratory two kilometres underground, and in solo and avant-garde ensembles settings. The Tkarón:to-based saxophonist and composer is also an award-winning emerging curator who is devoted to creating freewheeling safe collaborative spaces. Contributing editor Chaka V. Grier charts the trajectory of this glittering, rising star in the exploratory music firmament.
AND THERE'S MORE!
Suddenly Listen has long been a strong voice in the national conversation of free improvisation. Bolstered by its symbiotic relationships with improvisers based in Canadian locales such as Rimouski, Guelph, Calgary, and Victoria, the Halifax-rooted presenter of exploratory chamber music recently reached its twenty-year milestone. Contributing editor Monica Pearce checks in.
Anoush Moazzeni is not your typical concert pianist. A performer, composer, and researcher, the Montreal-based artist calls the piano her primary instrument, but her work leaves behind everything pianistic. Using digital processing, visuals, and mechanical systems, Moazzeni's music instead imagines the piano as something that can be teased apart and reconstructed. Regular contributor Sara Constant tunes in.
 The Winter 2020/21 issue also spotlights . . . 
Matthew Cardinal, a member of the Polaris Prize-nominated amiskwaciy-based trio nêhiyawak, recently released a solo recording, Asterism, of his eloquent ambient electronic music. Writer Merecedes Webb  listens deeply.
Morgan-Paige Melbourne is an adventurous emerging concert pianist, songwriter, and improviser, at home in many genres, who recently released the album Dear Serenity.  Writer Mary Dickie  connects the dots.
Choreographer Kevin A. Ormsby and Haiti-born Montreal pianist and composer David Bontemps discuss a new work for National Ballet of Canada.
Also inside: a profile of the label Telephone Explosion: local explorations with Hum, a new Toronto drone soundwalk zine; Any Night of The Week: a D.I.Y. History of Toronto Music 1957–2001 book review; and lots of recording reviews!
WINTER 2020/21
Musicworks 138 CD
Matthew Cardinal
1> Feb 21st 4:00
Morgan-Paige Melbourne pg
2> Marie 4:05
David Bontemps
3> Ankh 5:36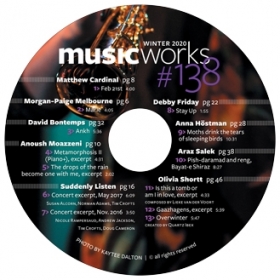 Anoush Moazzeni
4> Metamorphosis II (Piano+), excerpt 4:31
5> The drops of the rain become one with me, excerpt 2:02
Suddenly Listen
6> Concert excerpt, May 2017 6:09
susan alcorn, norman adams, tim crofts
7> Concert excerpt, Nov. 2016 3:50
nicole rampersaud, andrew jackson, tim crofts, doug cameron
Debby Friday
8> Stay Up 1:55
Anna Höstman
9> Moths drink the tears of sleeping birds 10:31
Araz Salek
10> Pish-daramad and reng, Bayat-e Shiraz 8:27
Olivia Shortt
11> Is this a tomb or am I in love, excerpt 4:33
composed by lieke van der voort
12> Gaazhagens, excerpt 5:39
13> Overwinter 5:47
Created by Quartz Ibex
(c) all rights reserved
---
Musicworks
 is published by Musicworks Society of Ontario Ltd., a non-profit organization, and is supported by financial assistance from the Canada Council for the Arts, the Ontario Arts Council, Canadian Heritage, and the SOCAN Foundation.