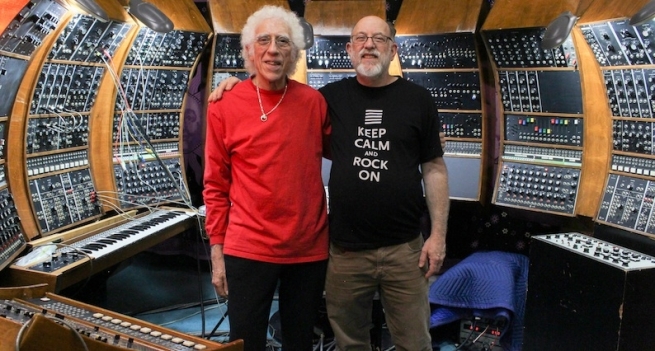 THE FOLLOWING STORY WAS PUBLISHED AS PART OF THE SUMMER / FALL 2017 FEATURE "INSIDE THE NATIONAL MUSIC CENTRE." 
Malcolm Cecil's interest in electronics began at age nine, when he became the youngest member of a ham radio club in England. His mother was an accomplished musician on piano, violin, and accordion, while his father managed her band and played saxophone. Although Malcolm excelled in science and engineering in school, he became a prodigy bassist, performing in residence at Ronnie Scott's jazz club and making weekly TV appearances as a principal player with the BBC Orchestra. Following these formative musical experiences, he joined the Royal Air Force and continued his education in electronic circuitry as a radar technician. He left this work on ground-to-air missiles to create a thriving business, installing and repairing studio equipment. One day, quite suddenly, Cecil's lungs collapsed and a doctor warned him that he wouldn't live without moving to a warmer climate. Cecil spent a year in South Africa promoting mixed-race concerts during apartheid.
After moving to San Francisco, Cecil worked as Pat Boone's consultant, installing the first sixteen-track studio in Los Angeles. He then swapped coasts, landing a job in New York as the chief technical engineer at the bustling Mediasound Studios. While working alone during graveyard shifts, he noticed a curious electronic device with a car-ignition switch. He soon learned that the machine was owned by Robert Margouleff. "I had never seen a Moog before," Cecil, now eighty, laughs over the phone from his home in upstate New York. "I looked at it for a few nights, saw an oscillator voltage control, and thought. 'I know what that is.' Voltage control filter . . . I know that too. Envelope generator . . . this thing sends mail?"
As an early customer and collaborator of synth pioneer Robert Moog, Margouleff had previously produced Lothar and the Hand People, a psychedelic rock group with a theremin as its "front man." During his tenure at Mediasound, Margouleff was coproducing the 1972 avant-garde film Ciao! Manhattan, which starred Edie Sedgwick and was directed by John Palmer and David Weisman. Cecil's knowledge of studio equipment complemented Margouleff's experience with the Moog, and they decided to team up. The former's massive afro and trademark white overalls and the latter's ankle-length fur coats and hair that went down to his elbows made for a striking visual pairing.
Their sonic experiments were equally striking. "Robert pulled out a twenty-seven-minute tape of electronic sounds he had created," Cecil remembers. "That was the basis for what became 'Aurora,' from the first TONTO album. He said 'I'm not even sure this is music.' With my usual BBC tact, I responded, 'Well, with a little judicious editing . . .' I showed him how to add a second track—and that's how it all started. Our talents complemented each other because we came from opposite sides of the spectrum. I'd be focusing on a bass line and he would go to the other end of the instrument to start with white noise. As for who came up with what, we don't know. We just found a method that made sense."
One night, Herbie Mann walked into Mediasound and changed the course of musical history. Cecil knew that the flutist was skeptical of this so-called electronic music, but when Mann heard the seven-minute edit of Margouleff and Cecil's song "Aurora," he knew he'd heard the sound of the future. "Herbie wasn't interested at first, but I made sure he had a good time," says Cecil. "I put gels on the lights to make the room look sexy, then turned on the tape machine. After the song was over he was spread-eagled in his chair. Herbie said, 'That was stupendous! I've never heard anything like it. Do you want a record contract?'"
Following the success of his album Push Push, Atlantic Records offered Mann his own sublabel with the latitude to sign artists of his own choice. Cecil and Margouleff maximized his offer of $5,000 to combine shuddering drum machines, robotic vocoders, and seventeen-tone Middle Eastern scales. Their debut album as Tonto's Expanding Head Band eerily anticipated the proto-techno electro music of Cybotron and the influential sounds of industrial-music pioneers Throbbing Gristle.
The pair's invention and ambition led to an intense four-year collaboration with Stevie Wonder. The legendary artist wrote nearly 150 songs before the tracks were selected and released on his groundbreaking albums Music of My Mind, Talking Book, Innervisions, and Fulfillingness' First Finale. During this time, TONTO was expanded to include two Moogs, two ARP 2600s, four Oberheim SEMs, modules from EMS, Roland, and Yamaha, drum controllers, sequencers, and MIDI converters, all fused together with Boeing 747 airplane wire. Jim Storyk constructed the woodwork at Electric Ladyland, studied geodesic domes with Buckminster Fuller, and then designed TONTO's singular cabinets. Its primitive prototypes were replaced by synths rolled out on a tea trolley or a gurney, and its six-foot curves were ergonomically tailored to match Cecil and Margouleff's heights. In a 1984 Keyboard magazine article (later adapted for the 2011 anthology Synth Gods), writer John Diliberto points to the influence of their electronic Afrofuturism. "This collaboration changed the perspectives of black pop music as much as The Beatles' Sgt. Pepper altered the concept of white rock."
While Wonder's TONTO era resulted in Grammy awards, lucrative tours, and massive sales for Motown Records, Cecil claims he "never made a penny from the royalties." Cecil bought out Margouleff in 1975 and forged a new partnership with the poet, musician, and activist Gil Scott-Heron. At the height of another fruitful period, TONTO appeared on the cover of Scott-Heron's album 1980, which featured synth-powered songs about nuclear protests and the hardships of illegal Mexican immigrants.
TONTO went on to help shape hit releases from Minnie Riperton, the Isley Brothers, the Doobie Brothers, and countless other artists. It famously lived briefly in the studio of Devo's Mark Mothersbaugh in the mid 1990s, and was immortalized in a parody in The Simpsons. Its best-known visual appearance, in Brian DePalma's cult film Phantom of the Paradise, allegedly occurred against Cecil's will.
"TONTO was at the Record Plant in Los Angeles when we were working there with Stevie," he recounts. "During that two-year period, the studio rented the room to the film and told them they could use TONTO as a prop. No one said a word to us. When I walked into the studio and saw they were filming it, I blew a gasket!
"We eventually negotiated that they could use the footage if they paid us for the visual rights," he continues. "The other part of the deal was that whenever TONTO appeared on screen the music was supposed to be played by the real instrument. Of course it ended up being Paul Williams' piano instead. I've seen the movie a few times and it always [used to make] my blood boil. [But] I learned to let it go long ago."
---
Top photo of Malcolm Cecil and National Music Centre electronic technician John Leimseider in front of TONTO at the NMC: Chad Schroter-Gilespie.