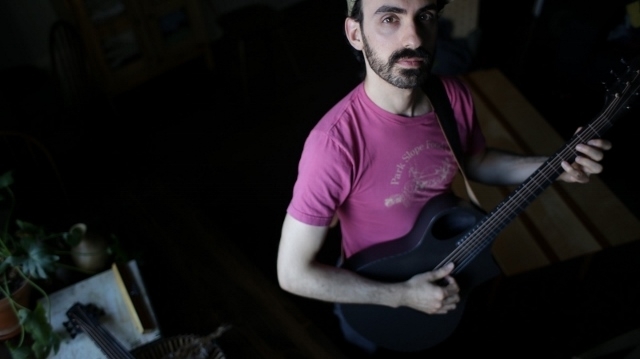 Myk Freedman is best known as the lap-steel-wielding leader of the nonet St. Dirt Elementary School, whose idiosyncratically tuneful music (released on Rat Drifting and on Barnyard Records) is nestled in the crevice between whimsy, sentimentality, and ragtag experimentation. Ostensibly a jazz group, its diverse instrumentation, wonkiness, and the sweetly pithy character of Freedman's tunes conjure the likes of Jerry Byrd, Sun Ra, the Penguin Café Orchestra, and Charles Mingus.
Freedman is also the name of a Toronto outfit (Justin Haynes, Ryan Driver, and Jean Martin) that has toured and recorded Freedman's compositions with a suitably odd instrumentation of ukelele, street-sweeper-bristle bass, and suitcase (a drum-kit substitute). In 2009, the noted American label Porter records released Julu Twine, a pastoral album of woozy improvisations featuring Freedman in duet with legendary U.S. multi-instrumentalist Alan Sondheim. He's also performed with John Zorn, William Parker, Elliot Sharp, and Cyro Baptista.
After completing studies at York University, Freedman moved in 2003 to New York, where he studied at the New School with William Parker and Mark Dresser. He later worked privately with Anthony Coleman. He's been playing in Joey Weisenberg's Hadar Ensemble (which blends traditional Jewish religious vocal music with contemporary Brooklyn jazz, soul, bluegrass and more) and in the ambient ensemble Bing & Ruth, in addition to leading his own group, Myk Freedman and the Myk Freedmans.
Recently, Freedman has been working daily to craft an album of solo (regular) guitar renditions of some of his many compositions.
Musicworks: What's behind doing a solo guitar record?
Myk Freedman: A big part of why I've been working on guitar more now is that I'm looking after my kid full time during the day, and I'm able to play guitar with him around. Now that he walks, he just wants to jump on the lap-steel. Getting out regularly to play my music with other people is tricky; you can cover a lot of ground on the guitar, such that you're capturing the energy or spirit of a large group by yourself.
---
Audio:  Deer Park United (2014), composed and performed by Myk Freedman (acoustic guitar). Photo of Myk Freedman by: Ilusha Tsinadze .