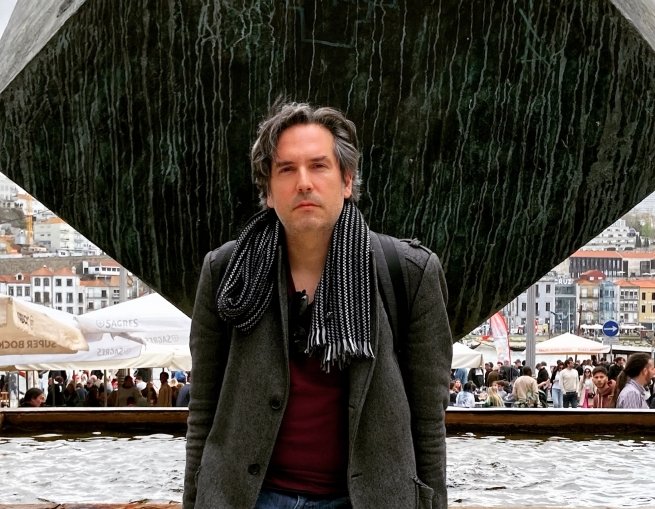 Third place in the 2022 Musicworks Electronic Music Composition Contest was awarded to  Phivos-Angelos Kollias for video-music piece "Nostophiliac AI."
"We interact daily with algorithms that emulate human perception and collective memory. By trying to communicate with us, the algorithms sound, look, and behave more and more like us by reflecting our perception and memory back to us. What if we could play, through those AI tools, with the listener's sense of familiarity by using shared cultural signs, tropes, or archetypes? Or if those AI tools become instruments of manipulation, taking advantage of the spectator's intimacy of memories?
"We investigate and explore the relationship between collective and individual memory reflected and manipulated through AI: the concept of the 'found object' and its algorithmic transformation of meaning. The network, fed with familiar audiovisual found objects, generates a progressive alteration, a dream-like transformation of meaning, an endless change of scale to a disorienting and familiar dream reality.
"On the musical side, an AI feedback network that listens to familiar sound objects generates a continuous sound transformation. On the visual side, a generative adversarial network represents a collective artificial memory and perception. Each time, the sound and image transformations create a personal narrative, a phrase, a gesture for the spectator. The results generate a collective manipulation of nostalgia experienced as a series of short music video screenings or in an exhibition format made from a multi-screen and multi-speaker installation."
—Phivos-Angelos Kollias
Phivos-Angelos Kollias is a Greek-born, U.K.- and French-educated, Berlin-based interactive music composer, researcher, and developer. He has studied composition in Cambridge (B.A.), London (M.A.) and Paris (Ph.D., D.E.A., and M.A.) with the support of four foundations (Onasis, Megaron Athens Concert Hall, Greek Composers Union, and Leventis). He studied composition with Horacio Vaggione, Jean-Luc Hervé, Yan Maresz, José Manuel López López and Richard Hoadley.
He currently lives and composes in Berlin. He has received seven awards and nine nominations in international competitions, including the Excellence in Sound Design award at the Festival of International Virtual and Augmented Reality Stories Competition (Toronto). The group projects he has participated in have won twelve awards and distinctions, including the Apple TV Game of the Year award, Gamescom Indie Award, and have been named twice in Forbes lists. His instrumental music is published by the French publishing house BabelScores, Paris.
He has received several commissions from institutions such as the ZKM Karlsruhe, Boston University, Aubagne International Film Festival, Musiques d'un siècle, Ensemble Ipse, Athens Concert Hall, and Greek Composers Union.
His music has been performed by international ensembles and musicians such as Donatienne Michel-Dansac, François Salque, Vincent Peirani, Le Balcon Ensemble, Abstrai Ensemble, Juventas New Music Ensemble, Theodore Antoniou, CAPUT Ensemble, Intermodulation Ensemble, ALEA III Ensemble, Greek Ensemble of Contemporary Music. His music has been performed in more than twenty countries around the world in more than seventy concerts.
Photo by Jade Xuan Wu