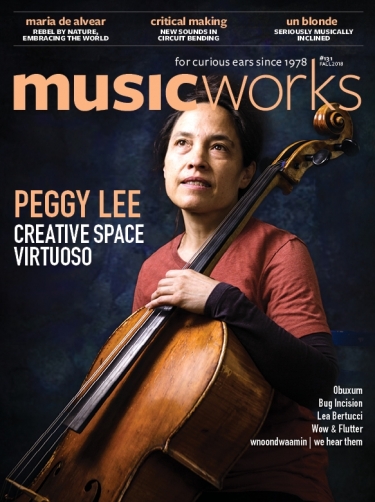 Musicworks 131 is the second issue of our 40th anniversary year, featuring artists who are active in interarts, DIY culture, collaborative composing, and more! Buy the print issue (or print + CD combo!) from our shop or start your subscription with the Fall 2018 issue. 
ON THE COVER
Vancouver cellist, improviser, and composer Peggy Lee talks to Nancy Lanthier about a musical journey that has moved between classical performance, pure improvisation, and composing complex and evocative music. A central figure in Vancouver's creative-music scene, Lee leads a number of ensembles that feature the most active and interesting players in the city. Best known for her octet, the Peggy Lee Band, which has released five albums since 1999, the musician's newest project is Echo Painting, which released its debut recording this year. Classically trained, Lee discovered her love of improvisation not while playing jazz, but by performing for dancers. Her lyrical tone is matched by bold, jaw-dropping technique and a telepathic engagement with her collaborators, including luminaries such as Wayne Horvitz and Dave Douglas, who also share their thoughts about Lee's musicianship in this article. 
New Twists in Circuit Bending
Instrument modification and design is a mainstay of experimental music circles—the prepared piano foreshadowed circuit-bent electronics. What happens when DIY artists engage electronic musical instruments as the material in their practice? Artists Martin Howse (U.K.) and Darsha Hewitt (Canada) operate in this milieu, and exhibit distinct perspectives on instrument design and performance. Not burdened by conventional musical expectations or the need to make tools usable for a wide user base, their small-batch synthesizers and drum-machine technological investigations raise interesting questions about the materiality of electronics and economies of scale—and expertise. Drawing on interviews with Howse, Hewitt, fellow artists Sam Conran and Ewa Justka, and DIY electronics expert Garnet Hertz, Musicworks contributor Greg J. Smith investigates the intersection of DIY synth design and artistic practice.
Maria de Alvear
Maria de Alvear is one of the most visionary and prolific composers of the past fifty years. A student of Argentine-German composer Mauricio Kagel (1931–2013), she brings his concert-ritual exploration to her own work, reaching dizzyingly new levels. Her varied catalogue consists mostly of large-scale works. Notable works include intimate and intense solo compositions, such as the 50-minute En Amor Duro, and pansensory theatrical pieces, such as Sexo Puro, which bring together multiple singers, large ensembles, and video projections. Her outlook is decidedly universal, and her work is often motivated by research into ecology, anthropology, and spiritual practice. Although she is noted for her confrontational and controversial subject matter, de Alvear was awarded the National Award for Music by the King and Queen of Spain in 2016. De Alvear also curates the World Edition label, which chronicles an array of experimental and unconventional music, often from lesser-known composers. Contributing editor Nick Storring interviews de Alvear, and checks in with Canadians Eve Egoyan and Linda Catlin Smith.
And there's more:
Discover the effervescent, deepthinking beatmaking of Somali-Canadian creator Obuxum . . .
the freethinking multichannel work of NYC-based saxophonist-composer Lea Bertucci . . .
. . . and the seriously dazzling every-day music of Montreal (by way of Calgary) artist Un Blonde.
Also inside:
Independent curator Lisa Myers, a member of Beausoleil First Nation, muses on sound transmission / reception and the politics of being or not being heard as expressed in the sound-art and performance exhibition wnoondwaamin | we hear them.
We introduce you to the Toronto experimental reed trio Wow & Flutter.
Label Profile:  Bug Incision: Calgary's Cross-Pollination Buzs
Editor's Note: Getting Out More Often
ON THE CD
Peggy Lee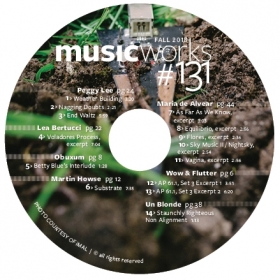 1> Weather Building
2> Nagging Doubts
3> End Waltz
Lea Bertucci
4> Voladores Process, excerpt
Obuxum
5> Betty Blue's Interlude
Martin Howse
6> Substrate
Maria de Alvear
7> As Far As We Know, excerpt
8> Equilibrio, excerpt
9> Flores, excerpt
10> Sky Music II / Nightsky, excerpt
11> Vagina, excerpt
Wow & Flutter
12> AP 61.1, Set 3, Excerpt 1
13> AP 61.1, Set 3, Excerpt 2
Un Blonde
14> Staunchly Righteous Non Alignment
Cover photo by Mary Matheson; CD photo Courtesy iMAL