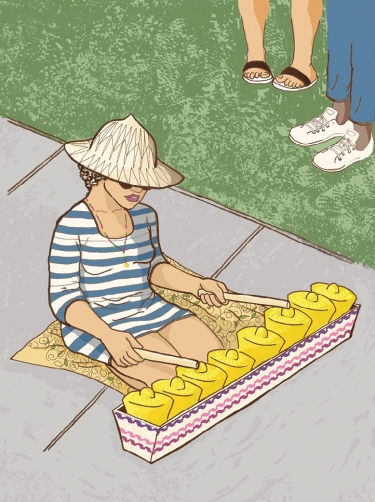 GONG PUNKS AND CULTURE BOMBS
Traditional Filipino kulintang, a style of orchestral music played on a set of brass gongs, is a mesmerizing and exhilarating mixture of the ancient and the avant-garde. This authentic indigenous music has been played in the southern Philippines for centuries, and it has endured despite the many waves of cultural colonialism from Spain, the U.S. and other parts of Asia. Mary Dickie talked to Pantayo, Luyos MC, and HanHan, all multitalented Toronto musicians who are connecting with their Filipino roots by playing traditional kulintang compositions and incorporating modern elements like spoken-word activism, nature sounds, pop vocals, synth bass, rapping, and hip-hop beats.
Check out the original illustration (left) by Toronto artist Althea Balmes, commissioned for Musicworks' Summer / Fall 2017 cover! The final cover with text, designed by Atanas Bozdarov, is posted below. 
VICKY CHOW IS JUST WARMING UP
"An intense, visceral, technical monster of a pianist," Vicky Chow is used to a rigorous schedule, juggling steady work with The Bang on a Can All-Stars—of which she's been a member since 2009—and several other ensembles, and performances of challenging contemporary work. Born and raised in Vancouver and now based in Brooklyn, Chow started on a tradition path of study, which led her to Julliard in New York. When she decided to focus on playing music by living composers her star swiftly began to rise. Musicworks talks to Chow and a few of her admiring collaborators about her creative choices before she joins the summer faculty of the Banff Centre's Pianist-Composer Collaborative.
THE AURAL PERSPECTIVES OF BRODIE WEST
Toronto saxophonist Brodie West has cultivated a singular voice along the periphery of jazz music. He trades in a sort of inconspicuous and personal mode of virtuosity. His playing is decidedly melodic yet inflected with complex shadings. Since 1998, when he formed the mischievous trio Zebradonk, West has led a number of bands. His three principal ensembles—Eucalyptus, Ways, and the Brodie West Quintet—trace the spectrum from sunny tunefulness to contemplative abstraction. West is also a noted collaborator whose work has taken him across the ocean, where he's played alongside Dutch punks the Ex, revered improvising drummer Han Bennink, and Ethiopian jazz legend Getatchew Mekurya. Nick Storring interviewed West at Toronto's stalwart music venue, the Tranzac.
INSIDE THE NATIONAL MUSIC CENTRE
The Original New Timbral Orchestra (TONTO) is one of the world's most versatile electronic instruments. This room-sized synthesizer, created in 1968 by Malcolm Cecil and Robert Margouleff, made many of the distinctive sounds in the work of Stevie Wonder, Gil Scott-Heron, and many others. Since its acquisition by the National Music Centre in 2013, TONTO rides on as a living exhibit—one of 2,000 items in the centre's collection. In its new home in Calgary's Studio Bell facility, the NMC is emerging as an artistic hub for both local and visiting artists. Collections manager Jason Tawkin, 2017 artist-in-residence Evangelos Lambrinoudis II, and electroacoustic composer Sarah Davachi, and TONTO's original "tone ranger" Malcolm Cecil share their thoughts on the NMC's future.
ALSO IN THIS ISSUE
After wowing the crowd at Halifax's OBEY Convention festival in early June, globetrotting Indonesian duo Senyawa meets up with Musicworks' Daniel Glassman to discuss their wild, expressive music and their thoughts on traditional culture, recent history, improvisation, and heavy metal.
In a Gulf-Island coffeehouse, writer Alexander Varty meets Vancouver-based vocalist Julia Ulehla and guitarist Aram Bajakian, who blend Moravian folksongs and modern instrumentation as Dálava.
Mixing it up with award-winning composer and voracious listener Bekah Simms: going  behind-the-scenes with Montreal digital-arts duo Artificiel; exploring UK boutique label Another Timbre's Canadian Composers Series. 
The 13-track companion CD includes a very very fresh (previously unreleased) track by Calgary electronic artist Evangelos Lambrinoudis II (a.k.a. Corinthian).