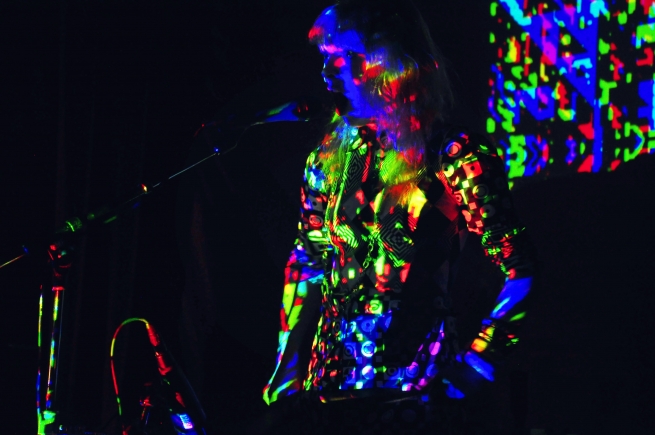 Ancient rock carvings at Petroglyphs Provincial Park in eastern Ontario inspired Alexandra Mackenzie to call her latest solo musical project Petra Glynt. Evoking rock, ancient cultures, flashes of reflected light, and the enduring power of art, the name seems perfectly apt. Petra Glynt may be an experimental, mostly electronic music act, but just as petroglyphs represent human technology meeting nature and leaving its mark, Mackenzie's work combines high- and low-tech sounds with a powerful human voice and a socially conscious message—all delivered with a playful sprinkling of glitter.
"I like to think my music is not totally electronic. I don't want to be dependent on technology when civilization falls apart," Mackenzie says. "I want to have a voice and a drum to carry the music and the message. My music may be pop and dance, but it's also folk, in that it's not trying to be anything fancy—it's for anybody." Indeed, there are echoes of traditional folk and "world" music in Petra Glynt's hypnotic drumbeats and chanting vocals—a fascinating contrast to her sampled sounds and startlingly modern voice.
Before going solo, Mackenzie played drums in Toronto bands like Machetes, Dentata, and Pachamama—a percussion–vocal duo with Brandon Valdivia. After many warmly received live shows and the EP Of This Land, Petra Glynt has now emerged as one of the most talked-about and in-demand acts in the city, and Mackenzie is working on her full-length recording debut, which she plans to release on Healing Power Records this fall. "I want the best for it. A lot of the sounds in my earlier music are really distorted, because I was recording everything with a mike in my bedroom. Now I like more of a balance between lo-fi and high fidelity—I'm learning how to clean it up."
Like most of her previous music, her recent songs started with beats. "Rarely do I come up with a vocal melody and lyrics first," she explains. "Sometimes I start with textures, but the new stuff started with rhythms. I've been really into playing with drum machines, just finding sounds I like and creating a drum kit in Ableton (a software program that allows her to sequence samples and make a rhythm track). I'm using electronic devices—a sampler, pedals, my computer—but I don't use electronic instruments so much. I've been called a synth musician, but I'm not one." She mostly samples "little percussion instruments" that have been collected by Valdivia. "Different drums, melodic things like an mbira (a Zimbabwean thumb piano), a log drum like a marimba, flutes—whatever I can get my hands on," she says. "I can't afford to buy everything, so I will rent something, record the samples, and give it back."
Mackenzie spent several years studying opera, which is immediately evident in concert when she opens her mouth and lets loose a powerful voice that sets her apart from her indie-electro peers. "It's still in me, the training, but I'm not singing operatically anymore," she says. "I was a soprano, but now I sing really low. I've had problems with my voice. I know very well how I'm supposed to sing, and I wasn't breathing properly. It's easy to forget about breathing when you're drumming and pressing buttons and stuff, but it's so important. Your voice itself doesn't really do much, it's just this little vibrating thing. The actual power of your voice comes from your breath and the muscles in your body. It all resonates in your head, and your body works like an instrument."
An acclaimed visual artist as well, Mackenzie has been drawing and drumming since childhood, and her work usually incorporates multiple media—whether that means performing music at art shows or projecting images at concerts. "I'd like my visual art and music to cross over more," she says. "It'd be great to collaborate on the set design. Recently, I've been inviting Steve Reaume to do psychedelic projections, and his work is great. Visuals can give more meaning, more depth, more ways to interpret the music."
While her lyrics address issues surrounding environmental damage and social justice, Mackenzie always mixes her serious messages with riotous fun. Her exuberant live performances are immersive experiences with colourful light shows and lots of glitter. "I love glitter!" she says. "It's pretty important, to the point where my last boyfriend told me it was either him or glitter—and I moved out, so I guess glitter kind of won."
The power and joy of movement are also critical. "My album will be danceable, for sure. That's important," she says. "I was thinking that any celebratory gathering is subversive nowadays. Maybe because we're so involved with technology, everything is so impersonal. Our world needs to change in so many ways, but I've chosen to be a singer and not an activist, so we're talking about how dance can be subversive. And liberating. Celebrating what we have together is so important."
Petra Glynt's first full-length album will be released on Healing Power Records in Canada, and on indie label Shit Music For Shit People in the rest of the known universe, in Fall 2014.
---
Audio: Of This Land. Composed and performed by Petra Glynt (from the EP Of This Land, released on Healing Power records). Photo by: Emily Scherzinger.