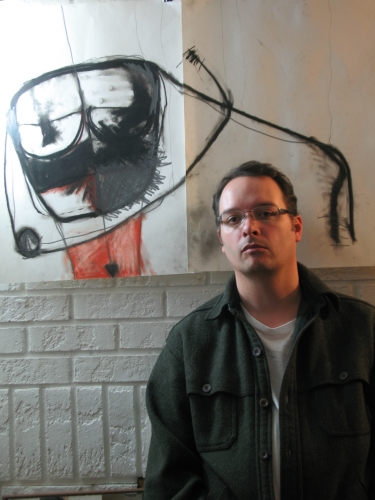 Harrowingly unbridled and unpredictable, yet blatantly meticulous in their construction, Mark Molnar's compositions frequently emerge as rugged tangles of bowed-string sonorities. Even though their gestural expressivity might suggest that they could've been conceived in myriad other ways—through structured group improvisation, or perhaps through recording only—his pieces are written out with note-perfect exactitude.
At first, one hears tense currents of twitching texture punctuated by fleeting yet assertive interjections or bold silences—streamlined abstract violence of musical modernism invigorated with punk's raw vitality. Yet the true core of Molnar's volatile and mysterious music resists classification, due to its sound world and its composer's ideological stance. "I'm really interested in the ways in which people make music and the way in which they've been able to separate and distinguish themselves from, and resist, the very thing that may have, in some way, informed the choices they've made," he explains. "I'm not really that interested in someone who is of a school or of a time."
Molnar received a rather thorough—albeit very unconventional—musical education, but one conducted so far outside an institutional framework that it has helped set his work apart in a similar manner. For all its superficial similarity to concert music—the use of scores, the choice of instruments; not to mention Molnar's soft-spoken fluency in both the language and historical context of music—his work has yet to penetrate that arena. This is baffling, on a certain level, because his compositions exist in an immediately available format for new-music performers. But his firm, introspective individualism has clearly taken him along an alternative trajectory. He is established in Ottawa's experimental music scene—known as a performer, improviser, and composer, with his ensemble project Kingdom Shore and through his label
Black Bough
. He even stimulates the broader community, acting as an ad hoc presenter for out-of-town acts.
A native of Hamilton, Ontario, Molnar began studying music privately as a toddler, and continued for about twenty years under the tutelage of Aubrey Rolfe, a resourceful and responsive teacher, who offered him training on guitar, violin, and cello, as well as in theory. As Molnar's interest in playing more traditional repertoire waned in his early teens, Rolfe followed rather than thwarted his pupil's interests, and found different ways to ignite Molnar's curiosity, exposing him to a wide variety of music through recordings, notation, and analysis. He once even connected his student with John Cage, whose work Molnar was acquainted with, though not with Cage's notoriety.
"I wasn't playing in youth orchestras or music class, so everything was remarkably flat and available to me. Brahms was about as contemporary to me as Slayer at that point," he recalls of the time. "I was certainly familiar with graphic scores from age eleven or twelve," he adds nonchalantly. Yet Rolfe was also equally intent on contextualizing such systems, and asserted that alternate forms of notation weren't about novelty, but about representing the composer's vision most accurately—an idea that stuck with Molnar, who, in spite of expectations, chose more conventional notation as he gradually and shyly started composing his own music in his early twenties. While Rolfe's extensive, open-ended training shaped Molnar's thinking and facility, the recommendations of record-store employees were hugely influential. He cites as pivotal moments for him as listener and musician his introduction to No Wave iconoclasts DNA and, upon moving to Ottawa, being given tickets to see Swans (a band he had no prior knowledge of).
Molnar's approach is both profoundly insular and personal, but also aimed toward creating a certain objective reality of sound, devoid of associations with a particular personality. Under the same moniker as his band Kingdom Shore, he has produced a solo album of his own compositions, with each virtuoso instrumental part played solely by him. Yet despite the means used to realize the compositions, and the impressive degree of instrumental proficiency required to play them, he's adamant that his identity has, for him, little bearing on the material itself. "In many ways, I'm trying to engage with the greatest abstraction from myself, so that it's not about me. I'm hoping that what I do as agency doesn't survive in the piece. And if it does, that it doesn't matter, that the music is not contingent upon the 'when,' the 'how,' or the conditions under which it was made—it's just about making sure those sounds are represented."
While the highly charged emotional states conjured by Molnar's work actively deflect and obscure any direct connection to its composer's intentions, the indelible uniqueness of his work speaks loudly and articulately on his behalf. 
[THIS ARTICLE IS AN EXCERPT FROM THE FEATURE "OUTSIDE THE CHAMBER," WHICH ALSO INCLUDES PORTRAITS OF COMPOSERS SEAN MCCANN AND JONATHAN PFEFFER. ORDER #118 PRINT ISSUE  AND CD TO READ THE FULL STORY AND LISTEN TO COMPANION TRACKS.]
---
Photo of Mark Malone by: Dave Malone.