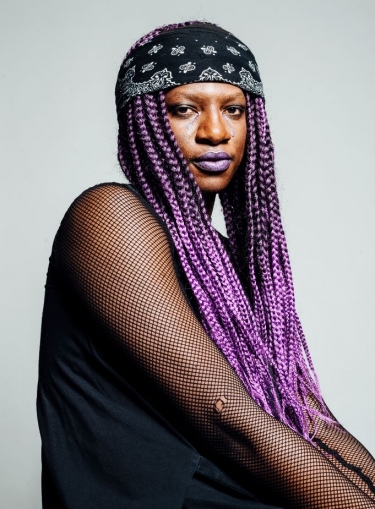 If you want to win over rapper and producer Backxwash (Ashanti Mutinta), start a conversation with her by talking about the outlier sounds of American rapper–producers Missy Elliot and Timbaland.
I'm speaking with her a couple of days after she fired up audiences at her first-ever Toronto show—the February edition of the eighth annual Long Winter interarts series—and she's back home in Montreal, still a bit tired. The joy in her voice cannot be contained when discussing Elliot's cadences, cockiness, and affinity for weird beats. "I'm putting on my songwriter's hat," she warns me, before diving into a breakdown of Elliot's brilliance. "It's just the unapologetic nature of Missy Elliot— a black woman rapping and making music how she wants, when she wants, and killing it every time. It even—almost—inspired me to dance, but I couldn't do it," she says, followed by boisterous laughter. This warm laughter erupts throughout our talk, when she reflects on both joyful and challenging experiences.
Since her 2018 debut, F.R.E.A.K.S., Backxwash—a stage name that was inspired by her punk streak—has put her own spin on Elliot's ideas via the outrageous beats, blunt lyrics, and shape-shifting style of her gender-defying release Black Sailor Moon and her occult-inspired Deviancy. With at-your-throat lyrics exploring race, spirituality, cis-bigotry and gender, Backxwash is definitely in control of her creative realm.
Raised in Zambia, Backxwash says rap resonates for her on many levels. "It's the rebellious nature of it and the approach," she explains. "In rap, words have to rhyme; it's almost mathematical in that sense. Then you realize, 'Oh no. Wait! There's an aspect of songwriting that I'm missing.'" So, at age thirteen she began creating beats using a studio program—beats come before lyrics in her creative process—while recording in studio early tracks like "Hip Hop 101," which she recalls with amusement. Rap gradually became a means to express herself in ways her daily life didn't allow. After high school she moved to Canada, reuniting with her siblings and earning a computer-science degree before music and her authentic identity combined to usher her into a new life.
Backxwash had always sensed she was different, this knowledge reflected on the track "F.R.E.A.K.S," which refers to an early childhood experience that saw her first embrace her non-binary identity. "In first grade [my family] couldn't really afford new shoes. I had these shoes that my mom called unisex—but they were not unisex, they were girl shoes for real," she laughs. "People used to make fun of me, but I was just like, 'Whatever. These are my shoes,' and I continued wearing them. I think that was just one of the aspects of challenging and thinking about identity growing up, because not only did I have those shoes, but people at first glance thought I was a girl—I looked very androgynous.
"It's interesting how if nobody had ever stopped me and said, 'Oh, no, you're a boy,' this would have continued, and I probably would have lived more freely. During high school and junior high, you want to socialize, so that idea is kind of taken out of you. It's when you grow older that you start remembering, 'This part makes sense and this other thing makes sense.' And you're like, 'This is who I am. I was right."
After rediscovering and acknowledging her authentic identity, Backxwash felt free to question other aspects of her life for the first time, including religion. "I was raised Christian, and the more that you read, you discover that, as Africans, we have our spirituality, and our spirituality is what missionaries called witchcraft—everything that is not a Western religion was seen as evil and bad spirits. Using the word witch is like taking back and poking fun at the term.
"What I practice is traditional spirituality from my tribe."
Though admittedly shy, she began performing everywhere, growing a fan base throughout Montreal and on the Internet for what she calls "productive rage."
"It's been really healing, letting all of these thoughts out, because I don't talk about it much to other people," she says. "The best avenue for it is the music. The next album is really personal as well—more to do with my mental health. I remember writing lyrics the other day and thinking, Wow, I'm saying stuff I don't like hearing about myself.
"It's therapeutic. And if someone is going through something similar it would be nice if my lyrics could help them."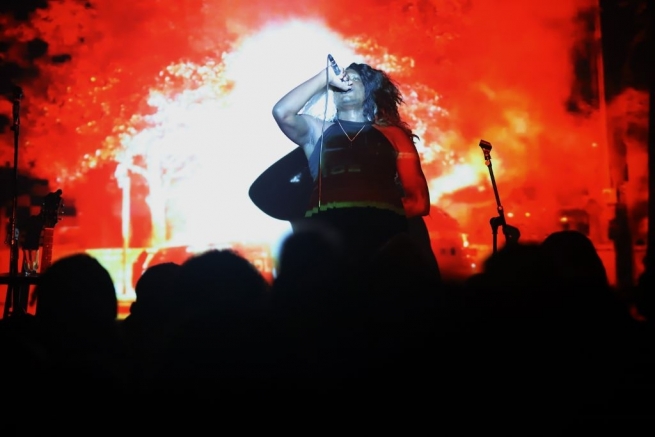 Performance photo of Backxwash by Pierre Langlois.
Audio: "Don't Come to the Woods" composed and performed by Backxwash. From the album Deviancy (2019).
Discover the music of Backxwash here.