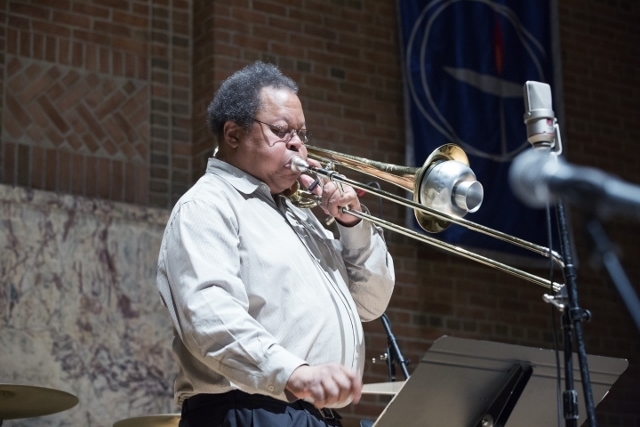 "THIS PIECE HAS A NEW NAME," ANNOUNCED GEORGE LEWIS, composer, trombonist, writer, and professor, speaking from the stage of the Community Church of New York. "I realized as I got into it that the old name—the name you have in your programs—doesn't really fit."
The title given in the program of the October 23, 2015 concert was Impromptus, a fitting, if rather standard, name for a piece of music that was largely improvised. The new title was Calder, after the American sculptor Alexander Calder. The four musicians who performed it moved between stations, as if hopping from one component to another on one of the sculptor's large, brightly coloured mobiles. In an interview after with Lewis, he explained to me that the work is also "an implicit homage to Earle Brown, whose work with the kind of mobile forms in my piece was so influenced by the sculptor." Lewis' assumption that his inspirations were obvious may seem presumptuous to some, but it was coming from a decidedly erudite musician, a man rooted in jazz, whose thirst for knowledge about the tradition is as strong as his drive to explore new ways to shape it.
This concert was one of a number of events, in which Lewis participated, held in New York City and Chicago to celebrate the fiftieth anniversary of the Association for the Advancement of Creative Musicians (AACM), a collective that presents concerts and conducts a music school, and that is as notable for its influence on succeeding generations as it is for its sheer longevity. Three gongs, a tympani, a massive parade drum, an array of cymbals, handheld percussion instruments, and a harmonica were the foundation for the slow and resonant piece Calder. Lewis and the ensemble he'd assembled—percussionists Thurman Barker and Eli Fountain, with Tyshawn Sorey (a doctoral candidate in musical arts at Columbia University, where Lewis is the Edwin H. Case Professor of American Music) on piano and trombone—all played percussion to open the piece. It's something of an AACM trademark—an open-form invocation of the spirits, whatever they may be—but here the polyrhythmic layers seemed composed, or at least structured, in a very Lewis kind of way.
The piece floated (or perhaps danced) within the demilitarized zone, formed over the course of the twentieth century, where European music in the tradition of classical composition and experimental American jazz coexist. There are plenty of lines that could be drawn to demarcate the borders between the two forms, all of them arguably peripheral, but on this night, the four musicians resided in that independent city-state where Igor Stravinsky met with Charlie Parker and Benny Goodman, where Gunther Schuller posited a "third stream" of concert music, where composer Cornelius Cardew collaborated with the British improvisation unit AMM, where Anthony Braxton and Richard Teitelbaum combined saxophone and electronics to make sounds unlike anything anyone had heard before, and where Scott Joplin wrote a jazz opera.
George Lewis has written an opera, as well. That may not be as bold a line to cross as it was in Joplin's day, if it ever really was, but Lewis crosses plenty of other lines, arbitrary or otherwise. The week before the New York concert, he was at the Museum of Contemporary Art in Chicago for the official premiere of his Afterword: The AACM (as) Opera, based on his book A Power Stronger Than Itself: The AACM and American Experimental Music (The University of Chicago Press, 2008), an essential historical analysis of the organization Lewis joined when he was just nineteen years old. While the book is something of a heavily annotated oral history, the opera dispenses with linear narrative and even conventional notions of character. The score, which is some of the most exceptional music Lewis has written, comes off as a single seventy-five-minute unbroken line. It's not an easy piece to absorb.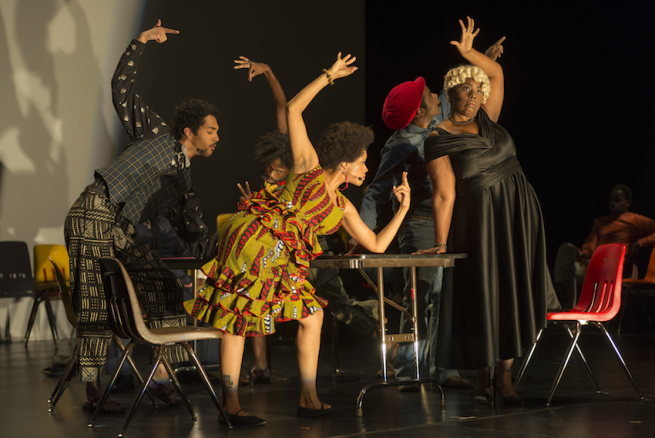 "IT'S HARD TO WRITE AN OPERA ABOUT A COLLECTIVE. That's hard enough," he told me during an interview shortly after the Chicago premiere. "But trying to write an opera about an experimental scene? You can imagine an opera about Henry Cowell or Ives. Why not? You could write an opera about the New York School and have Cage over here and Wolff sitting over here." Laughing, as he does frequently in conversation, Lewis recalled a recent evening with David Behrman, Ikue Mori, Frederic Rzewski, and Christian Wolff. "Parts of that were pretty operatic," he smiled.
Afterword saw two earlier iterations, a concert version at Roulette in New York City and an incomplete staging at the Ostrava Days festival in the Czech Republic. It was appropriate that the full premiere take place in Chicago, the city where the AACM was born. The opera begins in the nineteenth century, following a group of black musicians up the Mississippi to Chicago and the promise of greater opportunities, and ends during the formative years of the AACM. As a result, the three-person cast (soprano Joelle Lamarre, contralto Gwendolyn Brown, and tenor Julian Terrell Otis) is called upon to play multiple characters or representations or composites. The melding and shifting identities make the work less historical fiction than a reimagining, wherein the AACM itself is the only character, comprising entities that seem to exist only within it. The time frame and structuring also mean that Lewis himself doesn't show up in the narrative, nor does he appear in the pit. (The International Contemporary Ensemble played the score in Chicago and New York, while the Ostravská banda performed the Czech engagement.)
"There are no characters, so I couldn't have myself in it, but it is my point of view through the whole thing," he says.
Lewis used the term "avatars" for his character types until a friend likened the parts to novelist Toni Morrison's "community voices," figures representing different aspects of a shared experience. He has since adopted that term. "There are no distinct individuals," he explains. "It's a radical collectivism."
After Chicago, Afterword was performed in November 2015 at England's Huddersfield Contemporary Music Festival, where Lewis also collaborated with the German improvising ensemble Splitter Orchester, presenting a new work called Creative Construction Set. Lewis and Splitter had played the piece once before, opening the 2015 Berlin Jazz Festival with a performance that was labelled a premiere. Lewis laughed at the notion of giving that label to a piece that changes dramatically from one performance to the next. "It was kind of weird to call it a world premiere. It was a world premiere of somebody's tool box."
The piece reflects Lewis' interest in finding new ways to incorporate improvisation in a preconceived work. For Creative Construction Set, the musicians have instructional cards they can use to direct the flow of the group improv. One card allows a player to instruct another, or a section of the ensemble, to move from dense playing to sparse, or the other way around. Another can be used to tell a musician, or a subset, to play along with what another one is doing, or to play along with what he or she is about to do. They can even use them to tell each other to quit playing. But the deck does not include a card about ending the piece. That, the musicians have to find on their own.
The name of the piece is an homage to an early AACM group, the Creative Construction Company, made up of pianist Muhal Richard Abrams, saxophonist Anthony Braxton, bassist Richard Davis, violinist Leroy Jenkins, drummer Steve McCall, and trumpeter Leo Smith (before he'd added the "Wadada" to his name). But, like the piece dedicated to Alexander Calder and the opera dedicated to the whole of the AACM, Creative Construction Set is deeply imbued with the spirit of its composer. And that spirit is a direct result of an early and ongoing relationship with the organization that he stumbled onto as a teenager.
At nineteen, he wasn't even sure he was going to pursue a career in music. In finding the association, it seems, he found both himself and his life's work.
"It's like a lot of people in the AACM," he says. "You gain direction, you come to yourself. A lot of the issue there is self-reliance. You figure out what you're going to do."
---
Top photo: George Lewis at Community Church of New York in October 2015. Photo by: Alan Nahigian. Ensemble photo: World premiere performance of Afterword, an opera at Chicago's MCA stage in October 2015.  Photo by: Nathan Keay (c) MCA Chicago.