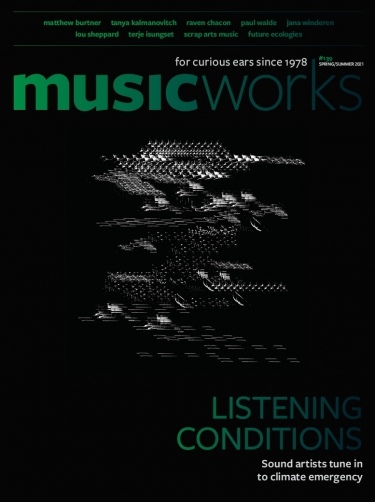 ---
ON THE COVER: Evensong (2018) by Lou Sheppard, who recently made the 2021 long list for the prestigious Sobey Art Award. Congratulations Lou!
---
This issue contains a special 30-page section that explores climate emergency through the stories of nine sound and music artists, whose creative work expands our understanding of ecological loss and its environmental and emotional impact. The section was coedited by Musicworks contributing editor Monica Pearce and editor Jennie Punter.
In separate interviews, composer and sound artist Raven Chacon and interdisciplinary artist Lou Sheppard talk to contributor Sara Constant about their unique sonic practices, focusing on the challenge and importance of listening during times of emergency. Chacon discusses two recent collaborative projects: Dispatch, which reflects on the fight for cultural preservation and defence of Indigenous sovereignty at the Standing Rock Reservation Water Protector encampment in 2016; and Parallel 03, a digital installation created through the COVID-19 pandemic. Sheppard discusses their recent works Nine Songs for New York, Rights of Passage, and A Strong Desire, and how they use musical gesture as a way of reimagining climate crisis. The artists trace the potential of sound as a catalyst for critical thinking and hearing—providing a glimpse into the exploratory approaches to scores, space, and the listening body, as employed by them both.
Cold Wave
Within our lifetimes, we may witness an ice-free Arctic Ocean, which would forever change the fates of circumpolar countries. Sound artists and composers from Canada, the United States, and Norway are bearing witness to this tragic transformation by using Arctic ice as sound source, instrument, or inspiration—before it vanishes forever. Writer Jonathan Bunce bundles up for a feature profiling four of these artists. Alaska's Matthew Burtner uses field recordings and sonification of glaciers, among other sources, to create beautiful works of ecoacoustic music. Canadian artist Paul Walde, based in Victoria, B.C., creates multidisciplinary pieces responding to the changing environment, including Requiem for a Glacier. Jana Winderen drops hydrophones beneath sea ice to reveal the biological soundscapes of undersea life at the Spring Bloom in the Marginal Ice Zone, while fellow Norwegian Terje Isungset takes a spiritual approach, using ice as a musical instrument to commune with nature.
In her documentary theatre work Tar Sands Songbook, Brooklyn-based composer and violist Tanya Kalmanovitch returns to her childhood home in Fort McMurray, Alberta, to look at the catastrophic effects of the province's crude-oil production. Her voice is joined by recordings of Indigenous elders and oil-patch workers affected by their proximity to the Athabasca Oil Sands. On the B.C.-based podcast Future Ecologies, a different kind of audio documentary, coproducers and cohosts Adam Huggins and Mendel Skulski invite an array of voices to discuss and help listeners understand a wide variety of ecological topics. In both projects, music and sound design are key storytelling elements, taking us on an immersive journey into the sources of life on our ailing planet and exploring what we can do to reverse the damage. Jesse Locke speaks to Kalmanovitch and Future Ecologies' hosts about how ecological restoration begins with conversation.
The theme is extended with a profile of nature-facing Vancouver-Island electronic-music imprint Silent Season . . . 
. . . and a story about Victoria-based Scrap Arts Music, where invented percussion instruments built from industrial scrap play beautiful, energetic compositions.
---
---
Also in this issue: We interview three music artists who are also active "connectors" in their communities, creating innovative programming and contexts for experimental music artists to present their works and ideas.
Ashley Au (Winnipeg) is a genre-fluid bassist, emerging opera composer, and multitasking arts worker who became director of Cluster New Music and Integrated Arts Festival in 2020.
James Goddard (Montreal) is an adventurous saxophonist and independent concert promoter, who this part years has been sharing resources to help get artists streaming for their fans and spearheading Suoni TV, a livestreamed concert series housed in Sala Rossa that is now in its second season. 
David Psutka (Toronto) is a producer who takes a free-form, often collaborative approach to making music through his label Halocline Trance and solo projects, such as composing 100 miniscores for Karen Karen Vanderborght's SnapChat documentary Grey Matter AV.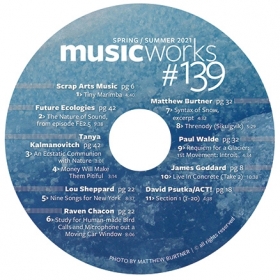 SPRING / SUMMER 2021
Musicworks
#139
Scrap Arts Music 
1> Tiny Marimba 
Future Ecologies 
2> The Nature of Sound, from episode FE2.5 
Tanya Kalmanovitch  
3> An Ecstatic Communion with Nature 
4> Money Will Make Them Pitiful 
Lou Sheppard 
5> Nine Songs for New York 
Raven Chacon 
6> Study for Human-made Bird Calls and Microphone out a Moving Car Window 
Matthew Burtner
7> Syntax of Snow, excerpt 
8> Threnody (Sikuigvik) 
Paul Walde
9> Requiem for a Glacier: 1st Movement: Introit 
James Goddard 
10> Live In Concrete (Take 2) 
David Psutka/ACT!
11> Section 1 (1–20) 
© all rights reserved
CD IMAGE: DETAIL FROM A PHOTO BY MATTHEW BURTNER