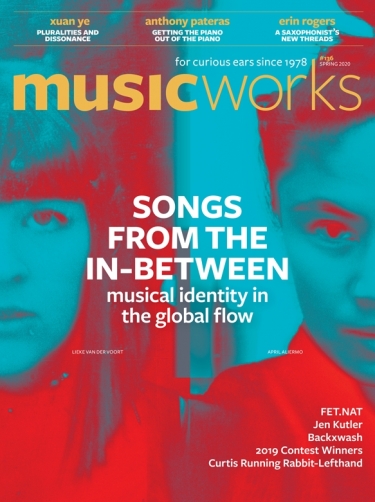 The Spring 2020 issue is a one-stop, one-of-a-kind sonic journey. Most of the stories were assigned, written, and edited before the lockdown, due to the global COVID-19 health crisis, took hold. Events referred to or advertised in this issue were not yet cancelled at press time but likely are now. We're grateful to the community of contributors, artists, and supporters that keeps us connected and inspired. Music is helping many people get through hard times, and
we hope this issue and CD will do that for you.
ON THE COVER
Neither Here Nor There: Musical Identity in the Global Flow 
As global politics and economies propel the mobility and displacement of people around the world, it is ironic that society oscillates between drawing stark borders and attempting to erase them. Composer Juro Kim Feliz interweaves recent thoughts of sound artist April Aliermo and composer Lieke van der Voort on the departures and negotiations they've made in their artistic practices and lived experiences and how these inform their soundworlds. From DIY rock bands and jazz beginnings to sound art and life in metropolitan Toronto, snapshots of their stories raise questions about the ways of systemic permanence: Aliermo with her culture shock at the Darmstadt Summer Course in Germany and van der Voort with her disdain for gatekeeping and invisibility. Rather than suggest that artists simply "arrive" after moving from one place to another, their creative work both questions and expresses the state of being in between, of being neither here nor there.
Anthony Pateras
The music of Australian composer Anthony Pateras covers vast expanses of composition and improvisation, of acoustic and electronic instrumentation, and combinations of these. He is also a virtuosic pianist. In 2019, he completed Immediata, an ambitious series of fifteen albums, self-released over seven years, of music created in various modes and contexts, in order to explore how that process would change him as a musician and a composer. Each album was accompanied by a booklet featuring extensive texts, mostly interviews, in which Pateras reflects on the album's music, and on music in general, with musicians he recorded it with. Dutch music writer René van Peer discusses Pateras's motivations and methods, and the results of this exploratory project, with comments from Pateras and two of his frequent collaborators—Australian composer, violinist, and interarts creator Erkki Veltheim and French electroacoustic composer and improviser Jérôme Noetinger.
Xuan Ye
Multi-instrumentalist improviser, visual artist, and web developer Xuan Ye speaks from her Toronto home about her life and music with writer, flutist, and programmer Sara Constant. Ye discusses the experiences that have shaped her current approach to sound—from her upbringing in China as a classical pianist to her recent installation work on human–machine coupling, to her solo album that marks the end of her current improvising practice. Ye reveals the personal origins behind the characteristic synthesis of language, body, sound, and code, which underlies much of her work. She also describes how her exploratory work as an artist, coder, and performer has created both pluralities and dissonance within herself, referring not only to many different sonic ecosystems but also to many forms of musical freedom
We know you'll enjoy getting to know:
rapper and producer Backxwash;
multimedia producer and musician Curtis Running Rabbit-Lefthand;
saxophonist, composer, and performance artist Erin Rogers;
left-field, free-jazz rabble rousers FET.NAT;
builder/performer of atypical, culture-challenging electronic instruments Jen Kutler;
and the prairie experimentalist grooves of Saw-whet Records!
WHAT'S ON THE MUSICWORKS 136 CD?
Alex Buck
1> Screaming Trees 8:07
Backxwash
2> Don't Come to the Woods 2:15
FET.NAT
3> Patio Monday 3:55
April Aliermo
4> Happy Meal? 02 2:22
5>  Happy Meal? 04 2:20
Lieke van der Voort 
6> Atropos 3:46
7> Damage/Visage 2:47
8> center, unrestrained 6:50
Xuan Ye 
9> solo improvisation 12:48
Erin Rogers
10> This is Newport 2:02
11> Light-On-Light 4:30
12> Trajectories 1:18
Anthony Pateras
13> Ersatz 2019 13:04
Jen Kutler
14> Caroline Partamian 3:40
Saw-Whet Records
15> Journey to Everywhere and Nowhere 3:09
Musicworks 136 CD released April 2020. 
© all rights reserved