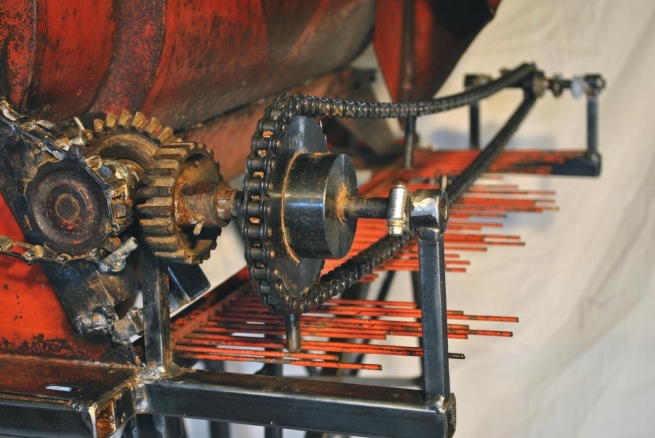 The Combine Project (2004-09) is a series of kinetic sound sculptures constructed from an abandoned 1964 Allis-Chalmers All-Crop combine harvester. I discovered it ten years ago on a property my wife and I purchased when we moved from Toronto to rural Ontario. The piece of outdated farm machinery was abandoned completely intact, and served as a poignant symbol of obsoleteness, giving rise on my part to thoughts on technological development.
The current fate of the family farm is uncertain, as factory-style farm operations have, in our changing global economy, become one of the only ways for farming to remain profitable. Genetically modified organisms have become commonplace. The evolution of technology has now changed to include the plant world. Large biotech companies are securing patents on genetically altered seed stock, referring to their products as "technology." It is clear that we are in a period of rapid change, and the abandoned combine harvester acts as a metaphor for these changes.
In reaction to the combine as metaphor for obsoleteness, I dismantled it and used the various parts to build a large collection of kinetic sculptures that produce sound and that require viewer participation to animate. Many of the parts I have pulled out of the combine are bizarre looking and of mysterious utility, stimulating the curiosity of those not familiar with this type of technology.
The interactive nature of this work brings the viewer into direct physical contact with these sculptures and engages those viewers in creating playful soundscapes. Cranks get rotated, chains move, and gears whirl, resulting in a metallic cacophony of sounds. Turn the wheel on the side of the Spider Bark sculpture and hear a collection of metallic tones of varying pitches and timbres reminiscent of a Steve Reich composition. Spin the gear on the end of Molecular Roulette and brilliant bell-like timbres ring out arhythmically. The Tooth Organ sound sculpture reuses a crank, two chains, several gears, and graduated metal tines from the combine to produce a sonic mashup that sounds like a blend of a home radiator pinging and a tin cup being rattled on metal jail-cell bars.
These sculptures and a series of related prints, which together took five years to complete, reflect a playful sense of wonder at the possibilities presented by these lost fragments of technology. In an age of intense digital technological development, the lo-fi nature of these sculptures engage the viewer, who then becomes a collaborator in the finished work.
---
Audio: The Combine Project (Excerpt, 2004-2009). Excerpts from the following sculptures: Molecular Roulette, Tooth Organ, Spider Bark, Grain Bin Sound Machine, Happy Apple Tree, and Insect Variation. Performed by Steven White. Image by: Steven White.