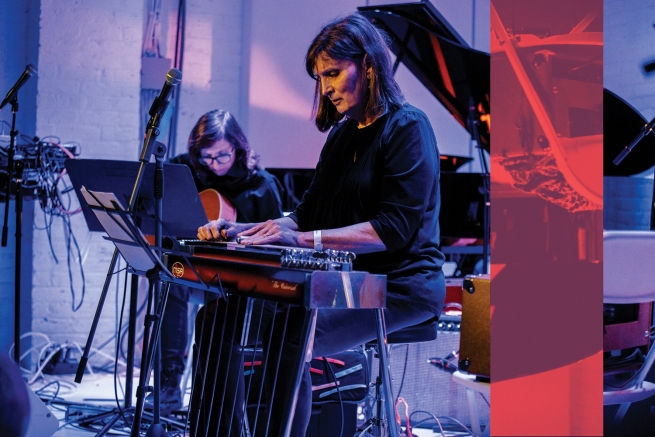 Susan Alcorn moves through life in methodical motion, a few beats slower than the usual rapid flow. At the 2020 edition of Toronto's Women From Space festival, held in mid March, the pedal steel guitarist's entrancing performance made the Burdock Tavern feel as if clocks had frozen and the room had entered zero gravity. In between the semi-improvised compositions of her hazy, cosmic Americana, Alcorn shared stories with the affable yet assured delivery of a veteran talk-radio host.
Three weeks later, connecting over the phone from her home in Baltimore, Alcorn unfolds her musical history in a conversation that also touches on her world travels and political activism dating back to the Vietnam War. Though primarily a solo performer, the sixty-six-year-old musician has collaborated with a wide array of experimental-music heroes, including composer Pauline Oliveros, guitarists Eugene Chadbourne and Mary Halvorson, and multi-instrumentalists Jandek and Joe McPhee. Listening back to our talk while transcribing, I would be struck once again by how I never had to hit rewind while writing down her patiently spoken words. In a pandemic reality, we can all take inspiration from the way she operates: with grace, contemplation, and compassion above all.
"The audience is always part of the equation," says Alcorn. "You don't want to just play for yourself—otherwise, what's the point? Especially when I'm performing solo, there are different kinds of silence, when you can tell people are right there with you, or not really connected. You can hear a bit of shuffling or even someone leaving. I find it really inspiring when it feels like we're all in this together. It's a communal experience that's just magical. Musicians can follow the audience just like they're following you."
Alcorn, who grew up in the 1950s, has been drawn to the pedal steel since day one. Her earliest musical memory is sitting under a piano while her mother played the keys and she herself handled the pedals. Raised on a steady diet of classical music and radio pop, she first played the trumpet before her disinterest in what she calls "vanilla music" got her kicked out of the eighth-grade band. Alcorn shares another vivid recollection, of a teacher at a music store telling her something like, "If you play guitar, that's OK, just don't give up trumpet. Otherwise, you'll be a failure, like that guy Elvis."
By 1967, Alcorn had discovered underground radio, where she was introduced to the outlandish sounds of Edgard Varèse and Frank Zappa. An even more striking epiphany occurred when she heard John Coltrane's "Om (Closing Invocation)" from the retrospective compilation His Greatest Years: The Best of John Coltrane (1970). That album also includes Coltrane's ballad "Naima," which she would reinterpret many years later. After picking up the guitar, Alcorn made her living playing with country bands in Chicago, while straddling an interest in avant-garde music. At that time she and a group of friends would play experimental gigs for free drinks or a few dollars. "I tried to break some of the rules in country music," she continues. "I wasn't trying to play anything weird, but people would just notice it. Maybe stupidly, I wanted to show that the pedal steel could do all of these interesting things, but eventually I realized it was like trying to fight the wind."
After moving to Houston in 1981, Alcorn realized she could combine the traditional sounds of country and swing with the improvisation she was drawn towards. As she explains in an autobiographical section of her website, "to play in a band, you had to know every intro, turnaround, signature lick, and ride, from 1940s Ernest Tubb on up." Only by learning the tricks of the trade could she figure out how to break them, which she did during studies with legendary music educator Conrad O. Johnson (of Kashmere Stage Band fame). "I found that I could play across progressions rather than endlessly trying to connect scales with the different chords," Alcorn writes, hinting at her smoothly gliding sound of the future.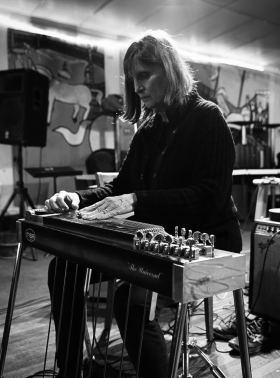 In 1990, Alcorn was introduced to the philosophy of Deep Listening by one of its pioneers, Pauline Oliveros, who became a mentor. The guitarist describes Deep Listening as "a way of listening, relating to, and playing in which all notes, harmony, melodies, composition, people, and space were approached, from within and without, . . . free from preconceptions." On a more concretely sonic basis, Eugene Chadbourne and his band Shockabilly emerged as an influence on the genre deviations Alcorn wanted to explore. "Eugene played country music, but when people took fills or solos they were really out there," she tells me. "They would break time. To me it sounded like Ornette Coleman doing a country project. That's what I got from Eugene. We later recorded three albums together, which is probably one one-thousandth of his recorded output!"
Alcorn's introduction to solo improvisation on the pedal steel occurred in 1997, when she was asked by trombonist David Dove to perform at an event called Twelve Minutes Max. (Dove would later go on to perform on her 2000 album Uma.) Working up the courage to take the stage with no plans, rehearsals, or recognizable tunes, she found herself liberated from everything that had come before. "There was absolutely nothing to hide behind—not personality, not virtuosity, not pleasant melodies," Alcorn recalls. "Only myself, the steel guitar—a vibrant personality in itself—the audience, and the room. The result was a sense of intimacy with the space and the audience that I had never before experienced as a musician."
Over the past twenty years, Alcorn has evolved into an agile collaborator, adapting her performances to stride in step with players of all stripes. Prism Mirror Lens (VG+ Records), her 2019 duo with Bay Area reed player Philip Greenlief, is sparse, eerie, and only occasionally frenetic, while a gig she once played with British free-jazz heavyweight and saxophonist Evan Parker sped into nerve-wracking territory. "I was a bit star struck by Evan, and it was wild to watch him play a thousand miles per second," she laughs. "We did two sets, and I remember thinking after the first one, 'Oh fuck. I need a drink.'"
Those who want to see Alcorn cooking at full heat should look for the YouTube video of her 2016 performance with guitar hero Nels Cline and powerhouse drummer Chris Corsano. (see video below) This stunning forty-five-minute set at The Stone in New York City finds the trio fluctuating between languid clouds of ambient twang and gale storms of clanging, chiming, crashing intensity. "Free improvisation is great because you don't have to say anything; it's just there," says Alcorn. "You're always on the verge of falling off the edge, just listening and acting, because you don't have time to wait. It's a different kind of awareness, like using both sides of your brain, and you always need an editor. That voice can tell you, 'OK, this little idea that everyone is doing has gone on long enough. It's time to make a change.'"
In her early twenties, Alcorn was involved in social activism, but the "ego involved with leaders, arguments over tiny little things, and a lot of sexism" became discouraging and led to her shifting her focus to music. In 2018, while on a European tour as part of the Mary Halvorson Octet (as heard on the 2016 album Away With You), Alcorn witnessed the polarizing forces of political unrest; a 2003 trip to Chile introduced her to the nueva canción movement and an experience in Mantova, Italy, inspired Alcorn to integrate political protest songs back into her performance.
"We were driven from the airport by these two very well-dressed right-wing Northern Italian drivers with a nice car," she recalls. "I was trying to sleep before the gig when I heard a demonstration outside our hotel window with people shouting on megaphones. I thought it was the fascists, because I don't understand Italian and was thinking about our drivers—but it was anti-fascists! There was a sea of red and black flags with people who looked like they'd come to an improv concert." That night in Mantova, during her solo set before the Octet's performance, she drifted into "Bella Ciao," an anthem Italian partisans sang to rally against harsh working conditions in the late nineteenth century. One man in the crowd asked her not to play it; another sent her an email with his gracious thanks.
As a response, Alcorn assembled what she describes as her "Liberation Suite," a collection of songs about freedom and against fascism. During her Toronto performance, this medley included protest anthems taken from an expanse of history and geography: "El Arado" (the plow) by murdered Chilean folk singer Víctor Jara, Italian composer Tomaso Antonio Vitali's "Chaconne," Carlos Gardel's tango song "Por una cabeza," Chilean composer Sergio Ortega's "El pueblo unido jamás será vencido" (the people united will never be defeated), Argentine composer and bandoneonist Astor Piazzolla's "Revolucionario," and Canadian jazz pianist and composer Oscar Peterson's "Hymn To Freedom."
"My goal is to play music," says Alcorn. "It's not like I base all my performances around politics, but it's important for me to do that [sometimes]. I rarely think about what I want to be doing one year from now or five years from now. I go with whatever hits me at the moment and try to explore that. Usually it stays with me until something else comes up.
"I've offered a couple of times to play for political groups' fundraisers or gatherings, but no one has taken me up on that yet," she continues. "I used to play at art openings with a free-improv group. We would play and then people would dance to surf music. Just because they made abstract art, it didn't mean they wanted to hear that kind of music. Most political songs I hear are folk music, which is good because they're easy for everyone to understand!"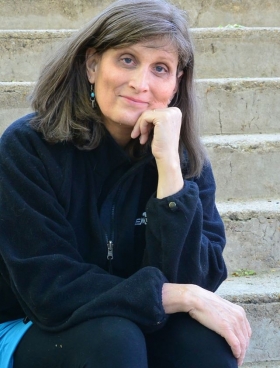 While her touring plans for 2020 have been put on pause—except for a performance at the Berlin Jazz Festival with Nate Wooley's Icefield, still on the books for November—Alcorn looks forward to a pair of upcoming releases. The Relative Pitch label will issue her trio album featuring Laubrock and cellist Leila Bordreuil, followed by a quintet album with Halvorson, bassist Michael Formanek, violinist Mark Feldman, and drummer Ryan Sawyer. These collaborations with younger players from different circles keep Alcorn engaged, while she strives to maintain a realistic level of activity that energizes and inspires her.
"COVID-19 has changed everything, but even before that I was worried about the ways we were changing as a species," she says. "If we don't get global warming and income equality fixed, there's not much hope. We have dire problems in the world, and people coming to power who are running in the opposite direction. Sometimes I wonder if it's part of a species-wide death wish. This has bothered me so much that I've felt a real need to express how I am feeling.
"I've been trying to use this downtime well and, in a way, it's kind of liberating.
"When I'm getting ready for a tour, the pressures are on, and sometimes I have to practice twelve hours a day. Now that I don't have these deadlines, I've slowed down. I've been working on recordings, writing some things, and learning some pieces of music that I started to learn long ago and never finished.
"We have time to breathe; that's a silver lining for artists."
Top photo of Susan Alcorn (right) and Mary Halvorson performing at the Winter Jazz festival (January 2020) in New York City by Nicole Fara Silver. Black and white photo of Susan Alcorn in Austin (2019) and steps photo by David Lobato. 
FYI: Pedernal, the new album by the Susan Alcorn Quintet (Alcorn, Mark Feldman, Michael Formanek, Mary Halvorson, and Ryan Sawyer) was released by the Relative Pitch label in November 2020.