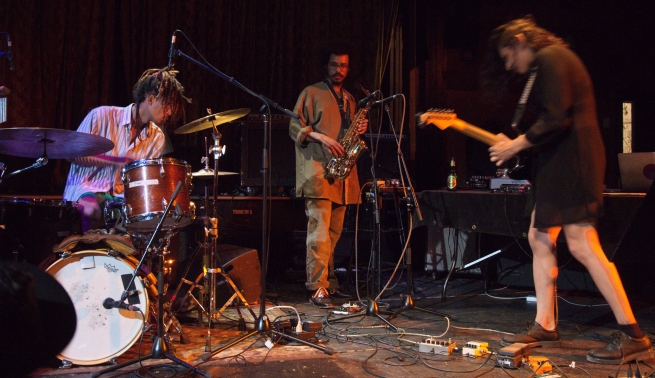 "Recorded music these days is like an inversion of the old-time medicine show—you know, those people who would go from town to town and put on this big carnival performance to sell their medicine. Now that ticket sales have become the main income generator for musicians, recorded music is just an advertisement for the show."
Talking to James Goddard is something like this: imagine that someone drew a mind map around live music. Now picture being pulled through the map in a tornado that's swirling its own path through the logic of branches and clusters of ideas. Goddard is naturally curious, knowledgeable, talkative, and knows an interesting fact about any topic you might conjure up. No matter what you're talking about, it will all lead back to that unnameable set of feelings that wash over you when you're in a room full of people listening to music performed live.
Many independent musicians in Montreal know Goddard from his work organizing DIY shows at the classic dive bar Brasserie Beaubien in the city's La Petite-Patrie neighbourhood, but the realheads know him for his uninhibited saxophone sound in Egyptian Cotton Arkestra, Platitudes, and his solo project Skin Tone. After landing in the city in 2011, it was a matter of months before he joined forces with Julian Leblanc and Gabriel Jasmine to create a new hub of DIY music north of the Van Horne train tracks. "I've been promoting concerts since I was sixteen years old," Goddard recalls, "I put on a Food Not Bombs fundraiser show at a hall in Edmonton during high school. Later, I ended up in Sackville [New Brunswick] for university, where I ran a house venue, before moving to Kingston [Ontario] to work in community radio. After that, I ended up in Montreal and started putting on shows at Brasserie Beaubien." These bar shows had an immediate impact on the city, and Goddard rapidly emerged as a thoughtful and creative booker. "Something in me just loves live music. Even more than recordings, music slaps for me hearing it in person, in a social atmosphere . . . a lot of artists make work that isn't necessarily meant to be relistened to."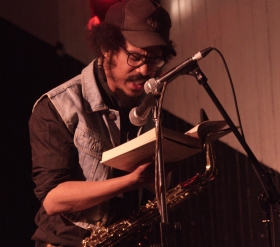 It's no surprise that Goddard has been an innovative leader in bringing Montreal's independent music scene to livestream audiences during this past year of shuttered venues and stay-at-home orders. Even before COVID-19 descended on Canada, Goddard was investigating musicians who were performing on the popular livestream platform Twitch. In fall 2019 he began working with the music festival Suoni per il Popolo as a programmer and booker at their historic venues, Casa del Popolo and Sala Rossa, where he had hoped to use livestreaming to access wider audiences. "Especially because Suoni deals with a lot of free jazz and experimental improvised music, there's lots of stuff that only happens here. There's value in offering that as a cultural product. For instance, John Heward, who was a legend of Montreal jazz, was good friends with Joe McPhee. They would often play together when McPhee was here. There are definitely people in the world that would be interested in accessing that moment if it was made available to them." While most musicians were still digesting their cancelled tour dates and summer-festival schedules, Goddard was actively sharing resources to help get artists streaming for their fans from home and helping to spearhead Suoni TV, a livestreamed concert series housed in Sala Rossa that is now in its second season. "I couldn't imagine not having—even beyond just the idea of music live in a venue—the kind of idiosyncrasies that come with musicians performing live," says Goddard. "Staring down the prospect of not hearing any music created in the moment was scaring me."
Goddard's love of live music spaces was the driving force behind him picking up the saxophone for noise-music duo Pop Talk, one of his earliest projects. "For a long time I never thought I would become a musician myself. That was never why I started putting on shows or getting involved in community radio. I just loved live music from the bottom of my heart. Going to punk shows in high school rewired my brain … It's been interesting these last few years as my own artistic practice has grown and I've moved from the admin side to the artist side. I like both of them but I still fundamentally love helping people put their work out." Perhaps it's for this reason that he is so highly sought after as a collaborator. "For a while there I was getting so many requests to play on people's albums, which is ridiculous. I would try to explain to people: I don't play pretty, I mostly improvise; doing the same thing twice is not my really strong suit. But for whatever reason," says Goddard, with a mix of wonder and frustration, "they would tell me, 'No, we want you.'"
The spirit of creating spaces for others to express themselves permeates Goddard's playing. His chaotic textural drones on Unbusy, a 2020 release by punctï (Laura Bardsley's experimental electroacoustic project), interweave effortlessly with the driving and crunchy drum-machine loops that take this set of freeform jams into full-bodied experimental sagas. A completely contrasting musical perspective comes to the fore on "Accept the Swirl" from Patterning (2020), the sophomore effort by Montreal bassist and songwriter Cedric Noel. Matching Noel's signature serene-and-uplifting writing, Goddard's warm, breathy saxophone tone adds a grounding and humanizing force to a bed of intricate, glistening synth patterns. This chameleon-like ethos remains, even in Goddard's own musical endeavours. In his solo project, Skin Tone, a much more assertive and focused horn player emerges; still, his voice as musician plays the role of facilitator to entrancing Afrofuturist narratives that imagine utopic futures, then progress from traumatic and affecting histories to present-day violence against Black bodies.
When it comes to putting together his own ensembles, Goddard brings his sensibilities as venue booker and event programmer to the table. "I started to wonder, What are the organizing principles that I can use to bring musicians together to change the palette? As opposed to me being the only black person in an otherwise gender- and sexuality-diverse band of white people, what does it look like to try to have an intersectional analysis of the bands I'm putting together?" The result is groups like Egyptian Cotton Arkestra (Goddard with violinist Ari Swan, bassist Markus Lake, and percussionist Lucas Huang) and Licht Quanta (Goddard with guitarist Eliza Kavtion, Jean Cousin—aka producer Joni Void—sound artist Lisa Gamble, and drummer Tyrin Kelly). The two experimental music supergroups comprise musicians othered by race, gender, sexuality, and disability who are extremely diverse in age, instrumentation, and musical background. Ultimately, all this ties back to Goddard's passion for making musical communities: "We don't have to pay a hundred bucks to see what's going on at the Bell Centre. We can create an exciting and special world together, ourselves, outside of all that. It can be NOTAFLOF [no one turned away for lack of funds] and let everyone in. That's what's always animated me. I love creating space for people to share joy about art."
Now that Goddard has stepped into a formal role at Suoni per il Popolo, he looks forward to seeing the next generation of independent artists and show-bookers pick up the torch of the Montreal music underground. "DIY structures are fuelled by volunteer labour and passion, and the people who have the time and energy to contribute that unremunerated labour tend to be younger," he says about the city's post-pandemic future. "I think the new scene is going to reflect the interests and desires of people who are of a generation other to me. That's very exciting on a lot of fronts." One of his greatest hopes for the future of music is that new communities and space will form with the same spirit of inclusivity that has influenced his own work as programmer and bandleader. "I would like to see more spaces created with values of anti-oppression, equity, and diversity baked right into their foundations. I hope that with the political zeitgeist right now, thinking about how to combat sexual harassment and create more safety and more accessibility will be the norm in these new communities." In the interim, a significant corner of Montreal's experimental music scene has grown to become increasingly politically engaged and inclusive, due in no small part to the dedication and thoughtfulness of marginalized creative leaders like James Goddard.
---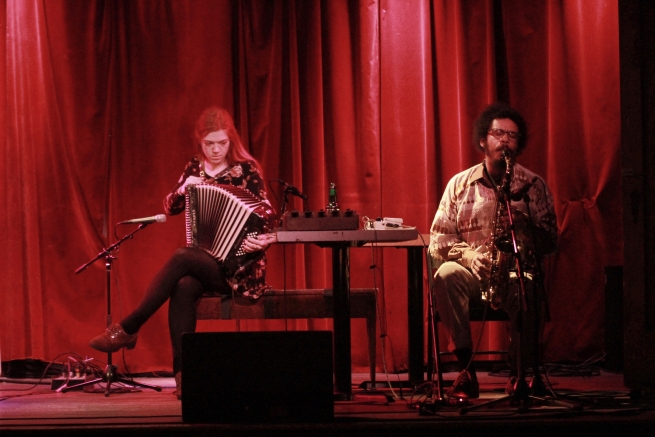 PHOTOGRAPHS: Pierre Langlois