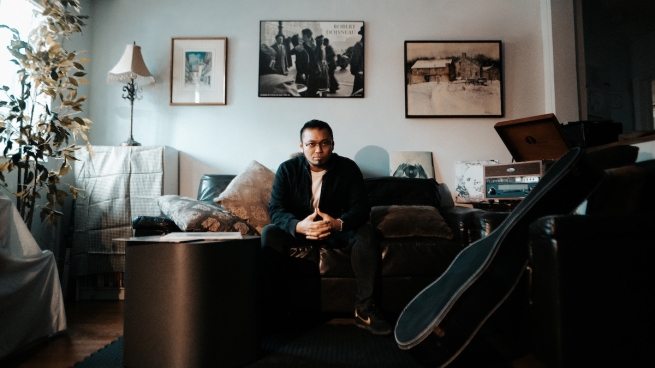 Genres can be compared to landscapes: they are places where people gawk like tourists, set up camp on Spotify playlists, and explore musical structures. Juro Kim Feliz sat down with me in November 2021 to talk about the challenges of creating in both the Filipino and the Canadian contemporary classical-music landscapes, and also about a few of the pieces he is creating for audiences to explore in 2022.
Feliz presented his first compositions in the Philippines, where he was born, grew up, and began his music studies. Sa Kanyang Paglingon (in her glances), for sextet, took first place in the 2009 Goethe Southeast Asian Young Composer Awards, held in Kuala Lumpur, Malaysia. Its premiere performance, by Berlin-based Ensemble Mosaik, was part of a young-composer competition-presentation held at the first Kuala Lumpur Contemporary Music Festival, one of the largest events of its kind in the region. The piece features uproarious bursts of piano and winds among violins suspended like sonic flying buttresses shooting out of an unassuming tower. Feliz continued to work tirelessly, creating pieces across the landscape with every passing year: Sa Kanyang Paglayag (in his voyage) for viola, cello and contrabass, which premiered in 2010 in Yogyakarta, Indonesia; Sa Kanyang Munting Yapak (in her baby steps), a miniature for sextet, which premiered in 2013 in Thessaloniki, Greece; and Bagatelle for piano, which premiered in 2014 Quezon City, Philippines.
This creative work couldn't run on passion alone, however. The prerequisite to funding was recognition, and unfortunately, no one was commissioning contemporary classical works in the Philippines. "There are no audiences for them," Feliz explained to me. "There are no funding sources for them. Even willing collaborators are at a minimum." Without sustainable financial support, Feliz was surviving as a lower middle-class musician in the outskirts of Metro Manila (as the country's national capital region is familiarly called). The contemporary Southeast Asian arts landscape Feliz was facing was dotted sparsely with unfinished projects and scaffolding, abandoned by the locals and institutions who did not value the arts.
By 2013, Feliz had entered Canada's contemporary arts landscape, a place bustling and teeming with an exciting cacophony and art-hungry commissioners roaming the streets. Unlike the Philippines, this was a place where art-grant season came and went with the spring rain and winter frost. The process seemed simple. After accepting a commission, one would have to write an application, cross their fingers, and hope that the government-mandated institutions would follow up with fistfuls of money which would turn the artist's blueprints into reality.
As a student at the McGill University Schulich School of Music in Montreal, Feliz—who received his Master of Music degree in Composition in 2016—came to discover the harsher reality thanks to his international-student status. Many grants were not open to students, and most kept their doors firmly shut if the artist was not a permanent Canadian resident. Despite Feliz's extensive, professional repertoire, the compositions he wrote in the Philippines didn't cast a long enough shadow to reach the Canadian landscape.
While frustrating, it was an interesting position to be in, Feliz reflected. Here in Canada, he was leveraging his status as an outsider on the inside, while caught in a cultural juxtaposition. Feliz is no stranger to juxtapositions, which he uses often in his works with childlike delight. His music thrives in the sustained tension, like the kinetic energy emanating from the corners of a frame, the opposing forces holding up a house. His ongoing A Study in Exile series, which he started in 2017, molds 3-D worlds out of noise by its clashing push and pull of carefully curated sounds against each other.
A similar concept began to seep into Feliz's psyche. In this confrontation, the Philippines was a heavyweight contender carrying the baggage of colonial and generational trauma, constantly reconciling and redefining its cultural identity. Then entered Canada, with deeply racist attributions that remained unchecked, appraising Feliz based on his skin colour and the spelling of his name. Within the hyphenated "space" of Filipino-Canadian, the two energies collided so tightly that to the unsuspecting it looked as if the two were engaged in a handshake, a misinterpreted symbol of the Filipino and Canadian sides agreeing to get along. With the juxtaposition of those two palms, Feliz's music entered the next phase of its evolution.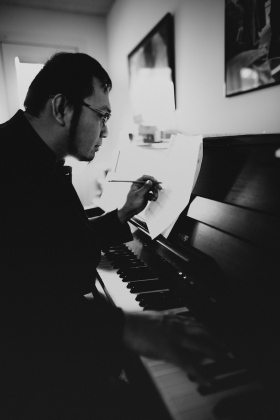 After seven years in Canada, Feliz received permanent residency, and the commissions began landing with unstoppable momentum. At the time of our meeting, he was knee-deep in the preparation of several new works, two of which were to premier only a month apart and represent distinct aspects of the musical arsenal that he has been developing and refining since moving to Canada. New Music Concerts, which hosted Feliz as a composer in residency, commissioned Kinalugarán, scheduled to premier April 30, 2022. It features eight flutes, spatialized across the performance space, and a quadraphonic fixed-media audio essay featuring violinist Ramon Alfonso Soberano, film composer Marie-Luise Calvero, and playwright and spoken-word artist Riley Palanca. The audio essay grew out of Feliz's venture into electronic music that was cultivated while he cohosted "Sigaw ng Bayan," a radio program for McGill's CKUT 90.3 FM. (Kinalugarán is supported by a grant from the Ontario Arts Council, one of the government arts funders that had previously turned down Feliz.)
In May 2022, Feliz collaborates with mezzosoprano and librettist Renee Fajardo in Liham (Letter), a work that also features baritone Danlie Acebuque and pianist Andrea Grant. This structure is familiar to the Filipino musicians involved, as Feliz has modelled the song cycle on kundiman, which is a traditional Filipino love song form. Feliz dons the metaphorical walls of this piece with mirrors that musicians use to reflect on their experiences in the Filipino diaspora through stories that contain more nuance than the typical migration tropes.
Yet while Feliz and I spoke, touring around the tangents of his mind, it became apparent that the structures of music are not his priority, but rather the spaces between their walls. This theme seemed to reside in Feliz's subconsciousness as he explained the meaning of Kinalugarán, which literally refers to the site where a thing was placed or put into position, and figuratively poses the question, "Do you know your place?" Knowing your place, finding your home, and searching for a space to explore yourself are all themes that haunt listeners and, specifically, Filipino immigrants, who are on a continuous nomadic journey across the landscape. Thankfully, it is within these landscapes that Feliz has created a space for such people and ideas to exist—and more importantly, to live together.
---
PHOTOS:
Photos by Prince Requino.
FYI: In 2022, Juro Kim Feliz's Hanggang sa Takipsilim will be included on Mind & Machine, Vol. 4, a compilation released on Ravello Records. The piece, for electronic fixed media, protests the influence of Marcos' dictatorship in today's Filipino society, and features Hannah Guanlao's reading of her dramatic text for "Choose Your Own Perspective," a Filipino-Canadian millennial response to historical revisionism. Grumpy Kitty Boy (GKBoy) is the singer-songwriter alter ego of Toronto-based composer Juro Kim Feliz. Check out his story and recordings at grumpykittyboy.com.
ON THE CD: Ni ici, ni là-bas