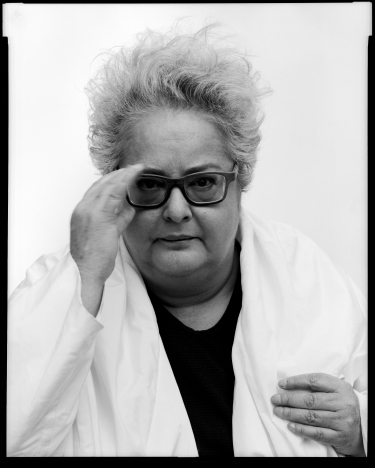 Contradiction is a huge theme in contemporary experimental music. Today's most potent works situate the listener at hitherto unimaginable thresholds between seemingly irreconcilable points. While many artists use paradoxical scenarios as compositional devices, Spanish-German composer Maria de Alvear is one of those rare artists whose creative foundation actually reflects these contradictions.
De Alvear's defiantly unique music seems both meticulously crafted and driven by unruly elemental forces. She confronts the listener with strange juxtapositions and finds cohesion on the brink of unravelling. The composer herself is as wildly iconoclastic as she is reverent of tradition. How she balances (or doesn't balance) these polar tendencies is never predictable. Her opus is unfathomably intense and ambitious. As the American composer and critic Kyle Gann writes in the notes for the 2002 recording of her composition Fuerzas for solo viola, de Alvear is "impossible to place among the '-isms' of contemporary music." Her works bear iconic titles such as World, Sexo, and Equilibrio, and their hefty durations, ritualized theatricality, and staunchly intuitive approach—not to mention robust, colourful ensemble writing—betray ties to mystical romanticism by way of Stockhausen and Messiaen. Yet her pieces are, in fact, steadfastly earthbound, reflecting a preoccupation with humanity, the corporeal, and the natural world. The music's temperament shifts like erratic weather rather than human vacillations; while there seems to be some greater logic afoot, it's not readily scrutable. Even in passages of overwhelming density, space and sensitivity remain close to the surface.
Maria de Alvear was born in Madrid in 1960 into an environment that was exceptionally nurturing for her creativity, especially given the conservatism of the Franco era. Her Spanish father Jaime, an architect, possessed a nimble, impish imagination. Her German mother Helga was on her way to becoming a respected art collector and curator. Musical instruments exerted an almost gravitational pull: her parents couldn't keep her away from any visible piano, and when she visited her uncle in Germany she'd retreat to the basement to pummel his drum kit with reckless abandon. She was enrolled in piano lessons, and by the age of eight her potent fantasies of becoming Mozart prompted her teacher to suggest composition lessons. She was lucky enough to work with Eduardo Polonio, one of Spain's foremost innovators of electroacoustic music, until she was twelve. "I totally admired him as a teacher—he was my hero," she remembers. Instead of admonishing her for breaking the rules, he encouraged her by providing her with the tools to transcribe her ideas and by exposing her to a rich body of diverse music. The odd theatrics and skewed whimsy of Polonium's own work were strikingly compatible with her young imagination. She recalls a particular concert where quasi-humanoid figures inflated and deflated in time to his jerky electronic music.
As a young teen, de Alvear began expanding her horizons. She devoured books on various aspects of composition and she developed skill on the organ and harpsichord. At Peter Cornelius Conservatory in Mainz, Germany, she studied violin and conducting. She even managed to have her compositions performed by local interpreters: "I was very good at convincing people to play my music," she recalls. When noted German-Argentine composer Mauricio Kagel visited the school in 1980 to give a master class, he examined de Alvear's scores and urged her to study with him in Cologne. She joined him six months later in 1980 at the Hochschule fur Musik Köln where she was treated to far more than a mere composition course. Kagel's methods were intense and hands-on, and reflected his practical bent, unwavering work ethic, and well-known interest in multidisciplinarity. Every three months, each of the twelve students was required to mount a concert performance of a new work. They learned to handle every single detail of the concert—rehearsals, lighting, staging, set design, choreography, video, sound design, and marshalling musicians and stage crew. They even set out the chairs and printed the programs. Dress rehearsals were scheduled two days in advance of the concerts, so that Kagel could come and deliver his customary eleventh-hour critiques. Rather than intimidating the students, de Alvear says this pressured environment united them. Kagel expected professional-calibre production values and, in turn, ensured that the student's events had full houses and were attended by notable critics. He was careful to impart business savvy and secured fair compensation for students when they had concert opportunities outside school. The six years of mentorship provided an ideal scenario for de Alvear's rebellious sophistication to emerge.
"I was like the punk among the composers there. My pieces were very radical. Kagel loved it. He thought it was courageous," she notes. "They were against the church, against Jesus, against the audience, they were against men—everything, you know," she laughs. Her ambitious graduation piece featured six singers, ballet dancers, and a custom-built coffin placed over a trap door so that her cast could rise up through it. The finale of the piece required firefighters to hoist de Alvear up to the ceiling, where, she says, "I was hanging like Jesus Christ," arms outstretched.
"Lady Don Quixote—that's what Kagel called me, because of my megalomania."
De Alvear soon became a vital fixture in Cologne, which by then was established as the epicentre of the European avant-garde. While her extensive training and varied experience continued to nourish her vision, de Alvear's work aspired to something of a deeper and more fundamental nature and she began to explore avenues outside of her artistic circles. In the 1990s, she spent time among the indigenous Nganasan, Nenet, and Yakut peoples of Siberia, and her desire "to go profoundly into what music is" led her to the Traditional Native Survival and Cultural Center in New Tazewell, Tennessee. The Center's founder and cultural director—respectively, Cherokee elder Tsolagiu M.A. RuizRazo and Tuscadora Nation elder Rahkweeskeh Miller, who was a pupil of activist Wallace "Mad Bear" Anderson—both had strong ties to indigenous activism and cultural preservation in North America. For twenty years, de Alvear would make an annual trek to camp at the Center for a month to absorb their teachings. There was little dogmatism or mysticism. Instead they privileged reflection, focused discussion, and skill-building. The exchanges offered de Alvear a wealth of new perspectives. RuizRazo's presence as a strong woman helped de Alvear balance fierce individualism with openness. It also encouraged her to consider ancestry.
This wisdom she was gaining suggested solutions to the problems she had railed against in her earlier music. Soon, an acute awareness of the psychological import of utterances—musical and otherwise—began to supplant the brash youthful rage that had characterized her creative output.

De Alvear's 1991 solo piano work De Puro Amor ("from pure love") represents a crucial step within that profound personal process that had been initiated by her encounters with RuizRazo and Miller. Overcoming various obstacles and inhibitions, she reaffirmed the force of pure love as the core of her creativity. Some critics described the mysterious and intuitive methodology of De Puro Amor as emerging from a "trance state" or "automatic writing," but de Alvear corrects these misconceptions. "When you're in a trance, you're not even able to breathe!" she scoffs. The composition, which unfolds in sixty-odd minutes, is more akin to a Bach invention, she avers—albeit governed by decidedly nonlogical criteria. Its cryptic handwritten notation mostly eschews dynamics and phrasing, and employs an open-ended proportional representation of rhythm. It invites performers to discover the same freedom de Alvear felt while creating the work. When the soloist reciprocates and invests in the work's strange, naked language, the performance teems with the combined power and vulnerability of both composer and interpreter.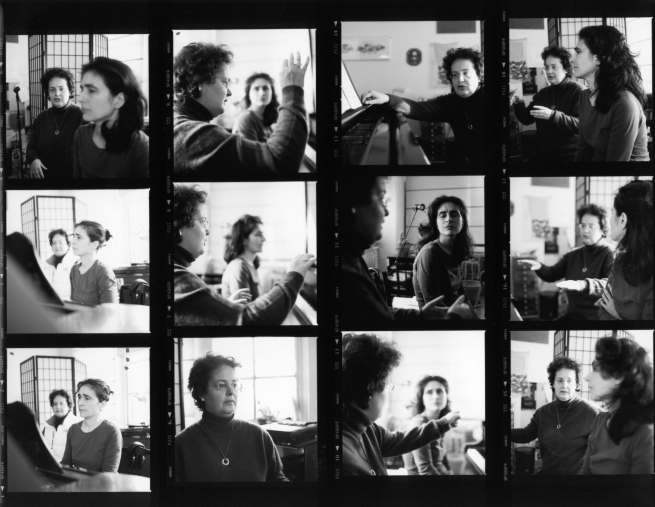 De Puro Amor and its companion work En Amor Duro were not only conceptual breakthroughs for de Alvear, they also instigated wider visibility. Canadian pianist Eve Egoyan had an immediate visceral response to hearing Hildegaard Kleeb's 1993 recording of the latter work. Egoyan sent a letter requesting the score, and subsequently gave the North American premiere of the aforementioned diptych at Toronto's Music Gallery in 1996. At that time, Egoyan had not yet performed a work of that magnitude, but her vision was warmly received by de Alvear, who attended the concert. They struck up an enduring friendship, which led to a recording of the diptych released this past year, and to the composition of three pieces written especially for Egoyan.
De Alvear's fascination with music's vast psychological dimension manifests in the relationships she cultivates with performers. Asking, one of the pieces written for Egoyan, broadly constitutes a meditation on the intimacy of asking, but de Alvear reveals that it was also devised to help Egoyan become pergnant. "It's amazing—it worked!" she says with incredulity, adding that its success had everything to do with Egoyan's full surrender to Asking. The pianist conceived her daughter while preparing to premiere the work.
Every piece in de Alvear's sizeable catalogue is charged with significance and psychological intention—tangible on a quasi-programmatic level but also on more fundamental strata. Her attraction to long durations stems directly from observing how audiences acquiesce to longer works after the first ten to fifteen minutes. She also ensures that her works make every musician feel that their role is important. "You have to understand the psychology of an orchestra. They're like a kindergarten—they want to play," she remarks mischievously. Urbaum ("Ancestral Tree"), another piano solo, encouraged its interpreter to sit upright and tune their attention differently.
Whereas Kagel critiqued concert ritual, de Alvear's subversion of expectations honours the performance scenario as the site of something powerful—even sacred.
To succinctly describe de Alvear's oeuvre is not easy. In addition to her explosive yet introverted solo works, she has created colourful orchestral pieces, focused chamber ensemble writing, and immersive pansensory experiences. The common thread is a fearlessness around methodology—if a piece demands she break into new artistic territory, she has no reservations about doing so.
"Back when she was starting, taking up that kind of space wasn't as common for women as it is now," says Toronto-based composer Linda Catlin Smith, a friend of de Alvear. "It was helpful and important to make these large works and to be loud and to be minimal—because being minimal can be a very brave thing too—and not to be just a good girl, and not even to be one of the good old boys either, but the courage just to be herself with or without support."
De Alvear's
Libertad
(1998) is a loving eighty-two-minute tribute to her mentors in Tennessee, written to be performed by her own voice. Her robust, brassy voice projects raw power and reflects influences from almost every classical tradition aside from Western concert-music vocal conventions. De Alvear often writes her own texts, but the
palabras peligrosas
(dangerous words) of
Libertad
's subtitle are RuizRazo's, which, translated into Spanish, de Alvear sings alongside flamenco vocalist Enrique "El Pescao" Lozano. The impassioned melismatic exchanges between the two vocalists unfold slowly, like an enormous
alap.
Generously ornamented melodies slither slowly across each other, often striking one another at jarring perpendicular angles. The poetry they illuminate celebrates the complexity of life, sensation, and the uncompromising wisdom of the natural realm. The pulsating microtonal piano duet behind them remains smeared and indistinct, while a winsome trombone wanders the music's horizon and percussion emits delicate clouds of colour with the occasional storm. Stubbornly large, it feels almost shapeless, despite its thunderous climactic crests.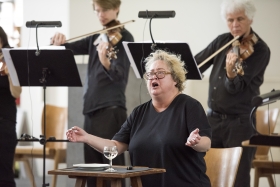 She titles many pieces—Sexo (1991), Vagina (1996), and Sexo Puro (1998), for example—with full awareness of taboos (particularly in the decidedly noncorporeal contemporary-music milieu) with the intention of blowing meaning open. Sexo Puro is an exploration of sexuality on a global scale—the intercourse between water and sunlight that produces marine life. The piece fills its performance space with opaque large-ensemble murk, loud three-voice incantation, and multichannel video with footage from diving excursions.
"It's as though parts of her take things that are very solid icons, in some form—a word or a kind of musical reference—and then she puts them in her pieces, and then lets them just sit without doing what they would do normally," explains Smith. "Sometimes, these powerful things show up in an almost archetypal way but never in a predictable way. It has the effect of breaking things apart and making them new again."
"I don't want to allow society to tell me what I think about a word," affirms de Alvear, noting that "it isn't worth it for me to write about these themes if I don't have the bigger view. You have to have a universal kind of view." Works such as Equilibrio (2010) see her irrepressible sonic imagination insinuating itself in a vaguely more traditional manner. The piece doesn't use the full orchestra but it's still a virtuosic display of her orchestrational prowess—the ensemble of flute, percussion, string orchestra, and two pianos (tuned a quarter-tone away from each other) shimmers. Her tireless individualism doesn't preclude reverence for the canon: "When I doubt, I always look at the Rimsky-Korsakov orchestration book," she reveals. "There you learn not only about the nature of instruments, but how they blend together."
Equilibrio was originally composed for the acclaimed British installation artist Isaac Julien's multiscreen installation Ten Thousand Waves. It's one of many de Alvear collaborations with filmmakers, notably including her sister Ana. Throughout the piece, Maria carves out wild radiant shapes that feel familiar and immediate in their rapidly cascading intensity. Her sculptural deployment of microtonality causes the music's exterior to warp and ripple. It's an effect that mirrors Julien's fragmentation across multiple projection surfaces. One also hears this sense of perspective in her violin and piano duet Thinking (2000), where the violin's microtonal gradations seem to bend the entire piano in and out of tune.
For the past four years de Alvear's been preoccupied with Arcaico, a sort of piano concerto with choir, four vocal soloists, and orchestra, which will be performed in Spain's largest auditorium by the Spanish National Orchestra and Choir. While she's naturally prone to conducting research to motivate her pieces, the process behind this work— tracing a constellation of themes back to our primate ancestors—has been exhaustive. She's consulted with anthropologists across Europe and studied ape behaviour (the choir will be required to imitate gibbons). She's also visited Auschwitz and spoken to historians about the music-making that was produced by prisoners as they attempted to survive under horrific conditions.
In June 2016, King Felipe VI and Queen Leticia of Spain presented Maria de Alvear with the Spanish National Award for Music. The jury's remarks mention the peculiar and utterly singular nature of her career and practice, as well as her ground-breaking interdisciplinarity and commitment to fostering emerging composers. World Edition, her record label, is the most notable way she's achieved the latter. Launched in 1999 with six releases of her own music, the label has come to embrace a diverse range of artists, all operating outside of established aesthetic models, and as of 2018 boasted thirty-four releases. When asked if there's a specific criteria that drives the imprint, de Alvear responds bluntly: "Yes. Weird enough." After a bit of cajoling she adds, "I want to hear something I've never heard before, or something nobody else does. I want to hear the experiment. Some of these composers have gotten catholic after a while, but I have their early works, where they're searching for their way. "
Perusing the discography, one senses this strange immediacy but also gleans that de Alvear's concept of weirdness is itself quite unconventional. There are plenty of curios—Tom Johnson's preposterous Questions features an austere sonic discourse punctuated by a speaker asking metamusical questions; at the other end of the spectrum is Linda Catlin Smith's warm and compulsively listenable Ballad, which takes considerable time to reveal its mind-altering properties. Walter Zimmerman, Clarence Barlow, Chiyoko Szlavnics, Klaus Lang, Peter Ablinger, and Eduardo Polonio, her early teacher, are among the other composers on the label.
Germán Valverde Usano's 2016 release reveals de Alvear's core principles; she's drawn to prosaic beauty as much as to the awe-inspiring universal. Eve Egoyan witnessed the moment that initiated the recording. Following the Spanish National Award for Music ceremony, Egoyan, de Alvear, and the composer's sister Ana visited a church. "The caretaker of this church, who knows everything, starts playing the organ—totally untrained," Egoyan recalls. "Maria and her sister are just in tears. She promises him that she's going to come back and record him." The two resultant discs have a timeless ecclesiastic quality but also showcase Usano's odd harmonic and timbral choices. "At that particular time she was being honoured by the King and Queen of Spain for her creative work, but there was this person with absolutely no formal education as musician, who had this relationship with the instrument and the space that was just free and extraordinary."
De Alvear is already poised to delve deeper into this intersection of tradition and eccentricity through a new performer-centric sublabel devoted to radical interpretations of standard classical repertoire. One notable planned release is a double-disc featuring middle-aged (pointedly not young) vocalist Mona Burmann's atmospheric takes on Schumann lieder. The first disc is a studio recording, the other captures her singing the songs while performing mundane activities—showering, riding her bicycle, or using the toilet.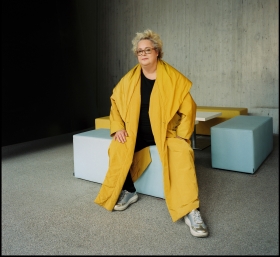 "Nowadays genius thinking is completely out. We don't see it in these terms," proclaims de Alvear, in one of her many quotable moments describing the current state of music. It's a level-headed assertion, especially given present aesthetic attitudes; we are bombarded with multiple subjectivities thanks to the Internet. Yet the scope, wondrous ambition, audacity, and sheer visceral power of de Alvear's music tell another parallel story. Its conception exists on the very mythic scale that she seems to disavow. It also aspires to embrace and agitate at the very same time. Listeners respond with praise or confusion of the highest order—sometimes both. Her demeanour epitomizes the larger-than-life, yet she's just too downright candid and even vulnerable for it to be any sort of cultivated persona. Where others labour to construct paradox in their art, for her, that paradox is the point from which everything else naturally emerges.
As much as the genius label is unfashionable, this arresting bundle of conflicting attributes distinguishes Maria de Alvear as one of the most visionary talents of this era.
---
AUDIO: Sky Music II / Nightsky, excerpt. Composed by Maria de Alvear, performed by Eve Egoyan (piano) and the Kitchener-Waterloo Symphony Orchestra. World premiere recorded at the Open Ears Festival, Humanities Theatre, University of Waterloo, Waterloo, Ontario, April 2009.
PHOTOS: Top image by Oliver Abraham. Contact sheet of Maria De Alvear and Eve Egoyan, courtesy of the artist. Performance photo by Rupert Huber. Bottom photo by Philip Lethen.