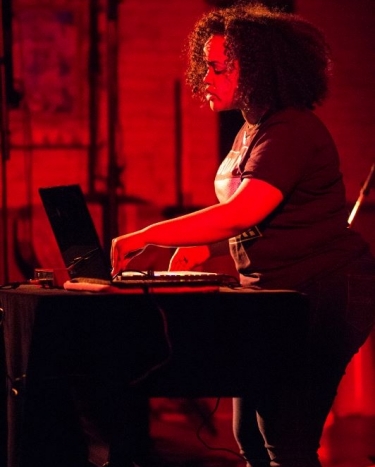 Compromise? What is compromising? Compromising for what? Compromising for what reason? . . . What is compromise?
—Eartha Kitt
That emphatic excerpt from a 1982 documentary is sampled at the start of "He(r)story," the opening track on Obuxum's beat-laden EP H.E.R. While Kitt is alluding to compromising with a man, Obuxum is zooming out further, asking why someone should compromise in their art. "Compromising—it's something I never want to do," she says. "What I would tell another creative that looks like me: don't ever compromise, your art is your form of storytelling."
This is an issue the Toronto-based Somali-Canadian creator Muxubo Mohamed (aka Obuxum) has clearly grappled with, through her work in production, in beatmaking, and in her magnetic live performances. In April 2017, I witnessed one such performance, which took place at one of The Music Gallery's last shows in the historic St. George the Martyr Church. Relatively unknown at the time in the city's experimental scene, Mohamed and her effervescent beats shook the building with their intensity. Lit with an exit-sign-red light, Mohamed weaved together a tapestry of beats and '70s funk lines by way of '90s hip-hop, single-mindedly nodding along with the momentum.
Mohamed had not really thought about being a creator until 2011, when she got involved in a Toronto District School Board program called LEAP (Literacy Enrichment Academic Program), which focuses on hip-hop production. After some encouragement from a mentor, she took a few classes, specifically related to beatmaking, and started experimenting with creating tracks. She started sampling conversations and people playing on the streets, and used it as fodder to play around with sound. In 2015, she put out her first project, 2991, consisting mainly of concise sketches of hip-hop beats, and began performing her material live.
"People seem to be confused about what I do. They ask, 'Do you produce music for other people?' and I have to say, 'No, I create music for performing live.'
"My beats are very layered to create a certain mood," she continues, "and I want to create an experience that replicates that mood." Naturally, then, Mohamed designs both her performance sets and her albums to tell her story; and like her music, it's a story that is evolving. This is most apparent in The Metaphor Series, a three-EP set created over several years, which began with the Dionysian funk-driven Luul, continued with the introspective Itiyama, and concluded in April 2018 with the crown jewel H.E.R.
Itiyama was a real turning point for Mohamed artistically. She had visited Haiti and found herself deeply influenced by the country's culture and music. "It was almost like a culture shock; I felt so behind in music. I was like, 'I want to sample all of this, I want to learn all the different drumming techniques.'" She learned some of the basics of Haitian drumming, and began incorporating some of the techniques into her work, such as the track "Lakou Bajo."
The seeds of experimentation evident in Itiyama truly take root in H.E.R., Mohamed's acronym for "hearing every rhythm." The album is structured as a gradual crescendo towards complexity. From the high-hat lures of "He(r)story" to the granulated pseudo-aria of "Betty Blue's Interlude," these tracks all lead the listener toward the closing "Dunkin Vibrations," a track infused with organ progressions, cut-up vocals, and mix-and-match rhythmic patterns. On the Bandcamp page for H.E.R., Mohamed writes, "I imagined it to sound exactly the way it does: full of body, character and intention. The blk, brwn and indigenous womxn have inspired me endlessly to remain courageous, daring and bold. That's what she represents."
Mohamed is hyperaware of the lack of role models for women of colour who are trying to break into the production world. Once she felt grounded in Toronto's beatmaking scene, she actually needed to take a couple of years off to get to a personal place where she could truly discover her voice. When considering her Somali heritage, she says, "Women weren't even allowed to sing until sometime in the 1970s. The Somali art scene is almost nonexistent, except maybe poetry. But I had to get myself to a point where—I don't care about the politics, I'm doing it. I can't escape my identity, and I want to document aspects of the culture."
In addition to her musical life, Mohamed is a community worker with youth at the Waterfront Neighbourhood Centre. She is aware of her responsibility to give back to the community, particularly to young creatives. Her advice to them? "I'd give a long-ass lecture. I would tell them to never give up. Be patient. Be playful with it. Just because I think it's very important to be playful with your work. That will essentially keep you inspired, if you keep playing, if you keep finding."
---
Audio: Betty Blue's interlude.
Photo by Terry Lim.