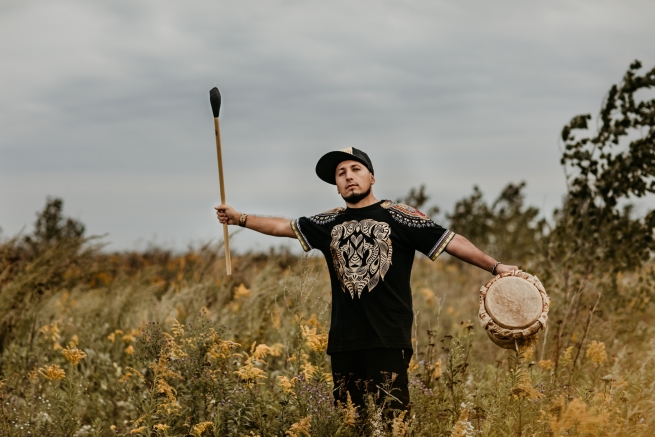 The potential for music to unite people across divides—geographical, temporal, cultural, or philosophical—is a constant inspiration for Ruben "Beny" Esguerra. Through his myriad projects, the Toronto songwriter, producer, educator, community activist, and multi-instrumentalist is building bridges: between North and South, between ancient flutes and modern turntables, between Indigenous peoples and settlers, between cumbia and hip-hop—and between everything and hip-hop.
Northside Kuisi (Lulaworld Records), the dizzyingly rich third volume in Esguerra's New Traditions series, is the virtual embodiment of that mission. It's a concept album narrated by news media from the future who report the discovery of a cache of buried instruments including a flute, a drum, and a vinyl record. It features multiple languages, dozens of guest vocalists and musicians, and a mind-blowing number of genres, all woven together by Esguerra's ambitious vision.
The album was inspired by an ancient prophecy that describes the eagle, representing North America, and the condor, representing South America, flying together until colonization divided the land and separated them. Now, there's potential for reunion. "The birds are coming back together, as people return to traditional ways of understanding their relationship with the Earth, their traditions, their music, their instruments, their language," says Esguerra, who tapped artists from Argentina, Chile, Peru, Colombia, Jamaica, and Antigua, as well as the U.S., Canada, and Kenya.
"This album has a lot of layers," understates Esguerra, who was born in Colombia and raised in Bogota and Canada by music-loving parents. "It begins with traditional Afro-Indigenous Colombian instruments like the kuisi flute, and brings in the turntable, beatbox, and spoken word from hip-hop culture. These cultural expressions are a huge part of who I am, so it made sense to bring them together in a way that works in both styles."
That involves weaving together diverse elements that can have surprising things in common. "When I'm composing in a traditional format, I incorporate the beat machine and the turntables in a way that makes sense traditionally," he explains. "In Afro-Indigenous Colombian music there's always hollers—a hype man bringing up the energy, like in hip-hop. We play those on the turntables and scratch them in, so it's done in a contemporary way."
Esguerra used the prophecy as a jumping-off point to write songs about the migration of people from South to North—including his own family—the wall at the U.S. border and the detention of children, and Indigenous peoples' experiences in Canada on "One Dish," which features Indigenous performers Raven Kanatakta, Nimkii Osawamick and Mahika Awe:ri. "The message is always at the core of my compositions," he says. "Then I dive into writing melodies and rhythms and do a lot of improvising."
The album's namesake kuisi flute is a symbol of the timeless musical traditions of Colombia and the star of several of the album's songs, among them "Stay Rooted" and "She Was There." "One of the amazing things about the kuisi is that it's based on the harmonic series, a sequence of notes that's found everywhere in the universe," Esguerra says. "Some believe it holds the key to finding a unified equation of the universe. So I said, 'I gotta write a song about this.'
"'She Was There' pays homage to the flute, an instrument that's always been here and always will be. Many people think of traditional instruments as things that need to be rescued. But I see it the other way around: these are instruments and traditions that have rescued me."
Besides the kuisi, Esguerra also played violin, piano, guitar, and many Caribbean and South American percussion instruments on the album, often backed by his core New Traditions group: beatmaker Paul De Francesco, turntablist Juan Esguerra, guitarist Adam Solomon, bassist Jonathan Amador, and violinist Ernesto Espinoza. He and producer and multi-instrumentalist Luis Orbegoso worked out the arrangements, then sent them to the collaborators and asked them to add a verse or solo.
And if making Northside Kuisi didn't keep him busy enough during the pandemic, Esguerra also produced the third album in a mobile studio project series that connects North and South in another way: across neighbourhood divides in Toronto. "There are gang-related tensions that don't allow youth from different neighbourhoods to collaborate," he says. "So instead of them coming to a studio we take the studio to them, create new collaborations and put out a professional-quality album. We launched our third in September and are working on the fourth.
"That's my purpose in life: to bring the North and the South together in many ways, in my community and beyond. I'll keep working at it no matter what. I'd love to take music to as many people as possible and continue to create collaborations and bridges and break borders and allow people to understand each other through music."
---
PHOTO: Courtesy of the artist,
FYI: Ruben "Beny" Esguerra is a Ph.D. candidate (ABD) in musicology and ethnomusicology, specializing in Colombian traditional music and hip-hop culture. He co-leads the NTM Mobile Studio Project, Wheel It Studios, which provides access to equipment and mentorship for artists across different neighbourhoods in the Jane-Finch area of Tkaronto and releases a yearly volume of albums called Wheel It Studios.
ON THE MUSICWORKS 141 CD: Dejaron Huellas