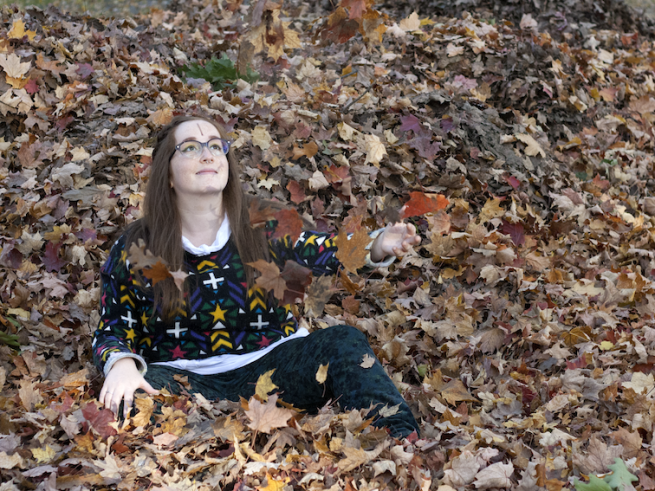 Bekah Simms likes music that challenges. "I don't want to ever get too comfortable," she tells me, as we sit down to talk about her work. "I don't want it ever to be super easy to write a piece, because I feel like then I won't be a better composer when I'm done it."
It's a strategy that's working. In the past year, Simms has won the Canadian Music Centre's 2017 Toronto Emerging Composer Award, and was named one of CBC Music's Top 30 Under 30. She's also attended several workshops, including the PIVOT program with Continuum Contemporary Music. When we meet, she's only just arrived back to Toronto from a workshop in Italy—an exchange between the University of Toronto, where she studies, and the Conservatorio G. Tartini in Trieste—and is less than twenty-four hours away from starting another, the local Soundstreams Emerging Composer Workshop, with composers Chris Paul Harman and Unsuk Chin.
Simms' music tends to have a gestural and timbral focus—but it also has an exploratory edge to it, as if each piece is a departure towards something new. Some, like Everything is… distorted, commissioned by Continuum Contemporary Music, which presented the premiere performance at its Pivot showcase this spring, lay out vast, eerie, electroacoustic soundworlds. Others, like her 2013 string quartet Murmuring Bones, are rhythmic and biting, with tightly wound gestures and elements of the theatric. These days, she's been working more with electronics and with quotation; her two most recent pieces borrow material from the folk songs of Newfoundland, where she was born.
When it comes to developing her own compositional voice, Simms credits her voracious listening practice. "It's about discovering music you like to listen to, independently of anybody else," she explains. "I know that if I wasn't actively listening to music all the time, it would be a lot easier for me to be a carbon copy of someone who I studied with—because I wouldn't have a basis of what I actually enjoy. I would never want to write music that I don't enjoy."
She quickly rattles off a list of her current listening—David Bowie's Blackstar, the music of Björk, Fausto Romitelli, Olga Neuwirth, and post-punk bands like Joy Division. "I like things that are so different, [so] I have difficulty representing myself in a single piece of music," she adds. "I almost feel internalized pressure to represent every facet—which is of course, impossible."
You could say that "impossible" is Simms' specialty. Her research at U of T is on the performance practice of pieces that get labelled as impossible to play—and her own music is similarly challenging. She mentions one work in progress, a piece for Esprit Orchestra, that will draw inspiration from the shifting of the Toronto shoreline. In it, she envisions microtonal glissandi, moving at a glacial pace, and the difficulties they might pose for the performers. "I enjoy presenting challenges and seeing what ends up happening. Because even if that's not quite possible, they're going to do something. And that something, the difference between what's on the paper and what comes out, is what interests me," she says. "It's a little bit of me and it's a little bit of that player, too."
Caution Tape Sound Collective, the composers' collective she founded with August Murphy-King two years ago, is built on a similar idea: facing a predicament and making it work. For Simms, it's a collective of firsts. She and Murphy-King wanted to find a way to give emerging composers the freedom to try something different—a first-ever electroacoustic piece, or an unusual instrumentation not encouraged at school.
"Permission to fail," she says. "Removing hurdle number one for composers. We wanted to make that space for people.
"It's easy to just cross your fingers and hope that what you like gets programmed elsewhere," she continues. "But there's something freeing about making it happen on your own."
For Simms, it seems to all come back to this idea of discomfort—physical, emotional, musical—and about using it to build something new. "I'm a very anxious person," she says. "I definitely have an inner pessimist. So a lot of my music tends to sound darker, with a lot of agitated gestures . . . it would say nervoso or something, if it was an old Italian score. I try to represent the outlook that I have on the world.
"Everything is beautiful and everything is terrifying," she adds. In that context, the way she approaches composition—as something that gives voice to anxiety—makes it a powerful tool. And the way she thinks about sound, as raw material, waiting to be sculpted and re-delivered into the terrifying sonic space of the planet, makes sense.
---
Audio:
"micro_lattice" (2016), composed by Bekah Simms, performed by Toy Piano Composers Ensemble.
Full note here.
Photo by Josephine Norman.