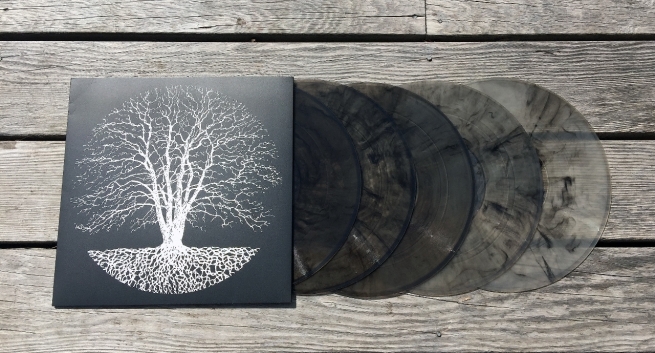 While living in Union Bay in 2007, Jamie McCue spent his downtime hiking, camping, and fishing in Vancouver Island's abundant forests and rivers. Deeply moved by the symphonic rhythms of wildlife, blowing winds, and flowing water, he imagined meditative soundtracks that complemented his lush surroundings. That year he launched the electronic-music label Silent Season, which allowed him to stay involved in music after leaving the vibrant techno community of Victoria, B.C., where he'd been DJing club nights and soaking in the music of local imprints like Itiswhatitis since the early aughts.
Life in Union Bay was much quieter. With a population of 1,200, there was no such scene. McCue, who also had a young child at home, became obsessed with netlabels— accessible online labels that allowed artists to share their music as free MP3s. "It was simple. You could just come up with a name, put out some music, and see what happened," he explains by phone from his home in Courtenay. As a moderator of the techno forum mnml.nl, McCue began networking with artists like Rasmus Hedlund, Mohlao, and Segue, whose aesthetic matched his idea for Silent Season.
Though netlabels were early pioneers of digital music, they declined in relevance due to the advent of streaming services, which allowed artists to upload higher-quality music files. "As technology became more commonplace with Soundcloud and Bandcamp, it became more possible for artists to reach a wider audience." Platforms such as Bandcamp also allowed artists to sell physical releases more directly to listeners.
McCue first ventured into physical releases around 2009. He sold small batches of handcrafted CDs, usually limited to ten to fifteen copies. "That planted the seed for, Oh, this is kind of fun. You can do something other than digital downloads. So, I would just burn copies of the albums and make some custom cases and put a stamp on it."
McCue's passion for design comes through in Silent Season's album art. He handles layout and works with photographers, illustrators, and the musicians themselves to create images that establish or fit the album's mood. Images of nature taken by Vancouver Island photographer Dan Anthon graced early covers. Over the years, McCue has experimented with everything from pure abstraction to conceptual, story-based art. The ten-year-anniversary Silent Season X series stands out with greyscale, nature-based fractals that recreate the texture of the music elemental to the label's aesthetic, be it ambient or deep techno.
Another fundamental facet of Silent Season is its commitment to a low-carbon footprint. "We're from B.C. We have this nature-centric mindset. The label became this unified vision of organic electronic music with low-impact physical goods," McCue says of Silent Season's guiding principle. McCue uses recycled materials whenever possible. He repurposes records from thrift stores by screen-printing over their covers. He's also moved vinyl pressing and distribution from Canada and the U.S. to the U.K., where most of the label's audience lives. "Very few of our releases were ever sold here. Financially and physically, it made sense to go where the people are."
Silent Season's catalogue also crosses borders. McCue has put out albums of music from around the world, including some of the label's key releases. Purl brings the thaw from Sweden with Stillpoint. German producer Refracted takes listeners on a mystical trek on Through the Spirit Realm. And the Netherlands' Wanderwelle seduces with the alluring Lost in a Sea of Trees.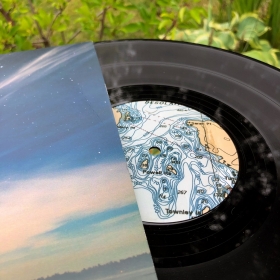 As for homegrown talent, Segue (electronic-music producer Jordan Sauer) is paramount. "I think any Segue album really defines the Silent Season sound. He was one of the first artists on the label. He's from Vancouver, so he really understands what life is like here on the West Coast, and the music that accompanies that." [left: Artwork of Segue's The Island (SS23)]
Snippets of field recordings are subtly sprinkled through the music of Silent Season. Birds chirp and people frolic in parks, adding the warmth of living bodies to light, playful dub. "This time of year, you will hear more ambient and deeper releases," McCue says, "but as spring and summer pick up, the sound will be more group- or dance-floor-oriented." Whatever the season, the music suits McCue for solo listening. He calls himself an introvert, and he works remotely as a web designer. "I'm home a lot, so it's me and the music. It's usually my only partner throughout the day," he says. "It has to be a good pal. It has to be warm, accompanying, and welcoming."
McCue's environmentally conscious approach to vinyl is time-consuming. After five particularly busy years, he considered taking a break from Silent Season. But then the pandemic hit. With more time on his hands, he decided to put out three more albums of chill ambience—perfect for home listening. Though Tomas Jirku's Touching the Sublime saw release on vinyl, Owl's Infinite Horizon and Daar's Entire came out on limited-edition CDs of two hundred copies. "Especially early on in the pandemic, when we were really isolated, and we weren't able to do anything, it seemed like people really needed music that was touching. These are beautiful, warm albums that I hope people are able to enjoy while they're in this stuck phase of life."
McCue has no plans for 2021 beyond releasing an album by sprightly Tokyo producer Mystica Tribe, but he admits, "I get the itch every few months." Like nature's cycles, Silent Season is sure to spring again.
---
Top photo: The Silent Season 10 Year Anniversary collection (SSX10) is a special edition vinyl series that features label artists from 2007 to 2017.