THINK OF ANY STYLE OF MODERN saxophone playing, and chances are Toronto's Karen Ng has done it, and done it beautifully. Her tone can be eerily high and pure, rich and fluid, deep and mellow, alluringly tender or startlingly abrasive. Her fingers fly in a dazzling, exuberant run, then slow down to effect a gentle fade. Her range, on both sax and clarinet, is downright astonishing: freewheeling solo improvisations, bebop with Pete Johnston's See Through Trio, collective improv with the late Ken Aldcroft's Convergence Ensemble, Afrobeat with Craig Dunsmuir's Dun Dun Band, New Orleans jazz with Dave Clark's Woodshed Orchestra. She has contributed soulful additions to singer–songwriter Lisa Conway's L CON, matched sax riffs to spoken word vocals on Do Make Say Think guitarist Charles Spearin's Happiness Project, live scored film screenings with orchestral pop band Del Bel and embellished shows by Toronto indie rock fixtures Broken Social Scene and Feist. She spent a good chunk of 2017 playing clarinet on a worldwide tour with Saskatchewan-born soft pop singer-songwriter Andy Shauf—when she wasn't teaching woodwinds, both privately and at the Regent Park School of Music, and organizing shows and festivals like the Somewhere There Creative Music Festival and the newly hatched TONE fest. Put it all together, and it's hard to deny that Ng has become a pillar of the Toronto music scene.
If there's a common thread through all of Ng's endeavours and projects, it's her openness to experimentation and collaboration. Her breathtakingly wide musical scope might have something to do with the fact that she was largely self-taught, before she had a chance to absorb too many rules and protocols.
Ng was born and mostly raised in Toronto (she spent part of her childhood in Hong Kong), and started playing guitar in Grade 6, later picking up piano, flute, clarinet, and saxophone. Eventually, she did get her BFA in music from York University and also attended Humber College. In 2015, she received a Chalmers Professional Development Grant from the Ontario Arts Council to study with the saxophone section of the ICP Orchestra in Amsterdam and Berlin. But her free-thinking roots were already established, and they led her naturally to improvisation.
"I feel like I started music pretty late," she says. "I didn't play piano till high school and didn't start saxophone, my primary instrument, till I was sixteen. And I never took private lessons until university, when I had to.
"I think about that with the kids I teach—some of them start so early, and they get burnt out. I don't have that problem. A lot of my friends from the improv–punk–noise scene are self-taught, and it's a beautiful thing. It's a very different thing, too. You have to have discipline and self-motivation and initiative to follow a path with no instructions. I did go through university, where there's a linear path, but it's really great to find things on your own. I've realized that the institution, the structure, is not for everyone; and in the DIY scene, the improv scene, you really see the benefits of that."
Improvising with others requires a certain sensitivity, an ability to listen closely and play with someone else almost without thinking—a different set of skills, Ng acknowledges. "Being hypersensitive to your surroundings, being able to read people, having to learn about expectations from each other—those are skills that you might not necessarily use in a musical sense," she says."I mean, we all do it every day, reading social cues or whatever, but it's interesting when you expand that into music, being sensitive to other people's moods or needs. It's like, 'What can I add to this? How can I encourage and also get encouragement to create?' That's not talked about too much."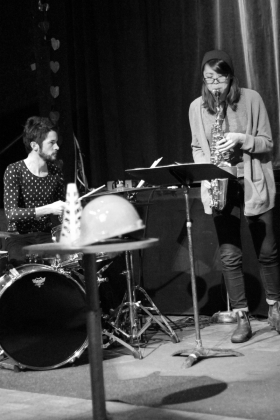 When improvisation clicks, it can seem almost magical, an unspoken signal travelling from one musician to another, like a flock of birds all shifting direction at the same time. "Yes! It's interesting, because you can sense that and you can follow, or you can sense it and lead and change the whole group dynamic," Ng says. "It's not like there's a set rule of how to do it—you just move together as a group. That happens in all music, I think. It's just maybe more apparent in certain contexts."
Ng has experienced many musical contexts, and she credits her hometown with encouraging them. "It's a particularly Toronto thing, I think. We have a lot of musicians who are able to swim in and out of different social and musical groups. A lot of them are almost opposites, but they hang out together and share ideas. I spent some time in Amsterdam and Berlin, and it's a lot cliquier there. There are really strong communities, but they are places where historical things have to be preserved, so people get pigeonholed."
The improv and indie rock scenes in Toronto are more open-ended, she says. "As a saxophone player, you're able to do a lot of different things. If you're a bass player, you have options, but maybe there's more work in one area, so you end up staying there. But as a saxophone player, you're all over the place. And I'm really lucky to have great friends who make great music. Because I love reacting and improvising just as much as I love supporting people's original songs with great melodies."
Not surprisingly, the feeling tends to be mutual. Ng counts among her saxophone heroes Brodie West, who calls her "a great musician." He recalls noticing how her playing had changed when she returned home after her time with ICP Orchestra in Amsterdam. "She really had a lot of cool ideas going on," he says. "I'd heard her many times over the years at the Tranzac, a place players gravitate to when they want to develop in a free way. She did that, for sure. She has found her own way of playing, and when she plays, she has my full attention, every moment."
"She is flexible, adventurous, and willing to try any crazy idea we throw at her," says Brad Davis of Fresh Snow, who hired Ng to add sax to the instrumental space-noise-rock band's wild live shows. 'I love working with her, and we're a better band when she's sharing the stage."
Ng says she thrives on the fact that her various projects have such different sounds. "There are a lot of things in my life that are opposite and contradictory, and it's actually great," she says. That includes two things at the opposite ends of the musical spectrum: her free improvisational performances and the Andy Shauf tour. "That show is totally set, with an ultimate sound and goal that everyone's trying to execute every night," she explains. "But when you have both those things going on, you're thinking about everything in between, and it offers a lot of opportunity. You become aware of how things could be expanded. 
"Andy has a rare ability to know exactly what he wants and how to communicate it. There's a vibe, and it's really easy to execute it, because I know what he means. Sometimes people know what they want to hear but not how to communicate it, or they're good at communicating but don't have an idea of what they want. So it's rare to have someone like Andy."
To be fair, it's hard to put complex musical ideas into words. "Really hard! We're dealing with abstract things that are difficult to articulate. Andy plays clarinet himself, so maybe it's easier for him to communicate what he wants."
Ng has been on the road with Shauf on and off since February, and when she came home for a break last spring, she jumped into her opposite gig, and spent a week in Montreal improvising. "Every time I come home, I have so much to get out, because I've been playing a set style of music every night. It's really cool to come home and let loose."
Aside from being an in-demand, collaborative musician, Ng has a knack for putting together tours and festivals. "I realized long ago that I am very good at organizing," she says, laughing. "I'm not so great at managing time, but I'm good with logistics and planning. That, again, is something that's not super common among musicians. It's almost unfair to have to be a good musician and also be able to book shows and promote yourself and make albums. That's a lot of different hats to wear, but it's expected now, because record labels don't help, so nothing gets done unless you make it happen yourself.
"I did a tour about four years ago with a band called Clarinet Panic, it was booked by Tad Michalak," she says. "We went through the States and Canada, and in every city, we were meeting beautiful, like-minded people, and I was so inspired that when I got back I joined the board for the Somewhere There collective and started curating shows. And it quickly expanded, with all these friends I'd met on tour. It's this big global community, but everyone knows each other through somebody. It's a really close-knit group."
Eventually, Ng joined up with Michalak, who curates the monthly food and music series Feast in the East, longtime promoter Ron Gaskin, and Daniel Pencer, whom she calls her clarinet partner in crime, to present the TONE festival in Toronto last June. "So many musicians were having a hard time finding shows in Toronto, so we'd throw together a string of shows, and this year it made sense to work together on a festival," she explains. "I think of it as a DIY festival because we had no funding, but the turnout was great. It's cool to exceed expectations, and to fill a need for artists and the community."
Ng says she will need to pause and decompress when the tour with Shauf winds up later this fall, after the end of some other projects and the sudden, shocking passing of her friend and collaborator Ken Aldcroft. "That more than anything made me want to leave and collect my thoughts," she says. "He was a huge part of my improv life, especially in terms of playing music that was influenced by improvisation but still had compositions and parameters and boundaries."
After a pause, Ng will be all about generating new things, she says. Her upcoming projects include playing in the Josh Cole Quartet, which has a regular show at Toronto's Tranzac club, and a new band with Jeff LaRochelle which will comprise four saxophones and a drummer.
She will also continue to teach. "I'm never going to be a doctor or an environmentalist, but teaching is one thing where I feel I'm helping people and the world," she explains. "To be able to sit with someone and have this moment where you connect with them and find out how they learn or how you can help them or how that exchange works—nothing else feels like that."
Ng also wants to turn her attention to composing. "I've never been very good at it," she admits. "It's an interesting mental exercise of putting something down and being OK with it not being perfect. I get scared, because I come from a place where you improvise, you put something out there and it's done, gone. But I was listening to a lot of Morton Feldman and loving it, and composing became really interesting to me. It kind of freaks me out. I mean there are lots of ideas swirling around in my head, little sketches—like improvising. but with some structure to guide and encourage good improvising and good listening. I have no idea how to do that, but I am curious to explore it."
---
Top photo of Karen Ng  by Claire Harvie / courtesy of the Music Gallery.  Middle photo of D'Alex Meeks (drums) and Ng by Joe Sorbara.  Bottom photo Andy Shauf, Ng, and Dan Pencer at 2017 Northern Lights festival by Sarah Greene.