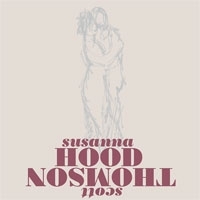 The songs on The Muted Note are an outgrowth of work made by trombonist Scott Thomson and singer-dancer Susanna Hood as part of The Rent, a Toronto quintet that was initially dedicated to performing the music of the late saxophonist and composer Steve Lacy—including his extensive setting of texts ranging from Lao Tzu to Gregory Corso. That experience led Thomson to compose this suite of song settings of poems by P. K. Page, a project that started in 2010, following Page's death at age ninety-three. The suite was written in Montreal under the supervision of Jean Derome, with whom Thomson was studying at the time. Thomson has arranged the suite in quintet form for The Rent and in this intimate duet form for voice and trombone heard on The Muted Note. A version with choreography by Hood will debut in Toronto in September 2014.
The title of the suite comes from "The Understatement," the penultimate poem in Page's Cosmologies:
I speak not in hyperbole,
I speak in true words muted to their undertone,
choosing a pebble where you would choose a stone,
projecting pebbles to immensity.
For where love is no word can be compounded
extravagant enough to frame the kiss
and so I use the under-emphasis,
the muted note, the less than purely rounded.
Thomson's work follows from Page's sense of the undertone. What emerges is a kind of dance between voice and trombone, between word and sound—a subtle counterpoint between conjoined melodies and ideas of voice, always in close connection to the gestural power of Page's phrases. If there is a tone of reserve, a kind of deliberate precision in the setting of Page's phrases, it may exist to establish a kind of reverence for the poems, a desire to present as well as represent. But as the suite evolves, the music and words sail further, both together and apart. This Heavy Craft extends to a stirring Hood improvisation with multiphonic throat singing, a vocal technique that's reflected later in Thomson's sustained multiphonics on The Mole. Blue takes the title literally, exploring the range of jazz vocalizing from liberated exuberance to clearly ironic cliché.
The Muted Note
is a striking accomplishment—an almost naked work, in which unaccompanied trombone and voice are frequent (it ends, for example, with a recapitulation of the opening
As Ten, As Twenty
, now for voice alone). One does not hear these episodes as the work of individuals but as part of a complex ensemble of poet, composer, and interpreters.
The Muted Note
ultimately resonates like Page's galvanized language itself.