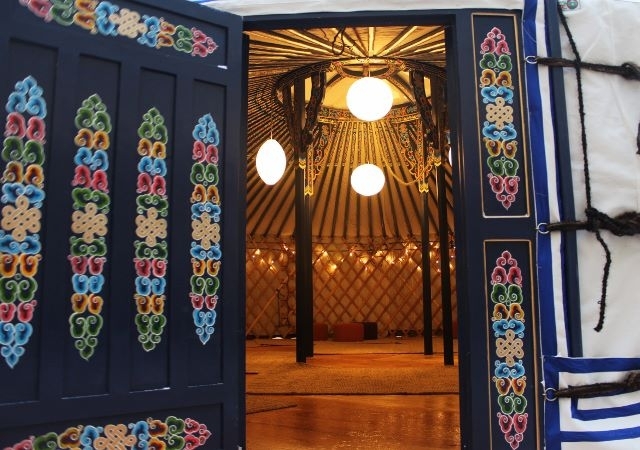 Listening To Art, Seeing Music, described in the media materials as a "multi-sensory journey of discovery," and launched in early 2018 at Toronto's Aga Khan Museum, encompasses about a dozen installations dotted around the museum within its permanent collection, in its restaurant, courtyard, and hallways. Reflecting the museum's mixed mandate as both an artistic and educational institution, the installations run the gamut from serious video art to simple presentations of musical instruments, from the recordings on repeat in the entrance and main hall to an authentic Mongolian yurt in the museum's central courtyard, in which performances have taken place regularly throughout the exhibit's run.
The Islamic cultural sphere of influence is incredibly large, stretching from Spain to Russia and Southeast Asia; and to some extent Listening To Art has tried to represent all of it. Familiar objects and sounds—microtonal Middle Eastern ouds, melismatic South Asian singing—are placed alongside others—like that yurt and a video dedicated to flamenco—that are less obviously Islamic.
The flamenco video makes sense: its roots in Arabic music are obvious as soon as they are pointed out. To be honest, though, I'm not sure what the rationale for the yurt is. Mongolia is for the most part outside of the Islamic sphere (I've just checked: under five percent of the population is Muslim), and the two cultures' historical meeting is mostly noted as a catastrophe that spelled the end of the Islamic Golden Age. A Berber tent may have been more appropriate, though the Canadian climate being what it is, I suppose it would be unfeasible. And the yurt is cool, of course. The same goes for the shamanistic throat-singing of Tuvan group Huun-Huur-Tu, included on the recordings playing in the hallway.
The exhibit's highlight comes in a small room at the end of the permanent collection: Disruption As Rapture, a video by Shahzia Sikander with music by Pulitzer Prize-winning composer Du Yun, originally commissioned by the Philadelphia Museum of Art. The video animates an eighteenth-century manuscript of the Gulshan-I Ishq, apparently a Sufi adaptation of a North Indian love story made for an Islamic court. That kind of productive slippage is paralleled in the video's vivid colours and iconography and hallucinatory mutations, both visual and sonic.
Elsewhere, sound poses curatorial problems that the museum hasn't quite figured out. The flamenco video plays on a small screen positioned at about waist height, and doesn't come with headphones, meaning that you have to strain your eyes and neck just to see it, and must try to ignore competing music from elsewhere to hear it. It looked like a good performance, but I can't really say the exhibit gave it its due. Over by the auditorium, an animated video inspired by the geometrical patterns ubiquitous in Islamic art, accompanied by music inspired by those animated figures, seemed pretty interesting, but an interactive music station just a couple of metres away, fitted with what looked to be two Tenori-ons producing beeps and boops, proved distracting.
Outside in the hallway, a few instruments on display—on the left, in cases, two ouds belonging to Syrian-Canadian Radwan Al Taleb and, on the right, an array that you can play—remind me that the Aga Khan is as much about education and preservation as art for art's sake. Presentation kinks aside, the exhibit is a qualified success in both those areas.
---
A Mongolian yurt, hand-crafted from wool felt, canvas, and wood, and painted with traditional motifs stands in the Aga Khan Museum's courtyard as part of Listening to Art, Seeing Music. Until April 22, 2018. Photo by Aliya Sharif.