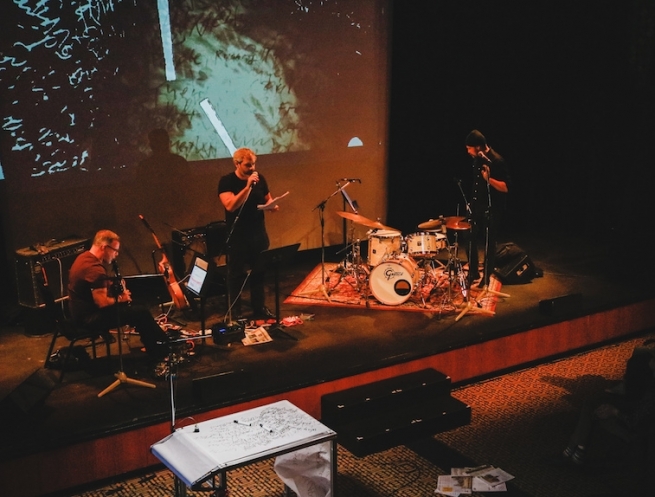 You may imagine Calgary as a repository of rednecks, oil executives, and a rabidly vocal reactionary element. You wouldn't be totally wrong. You might imagine a city that splits the difference between Dallas and Anchorage. Who could blame you? The thing is: you live long enough, you come to realize that everywhere is Squaresville, each enclave with its pockets of fertile activity. 
If the arts here have traditionally experienced a boom-and-bust cycle somewhat analogous to that of the city's capricious Petroleum Machine, New Works Calgary would have to be considered a redoubtable institution, having now operated out of the city for well over thirty years, committed from the outset to finding spaces to showcase innovative, challenging music of underrepresented ilk. The New Music Festival, this past October's iteration being its fourth, is still a fairly recent New Works initiative.
The festival took place over four consecutive days, beginning somewhat relaxedly with three concerts over three nights, terminating in the form of a Sunday marathon, itself beginning with a Pauline Oliveros-inspired soundwalk (our hostess leading a phalanx of attendees through Calgary's Inglewood neighbourhood with a placard reading "Caution: Listeners Walking Slowly"). 
Of the first three concerts, the one with which I was myself most taken was undoubtedly Saturday's performance of Linda Bouchard & Co.'s All Caps No Space. Bouchard's basic conceit with the project in question is to create a multimedia experience expressive of the general overstimulation of our hyperconnected age. Three musicians—François Houle, Gordon Grdina, and Kenton Loewen—perform to notation transmitted by iPad. The notation itself is the product of metadata and attendant analytics gleaned from noted improvisers playing in real time. The resultant music exists alongside audiovisual cacophony, images, and sounds, all appropriated from news media, with a live feed from Al Jazeera running on a secondary screen off stage right. The listener-viewer must orient within a deluge. I surmised something like an injunction: one gives oneself to the overload, experiencing a miasmic sensory-motor integration; otherwise there is only alienation and distress. A worthy thesis.
Land's End Ensemble kicked off the spate of Sunday concerts. Currently under the artistic direction of composer Vincent Ho, Land's End features formidable musicians and thoughtful curation, even if the general gestalt at times seemed closer to Bernard Herrmann than, say, Webern. The highlight for me was a Derek Charke composition for marimba and violin, featuring guest Ben Reimer's proficiency on the former. The next act, Proteus Saxophone Quartet, was indisputably great: four players, ten saxophones at their disposal, weapons alternated as needed. Two world premieres were especially extraordinary, one by Colin Labadie and another (for four soprano saxophones!) by Denis Levaillant. Proteus excels at dispersing musical phrases among the players or otherwise layering them, creating an aural depth of field of the utmost dynamism. The final Sunday concert (and festival finale) featured two distinct groupings heavy on local improvisers. Calgary mainstays Jeremy Brown (flute, reeds) and Robin Tufts (percussion) were joined by Vancouver musician Amy Stephen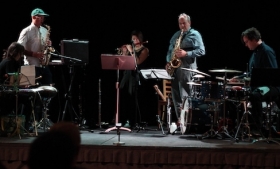 (accordion), whose background is primarily in Celtic music, and, for the final piece, involving some deconstructed Bach, by bassist Jesse Schwartz. This was followed by a performance by the Bug Incision Players (right photo), a stacked quintet comprising some of my favourite local musicians, playing a piece entitled "Circular Sparrow" composed (in a manner of speaking) by Bug Incision impresario and percussionist Chris Dadge, who had blocked out the piece in detail and provided open-ended instructions to each of the players. Bug Incision is Dadge's concert series and CD-R label; he has been a central personality in Calgary's globally connected improvised music-scene for over a decade. Seeing him preside over his ensemble's maximally dexterous musical excursion was a sublime delectation, profoundly meaningful.
Those of us who believe in art and music are likely to respond to the very idea of the capital-N New enshrined in the names both of New Works Calgary and its festival. The filmmaker Jean-Luc Godard has averred that culture is the rule, art the exception. What art excepts is precisely the old hat, the consolidated and rehashed. Of what does the avant-garde consist if not those intrepid carabiniers who are first to encroach upon nouvelle terre?
Neither Calgary nor the West(ward) more generally are likely to encapsulate anybody's idea of frontier at this late date. This fact is in no way lamentable, for there remains a frontier wherever a person or persons have the daring to suppose one.
---
Top photo: François Houle, Gordon Grdina, and Kenton Loewen perform Linda Bouchard & Co.'s All Caps No Space at the fourth Calgary new Music Festival (2019).  Photo by Shae Bolding.  Bug Incision Players photo by Laurel McLean.