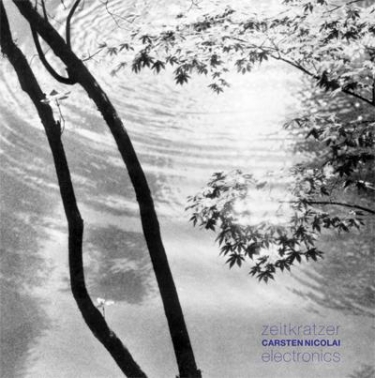 With a repertoire encompassing composers as different as James Tenney and Lou Reed, the ten-piece Zeitkratzer group, led by pianist Reinhold Friedl, produces a unique CD with every outing. Electronics is no different. Hooking up with German composer Carsten Nicolai, who also plays on one track, the ensemble subverts the boundaries between acoustic and electronic intonation.
While each performance is underscored by minimalist ostinatos, execution leads to distinct properties as in "5 min" which intermingles Frank Gratkowski's bass clarinet growls, Friedl's E-bow-intensified piano-string strokes, and beeps produced by television tubes. While a ticking clock creates a basic rhythm, equally important is the underlying drone, which gradually subsumes the acoustic instruments' output, leaving the climax as a sharp, oscillated squeak.
"Synchron/bitwave" illustrates a similar melding, as Nicolai's created waveforms overcome acoustic piano chords and crackling sul tasto pulses from violinist Burkhard Schlothauer, cellist Anton Lukoszevize and bassist Ulrich Phillipp. Amplifying the volume in micro measures, the track is all tension, no release, with percussive reverberations echoing after its conclusion.
Even more microtonal, the asymmetrical loops on "c1" consist of the sounds of amplified acoustic instruments. Peeking out from among the hypnotic patterning are reverberating percussion from Maurice de Martin and carefully shaped note-clusters and cadences from Friedl. Outlining an almost melody, the piece confirms its post-modernism by omitting the conclusive measure. Overall, Electronics is a notable blend of Romanticism and repetition.