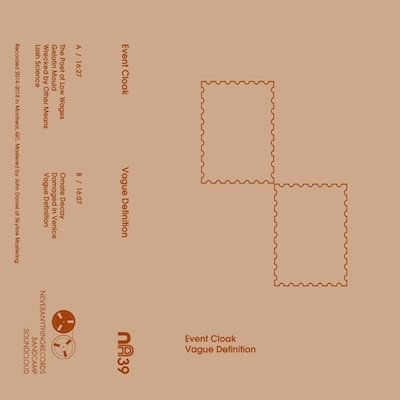 Life Strategies, the 2015 record by Montreal electronic musician Nick Maturo, made one of the most compelling cases for sixteenth-note grids in recent memory. Like a revisionist history of early-1990s ambient music packed into a single LP, its dancing arpeggios and rhythmic flickers of sampled choir gave it a buoyant, fluorescent energy, making it a standout in the vast catalogue of Orange Milk Records.
Vague Definition, its follow-up, released on the Portland-based cassette label Never Anything, trades pulsing propulsion for something more in line with its title. It's a slightly more introverted affair built on thick, oozing chords and curious changes of colour and demeanour.
The opener, "Poet of Low Wages," wastes no time blasting into the ears with stabs of expansive murk, but after several minutes the oppressive lushness peels upward to reveal a gentler coda of rich hovering clouds and glittering granular detail, punctuated by soft tolls. The second track offers a clear rhythmic skeleton through what sounds like chunks of sampled guitar, but it ends up being so copiously decorated with twitching filigrees that its intimations of a pulse recede into the background. The stiff, piano-like lick that initiates "Wrecked By Other Means" isn't enough to anchor the smooth drift, either. The track floats toward a horizon of rubato mist.
Maturo serves up several different flavours of warm, percolating brew on the three ensuing tracks. Their surfaces bubble with rapid filter inflections, kaleidoscopic squirts, and small frothing gestures.
The nine-minute title track starts with chirping flashes of fake piccolo that are soon joined by slurred flurries of voice. Its initial sonic palette and bright upward trajectory gesture toward the world of its predecessor, but this promise of momentum evaporates as the piece tilts toward a series of contrasting perspectives. Built on sustained tones, and distant out-of-phase loops, it's a peculiar way to end the recording, but one that's congruent with its overall design.
The tone of Vague Definition seems speculative—willing to indulge in loose ends and disruptions in form. Maturo has taken an intriguing path, and this album's mysterious shape leaves the listener wondering where it will lead next.