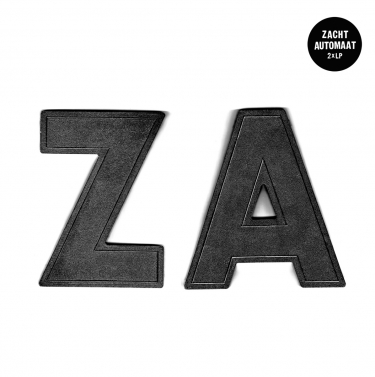 Since forming in 2010, Zacht Automaat (the duo of multi-instrumentalist Carl Didur and Oxford resident Michael McLean, mostly guitar and bass) have released no fewer than eleven albums in various limited formats. Now they're given the deluxe treatment with a sort of best-of double LP (plus bonus CD-R of unreleased material).
Although the recording style and instrumentation—vintage organs and tape loops figure prominently in their aesthetic—indicate a strong fascination with the nether regions of experimental rock history, the material is extremely diverse and imaginative, simultaneously inviting comparisons and bulldozing expectations.
Opener "Ancaster Heights" bursts forth with technicolour organ and flute filigree reminiscent of classic Terry Riley, while its drum track lays down a surf-motorik beat which propels it deeper into what feels like reverberant cement tunnel. Many of the tracks flow into one another, but it ain't a smooth ride—the course of each side is thoroughly unpredictable. There are euphoric, albeit fragmented, band work-outs, foreboding moments that even dip into the ooey-gooey bad-trip queasiness of early Residents, bent jazz lyricism and floating intergalactic excursions. The closing piece, "For Mark Robots/A Passing Phase," feels like two contrasting library music cues from the same low-budget movie. At first, the sour sci-fi synth timbres percolate over thin drum-machine punctuations, only to open up into a warm beam of continuous sound.
While the ethos of progressive rock and post punk tend to get framed as antithetical, Zacht Automaat have hot-wired such historical narratives. Borrowing from each side's ambitious angularity and whimsical eclecticism, they render something startlingly unique, yet somehow familiar.