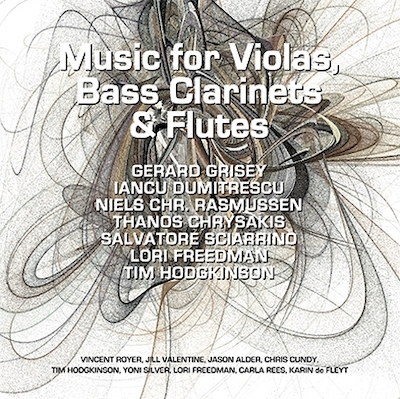 As a conceptual blueprint, Lori Freedman's To the Bridge (2014) connects five miniatures using four bridges. As a solo performance and listening experience, it's a riveting, visceral tour de force. This recording was made at a concert of music with spectral orientation, hosted by London's Café Oto in December 2019, with the world poised to suspend many structures of connection. Intense vocalized rasps, leaps, and contortions usher in sequences for bass and B-flat clarinets that involve a multitude of wild tangential flights and extravagant gestures while miraculously holding together, delivering plentiful thrills without slackening its grip.
An expanding bass clarinet repertoire has been nurtured by Aural Terrains, the Belarus-based label run by Thanos Chrysakis. It's an instrument that conveys with textured immediacy the physical dimension of sound, especially in the hands of resourceful exponents such as Freedman, Jason Alder, Chris Cundy, Tim Hodgkinson, and Yoni Silver, who all feature on this release. It looms large in performances of music by Chrysakis and Hodgkinson, Gérard Grisey, and Niels Christian Rasmussen, and Silver contributes a gutsy solo improvisation inspired by Iancu Dumitrescu.
A welcome dash of piquancy is added to the program by Karin de Fleyt's fabulous performance of Hermes, written for solo flute by Salvatore Sciarrino. Structure emerges from a delicate tissue of translucent harmonics, laced with trills and glissandi, studded with overblown clusters and percussive pops. Whatever virtues may reside in the virtual world, there is something deeply salutary in the palpability of this music.