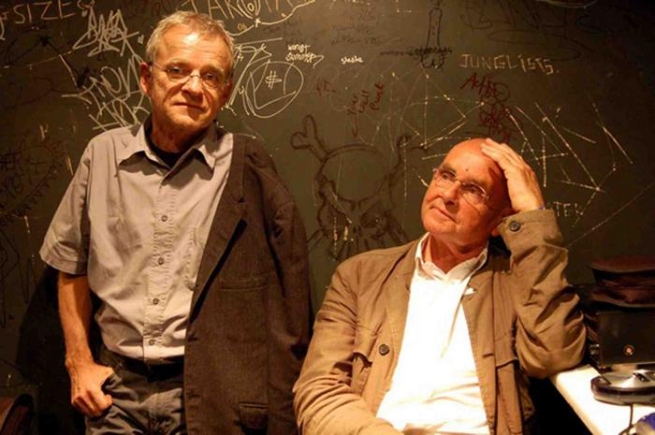 The fourth X Avant Festival at Toronto's Music Gallery was entitled Convergence and Collaboration. As noted in gallery artistic director Johathan Bunce's program notes, the theme was "inspired by ambient music forefather Brian Eno's idea of 'scenius,' . . . the notion of co-operation in modern music making, as opposed to the glorification of individual genius." The concept worked well and the festival proved to be a splendid convergence of imaginative programming and diverse and plentiful audiences.
Its events were split between St. George The Martyr Church and the Polish Combatants Hall (SPK). This latter facility—an actual union hall—offered a different, much-needed alternative to the Church's barn-like sonic tendencies.
The five-day festival kicked off at SPK with German pianist Hauschka who prepares his instrument extensively and performs with a propulsive sense of minimalism. Metallic preparations created lovely cymbal sounds which swung subtly, due to minute changes in attack on the piano keys. These folded into tambura-like drones further up the keyboard. However, Hauschka's writing for an accompanying string quartet exposed the overly simplistic tendencies of his music. Equal parts techno flourishes and Philip Glass-lite, this might have fallen flat at the Church, but the crowd's energy was far more supportive here.
Such good feelings carried over to the legends of German space music, Cluster. The duo masterfully conjured a cosmically swampy audio tableau with mysterious faux-analogue sounds. In the middle of the set the sound of a processed güiro ricocheted around the room, soon followed by a slow, heavily reverbed breakbeat. Such clichéd gestures forced an unnecessary sense of momentum on the music, which was better off ambient. Despite a few trainwreck mixes from idea to idea, Cluster's finely wrought sounds were enthusiastically received by the full house.
Back at the Gallery the following night, Ken Aldcroft's Convergence Ensemble released their new CD, Our Hospitality. Aldcroft, his players, and his compositions walked a fine line between freedom and rhythm. Drummer Joe Sorbara coaxed unique sounds from his conventional-looking kit. Nicole Rampersaud and Scott Thompson engaged in outsized slurring on trumpet and trombone. Evan Shaw's saxophone tone combined with Aldcroft's guitar loops to create a velvety sound throughout. A standing ovation was richly deserved.
Phantom Orchard's sense-enhancing, laptop-generated visuals were chroma-keyed distortions of tadpoles, fish, and butterflies in video loops. Ikue Mori's musical contributions evoked the dreamlike outdoor spaces implicit in the group's name, while avoiding such emerging laptop conventions as randomized autopanning and funhouse delays. Zeena Parkins' meditative acoustic harp was the show's initial focal point. Later on, she shifted instrumentation to aggressively pound out Rocksichord-like sounds from a keyboard, then abuse a drum-machine–KAOSS-pad device. Ending with her signature electric harp, she hit Black Sabbath-like intensity with repeated whammy-bar lashes.
The biggest question mark of the festival was the summit between rapper Abdominal, turntablists INSIDEaMIND and the Evergreen Club Gamelan Ensemble. The decision was made to adapt the encounter to Abdominal's repertoire, which subordinated the instrumentalists' contributions. Regardless, it turned out to be a half-decent jam, largely due to the superficial similarities of the Evergreen Club's orchestration to hip-hop orientalists like Wu Tang Clan. Though the Club never created explicit hip-hop beats, Abdominal locked into their rolling rhythms time after time, save for an awful freestyle experiment. INSIDEaMIND were plagued by technical problems and never fully engaged with the others. At its best, the teetering post-rock groove of bells and beats was reasonably interesting.
Montreal composer Nicole Lizée was more successful with the night's Beats, Notes and Loops concept. Starting off Karappo Okesutura was an invigorating Arthur Russell-like chamber disco groove. Lizée then combined karaoke with plunderphonic orchestrations of the Bangles' "Eternal Flame," Platinum Blonde's "Standing In The Dark," and Eurythmics' "Who's That Girl?" Starring versatile vocalist Christine Duncan, the piece featured wild careening strings crashing into dub effects, which looped back into the score. P-Love's outstanding turntable work brought a similar technophilic lead presence to the second, more linear work, This Will Not Be Televised. Brilliant stuff.
Saturday's afternoon event represented a different kind of convergence, a joint venture between Arraymusic and Ryerson University's SMART Lab, showcasing the "Emoti-chair," a fold-up canvas chair embedded with multiple speakers to create "vibrotactile information" for the hearing impaired. Though the speakers dispersed a massage-like effect, its impact was rough, even during smooth tonal passages. Of Array's commissioned works, Mani Mazinani carried the day by eschewing musically thematic development altogether. He alternately favoured ear-piercingly high and rump-liquefyingly low synthesized tones to create extreme patterns of sensation in the chair.
Back at the SPK on Saturday night, Czech expats, art students, and old school punk refugees came together for the festival's marquee event: the iconic Iva Bittová and free-thinking drummer Chris Cutler. Cutler's unique language blends electronics and natural drums. Dragged whisk noises and synthesized bells established the mood, and cymbal and bell combinations evoked Chinese motifs as electronically enhanced scratches across drumheads flitted around like moth's wings.
Bittová began alone on stage, two feet behind the microphone. Her free-form vocalization suggested jazz phrasing, but with a sonorous, narrow range of tones. Picking up her violin, she engaged in rapid-fire bowing across a similarly narrow spectrum of notes, as her vocals became more intense. At a point when the audience's jaws had collectively dropped, wondering what she would do next, she introduced her teenaged son Antonin Fajt. He played in a dramatic, slightly dissonant style which seemed terribly strained compared to his mother's natural force. Surprisingly, Bittová's duet with Cutler fell flat, suggesting that she's best experienced solo.
The festival's final night at the Music Gallery was the kickoff of Continuum Contemporary Music's twenty-fifth anniversary season. Three of the five pieces programmed stood out. The first—Fuhong Shi's Emanations—came from an open call for scores. It juxtaposed pianissimo violin and viola with deep cello and double bass tones. The yin and yang theme of the piece was soon parcelled out among the ensemble so that different states of contrast were explored. Samuel Andreev's Stopping for two vibraphones, featured sustained notes which hung in the air as their overtones danced around the room, occasionally interrupted by metal percussion. Luca Francesconi's concluding piece Encore/Da Capo was thrilling, with fluttery clarinets infusing the entire orchestra with energy before the music gradually relented from its peak to a gentle conclusion.
X Avant's style convergence involved beats, loops, notes, improvisation, and composition. This is a festival headed in the right direction to become a globally significant event for creative music.
---
Image: German electronic music pioneers, Cluster, performed a live set at the festival's opening. Image by: Irene Moebius.