Sarah Davachi strives to bridge the ancient and the contemporary.
Her 2015 debut,
Barons Court
, built drones from analog synths and her harmonium, along with guest oboe, flute, viola, and cellos. On her eighth full-length album, she performs alone with a series of formidable "partners": five pipe organs housed in Vancouver (at the Pacific Spirit United Church), Chicago, Los Angeles, Amsterdam, and Copenhagen, and dating from 1479 to 1975.
Cantus, Descant is also the first album on her new imprint Late Music
, a division of the British label Warp Records. It seems a good fit. Warp has built a strong reputation on releases varying from techno and IDM to albums by more esoteric artists, including Tyondai Braxton, Brian Eno, and Kelly Moran. The imprint's name is a winking reference to the so-called early music from which she draws inspiration, but it also, at least on this first release, offers a serviceable prescription for hours of engagement. Using what is arguably the oldest model of synthesizer, Davachi conjures sounds that suggest horror movie soundtracks, string quartets, harmonium, and glass harmonica. There are touches of Eno-esque ambience, mid-period Pink Floydisms, and even nods toward pop songs. The Calgary-born composer makes her recorded singing debut on two tracks here, with a wispy voice and simple delivery a bit reminiscent of Julee Cruise's recordings with David Lynch and Angelo Badalamenti. The album isn't all organ and voice, although it convincingly sounds that way. Davachi employs electric organ, Mellotron, piano, and synthesizers to fill out the sound. It's quiet music, softly played and closely recorded, enough that you can occasionally hear stops being set and the beautiful internal reverberation of the pipes. The tracks (seventeen of them, ranging from ninety seconds to ten minutes) come off as clean slates for the imagination, empty but pungent.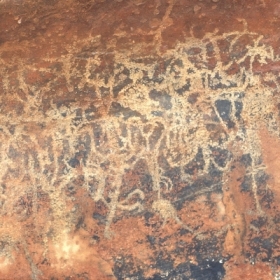 The British curator, producer, and writer Mike Harding has been facilitating organ experiments for years, and is the creator of the open form composition The Eternal Chord. As framed by two albums and many more performances, the composition becomes a concept that gets billing as if it were a band. Mutatis Mutandis is the second album by, or of, the Eternal Chord. It builds from 2018's Semper Liber, which was a construction of the piece's recordings made over a decade's time (including an interpretation by Anna von Hausswolff, who herself has a recent album of experimental organ music out on the metal label Southern Lord). For the new volume, a dozen sound artists were asked to create new works from the source materials of the first, and it's a dizzying, sometimes bombastic, collection. Highlights include Olivia Block's high drama within layered drone, Daniel Menche's reverberant densities, Philip Jeck and Faith Coloccia's thick atmospherics, abstract psychedelia by Fennesz and Marta De Pascalis, and subtle glitches from Jiyeon Kim.