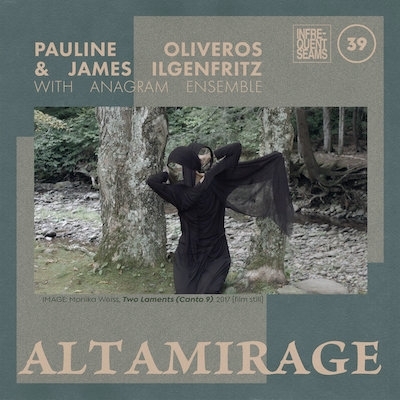 Pauline Oliveros is best known for her invention and development of Deep Listening, which in essence encouraged intense attention to all possible details of sound. While that can conjure relaxing tones and quiet drones, this highly entertaining recording bursts with wit and energy, exposing Oliveros as a composer and improviser who moved well beyond minimalism.
James Ilgenfritz is the anchor here, with his captivating bass appearing on all ten tracks. Oliveros herself joins him for four improvisations recorded between 2007 and 2016, the year of her passing. Oliveros triggers various instruments with her MIDI accordion, while Ilgenfritz uses both fingers and bow to draw a wide array of textures. The results range from incendiary, pointillistic sparks to deep, atmospheric spaces, with careful listening lending coherence despite rapid movement from sound to sound. Ilgenfritz is joined by Martha Cargo and Chris Nappi on flute and percussion, respectively, to perform Outline, written by Oliveros circa 1960. This mostly notated score focuses on texture rather than on linear melody or constant rhythms, in a flow of endlessly transforming sounds from all three players. The remaining five works—titled Trio for Trumpet, Accordion, and String Bass and numbered I through V—find Ilgenfritz accompanied by Stephanie Richards on trumpet and Nathan Koci on accordion. These austere miniatures, totalling six minutes, were also composed by Oliveros around 1960.
This recording will delight longtime listeners, but it will also serve as a lively introduction to Oliveros' oeuvre.