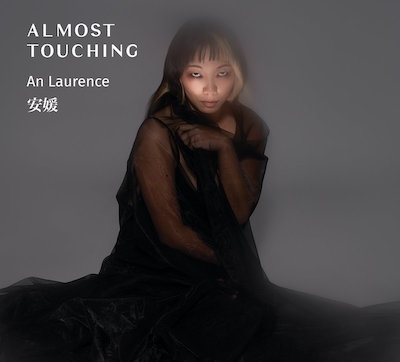 Montreal-based guitarist and vocalist An Laurence (An Laurence 安媛, in full) fervently explores every crevice of her instruments on her debut album Almost Touching. The record features six works for guitar, voice, and electronics, each traversing a different sonic palette including spiralling, distorted electronics, folksy acoustic tunes, and breathy vocalizations. Through these eclectic and surprising pieces, An Laurence highlights her distinctive range.
Throughout the album, the music constantly emerges from new directions and diverges into many different paths. From the opening track, Amy Brandon's Artificial Light, An Laurence's ability to quickly transform the sound of her instruments is on display: she layers lilting plucks on top of distorted electronics, pulsing between fast-paced, virtuosic melody and moments of sparseness. Elischa Kaminer's Chants d'amour, the album's longest work, encapsulates its boundary-pushing vision. The hour-long piece darts between sparse and rich sonic palettes and features a series of spoken-word movements. Its pinnacle is the fifth movement, which ventures from sweet melodies to chaotic screams and fuzzy beats; in these rapid shifts, both Kaminer and An Laurence's shapeshifting approach to music-making comes to life.
Almost Touching stands out as a singular statement, especially because An Laurence is equally capable in each of these worlds, from the harsher, noisier realms to the lighter, more whimsical ones. In every moment, she displays her willingness to dive headfirst along each pathway she chooses to explore.