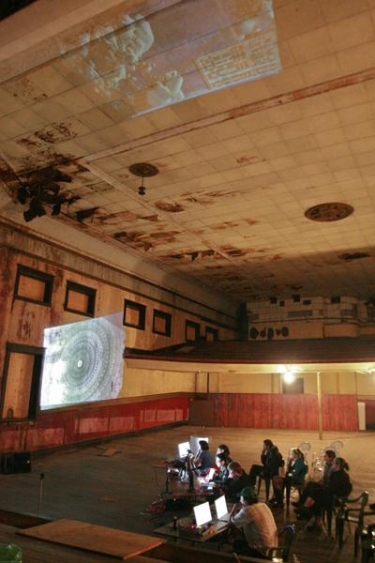 The mandate of OK.Quoi?! is to showcase contemporary art by bringing it to the people outside of gallery walls. This raises an important question—are people willing to allow contemporary artwork to exist in public spaces? Community member and artist Elizabeth von Rosenbach thinks so. "Having the work outside," she maintains, "gives it a certain amount of power or mystique, because as a viewer you do not necessarily know who made the art, why it is there, or what it means. You see it for what it is and then you walk away, and that is beautiful."
The works represented in OK.Quoi?! can be based in the media of radio, the Web, video, film, and projection, and there can also be intermedia based performances such as audiowalks, installations, lectures, and new and independent music. Joining the slate of performances are workshops and youth summer camps. Andrew Maize, this year's festival organizer, champions the festival's approach, "OK.Quoi?! gives emerging artists a chance to develop their practice through workshops with new materials and by working and exhibiting alongside their professional peers."
The festival's engaging activities and workshops gave people of all ages and skill levels a chance to experience various forms of participatory arts. A whirlwind of energy took the town by surprise when a migratory dance party hit the streets. People danced through the town while carrying portable radios that were playing a mix of high-school favourite hits over the local radio station. In the Twenty-six Hour Super 8 Film Challenge, two teams had the opportunity to learn how to use Super 8 cameras and shoot their own films in just twenty-six hours. The Kids Corner Power Jam—a youth workshop—gave students aged six to fourteen the opportunity to work with professional musicians in creating their own instruments on which they subsequently performed on the SappyFest main stage. 
Kate Boyle's video installation The Space Between went unnoticed by some who walked over the sidewalk that the video was being projected onto, while others crowded around to admire it.
Nic Wilson, who had work displayed throughout the festival, said, "It is always interesting to work with public space, especially the part where you get to sit around and wait for people to notice, or not notice, your work." In his piece The Town Crier, Nic made three signs and installed them in his apartment window overlooking SappyFest's (a music festival produced in partnership with OK.Quoi?!) main stage. Designed as a statement on the staggering influx of people to Sackville during last year's music festival, the signs read, "Go away," "SappyFest ruined my life," and "See you in hell CrappyFest." 
Artist Corey Isenor installed Lights of the Arcane, a tent-like structure framed with large sticks and covered with variously shaped pieces of thin fabric, in a vacant alleyway. Inside the structure were lights powered by solar panels, and the lights would turn on after sundown and shut off at sunrise. The work drew attention to this otherwise unnoticed alleyway, overgrown with vegetation. When asked about his piece, Isenor said, "It is meant to emulate the ideas of natural mystery and obscurity, while also taking a humorous jab at modern art and the festival itself. It shows how contemporary art is often not understood, or is underappreciated by the general public".
One highlight of the festival was the performance of Jitter Jam—an incredible amalgamation of sound and visuals through the use of Max/MSP software. Graeme Patterson, Elli Hearte, and Linda Rae Dornan manipulated visuals that were projected onto the walls of the old Sackville Music Hall, while composer and laptop performer WL Altman provided the sound by trimming and modifying sound samples and loops, and dropping them into automated patches that sent them off on their own indeterminate journeys. Commenting on the performance, Altman said, "It's like having a warped little virtual acoustic world where you can play with sound objects." The collaborative performance demonstrated the skill and joy involved in experimentalism and improvisation, and it was certainly one of the must-see performances of the festival. 
---
Image: Still from the Jitter Jam, with audio by composer and laptop performer W.L. Altman. Image by: Donald Hutton.