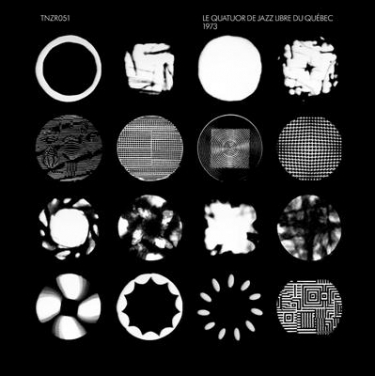 Le Quatuor de Jazz Libre du Québec was a free jazz ensemble that internalized the radicalism of the late '60s and early '70s into their actions and their music. Formed in 1967, they had by 1970 established an artists' colony that had an affinity with Quebec nationalist movements. Their music has an intense fire lit by the politics of the time.
This record, produced from impeccable recordings made at Radio-Canada on May 13, 1973, finds the quartet at an artistic peak. The first side of this LP is explosive, with saxophonist Jean Préfontaine and trumpeter Yves Charbonneau charging ahead at full gallop. The rhythm section consisting of percussionist Jean-Guy Poirier and bassist Yves Bouliane, provides an intrinsic tension through a slower pace. In fact, Bouliane easily captures the most attention, with his thickly assured bass providing a powerful centrepiece from which the others pivot. The music has an Ayler-esque flavour, especially around the ten-minute mark, when the sax and trumpet develop a beautiful theme over a marching rhythm, complete with militaristic drum fills. But the quartet keeps things fresh and the music never feels derivative.
Side two finds Préfontaine trading the saxophone for the flute and leading the group with a beautiful flute solo, before the other three musicians slowly but sure-footedly fall in line. This side is slower compared to the pure blaze of the first side, but the quartet is quite lithe, underlining their collective awareness built over years of political and aesthetic radicalization. This fantastic document definitely inspires further investigation of a fruitful moment in Québécois free jazz.