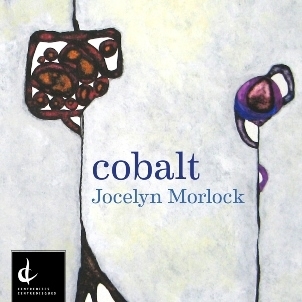 Cobalt, Jocelyn Morlock tells us, is one of the most poisonous elements, but it's hard to imagine anyone dying of exposure to this Vancouver-based composer's music—unless it was from a surfeit of beauty. Her strongest pieces can be described in a single word: numinous; although one suspects that if there's a dash of the mystical in her makeup, it's related to her powerful, even scientific, interest in the workings of the natural world.
Certainly the most striking works on Cobalt come out of a deep engagement with nature. Oiseaux Bleus et Sauvages, with its French title and introductory twitterings, nods in the direction of Olivier Messiaen, although here the avian connection seems more rhythmic than melodic. Morlock's jumpy pulses mirror the questing, wary movements of foraging corvids, and the Vancouver Symphony Orchestra, under conductor Bramwell Tovey, delivers an appropriately bright-eyed reading. Golden is even more evocative: based on the notion of a Manitoba swimming hole so rich in iron pyrite that bathers emerge as if dusted with gold, it's a ritual of transfiguration, with the Pacific Baroque Orchestra and oboe soloist Philippe Magnan creating a timeless and shining sonic atmosphere.
Music of the Romantic Era shows a different side of the composer: it's an arch and erudite reworking of various concert clichés, delivered with Loonie Tunes brio and a playful hint of petulance in the piano part. Disquiet, in contrast, bundles a long, anxious night into just four-minutes-and-thirteen-seconds' worth of brooding cellos and sleepless violins. If anything, the occasional presence of terror in Morlock's charmed landscape is further indication of its emotional complexity—but beauty and hope, more often than not, win out.