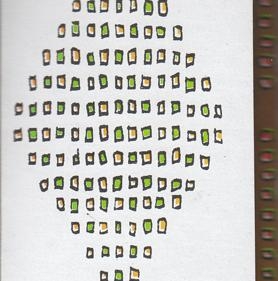 On Two Romantic Landscapes Belgium's Dolphins Into The Future offers up a new pair of sumptuous, sprawling pieces. Sweet and languid, both sides of this lovingly packaged, limited-edition cassette conjure a delicious summer-evening beach image. It's a delicate balance of sated repose, mild disorientation and fever symptoms.
Amid a cloud of soft tape-hiss, synth tones bend and dribble, providing both a warm bed of sound, and all manner of lysergic effects akin to watching blue-screened birds cut across a sunset on an eighth-generation VHS-tape dub. Mysterious processed sound recordings ooze and bubble gently between the cooing analog tides. Sometimes evoking relaxation tapes with bird and water sounds, their texture is somehow magnified, offering a taste of psychedelic unease. Instrumental timbres (what sounds like piano on one side and guitar on the other) also feature in Dolphins' soundscapes, tracing meditative trajectories through the sound fields.
While a host of others are taking new age as their point of departure, Dolphins Into The Future has brought the genre, with this release, to blearier heights, constructing a very particular humid and druggy atmosphere.