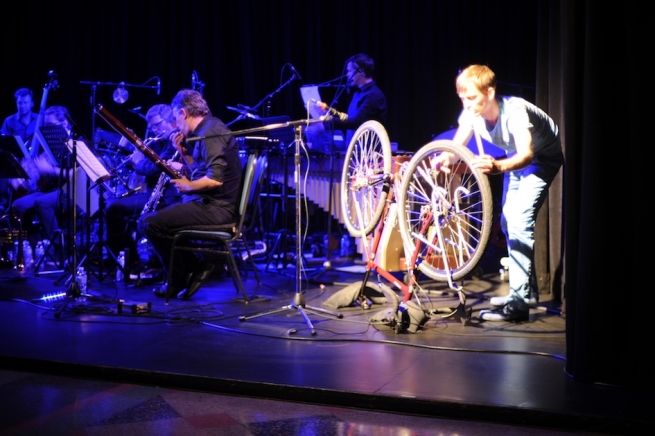 At Open Ears, auditory circuitry is rewired over five days, with all senses fired up, as festival-goers embark on a sonic quest. The 2018 edition featured the gonzo music of Frank Zappa, an electrifying Nicole Lizée world premiere, and a jaw-dropping percussion solo.
The festival audience, which has grown over the past twenty years, experienced zany sound installations, preshow artist interviews, seminars, film documentaries, and live performances in a number of unusual venues, including boardrooms, city squares, and a park gazebo.
There were over twenty-five events to choose from, including performances by saxophone duo Stereoscope, Portal Dance, Odawa composer Barbara Croall (with Nü Ears Ensemble), composer Katerina Gimon (formerly of Waterloo), Montreal avant-garde ensemble No Hay Banda, a music-box composition workshop with composer Jason Doell, films, plays, and, notably, "#Hatchtag: Celebrating 20 Years of Open Ears," a concert and party honouring the festival's founding director, composer Peter Hatch.
 One of many festival highlights, "Hard Wired," presented at the performance and event venue THEMUSEUM, featured the TorQ Percussion Quartet and the Penderecki String Quartet activating fifty different instruments and electronics on stage. The program, which connected classical and DJ electronica, included the Canadian premiere of Augusta Read Thomas' Selene, and Mason Bates' Bagatelles, in addition to TorQ member Daniel Morphy's Thrown from a Loop—an enchanting marriage of mallet instruments á la Steve Reich with a soupçon of pseudo-looped Radiohead. "Selene" blended strings and percussion through ever-changing timbres, creating a dizzying kinetic sound world. Also on the program was the world premiere of Nicole Lizée's new octet Games People Play, which showcased two musicians playing on a retro video-game console in time to a trance-electronica mix.
A triple bill curated by hurdy-gurdy player and percussionist Ben Grossman, and presented at The Registry Theatre, explored three distinct approaches to the intersection of composition, improvisation, technology, and performance. Veteran Kitchener-Waterloo musicians Ted Harms and Neil Ballantyne have a venerable performance instinct, their intermingling droning often sounding like its emanating from another dimension. Harms plays double bass while Ballantyne plays an Arturia Microbrute synthesizer, tone generator, and seven-oscillator drone box—all routed through a single digital delay. The result is whimsical bass–synth folly, melding and morphing into the Wild, Wild West of otherworldly sound manipulation. Nakamura / Taxt features acclaimed no-input Japanese mixing-board master Toshimaru Nakamura and Norwegian microtonal tuba wunderkind Martin Taxt. They fed off each other through an alluring array of experimental sound, noise, and aural textures, with Nakamura's occasionally torturous dog-frequency pitch enough to make one's teeth chatter. Taxt's electroacoustic tuba drone exuded an apocalyptic, harsh, and aggressive static as the intense sonic textures collapsed into an anticlimactic whirr. Quebec's Sound of the Mountain featured Elizabeth Millar on amplified clarinet and Craig Petersen on amplified trumpet as they blew through their instruments to create fantastic noise patterns, bong-smoking sounds, and animalistic whispers.
Studio Dan's "How is Your Pony?: The music of Frank Zappa and his echoes" was a festival favourite. Studio Dan (the name derived from Frank Zappa's 1978 album Studio Tan), an internationally acclaimed Austrian ensemble, honoured the joyous chaos of Zappa's music from the "Bee Bop Tango" to "Peaches en Regalia." "Improvised Concerto for Bicycle, Prerecorded Tape and Instrumental Ensemble" (which was first performed in 1963 by a clean-shaven, suited-up twenty-five-year-old Zappa on The Steve Allen Show) was given an ear-blowing performance by Studio Dan percussionist Hubert Brundlmayer, who spun bike pedals, drum-sticked spokes, and pounded the tires of a vintage red Surly Disc Trucker bicycle. The cycle cacophony was enhanced by horns and a citation of "Mary Had a Little Lamb." Studio Dan also performed works by Zappa's idols Edgard Varèse and Karlheinz Stockhausen.
At Zion United Church, New York composer Nico Muhly. who performed two weekend shows and held a preshow Q and A, showed audiences he's equally at ease working in opera, chamber, choral, and orchestral music. Muhly (on piano and electronics) and acclaimed NYC violinist Nadia Sirota (Grizzly Bear, Arcade Fire) took the audience from chamber to electric in a series of dynamic works.
The festival's pièce de résistance was Montreal percussionist Ben Reimer's forty-five-minute performance of Ilimaq by the renowned composer John Luther Adams. Ilimaq ("spirit journey" in native Alaskan language Inupiaq) is based on the ever-changing environmental elements of Alaska, where Adams lived for many years. The thunderous opening, "Descent," shook the foundations of the Apollo Cinema as Reimer played hypnotic toms set to waves of ethereal electronica that resembled voices from another world. The second movement, "Under the Ice," with manipulated cymbals and high-pitched digital delays, resembled the unrest of the deep as the voices grew louder. The spirit journey continued with Reimer unleashing a pounding fury during "Untune the Sky," finally descending into the haunting electro-ambience of "Ascension"—a fitting tour de force finale to the festival.
---
Photo of Studio Dan performing at Open Ears by Thomas Mohan.