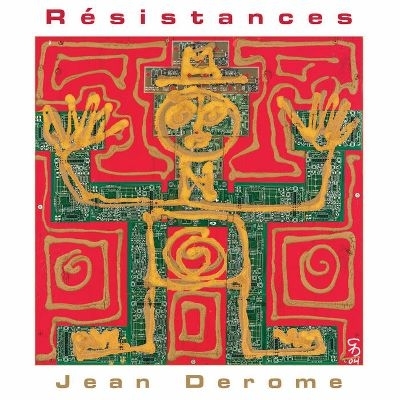 While his previous conceptual works, like Canot Camping, conjured paddling through streams, Jean Derome considers waves and currents of a different kind on Résistances—a paean to the hum, crackle, and fizz of electricity. After receiving its premiere at the 2015 Festival International de Musique Actuelle de Victoriaville, this work was recorded at the rehearsals and second concert performance at the Gesù Amphitheatre in Montreal in March 2017.
While the technical world of circuits may seem distant from the experience of communing with nature on a camping trip, both works share Derome's primary modus operandi: find a topic, research its details and how to represent them through sound, invite a diverse group of top musicians to participate, and alternate composed sections with directed improvisation through the use of over 140 hand signals developed and refined over decades of experience.
A group of twenty veterans and relative newcomers to Montreal's musique actuelle scene contribute to this sixteen-part hour-long work. The musicians play roughly equal numbers of electric and acoustic instruments, including various synthesizers, turntables, electric guitars, and basses, along with woodwinds, horns, strings, and drums. A group sound dominates throughout, and very little soloing. The instruments fuse well, with more textural similarity than one might expect from such a diverse lineup, the acoustic instruments' extended techniques merging seamlessly with the electronics. Résistances flows through sections that range from minimalistic drones featuring 60 Hz buzzing to swinging big-band movements that positively surge with energy.